Estimated read time: 5-6 minutes
This archived news story is available only for your personal, non-commercial use. Information in the story may be outdated or superseded by additional information. Reading or replaying the story in its archived form does not constitute a republication of the story.
LAS VEGAS — Back in October, BYU women's basketball coach Jeff Judkins made a comment during the Cougars' season-opening media day.
It wasn't while microphones were recording, in a formal interview or media scrum, but it also wasn't something to shy away from.
At least, not anymore.
Judkins turned to the small handful of local media present in the Marriott Center that day, and said something that turned a few heads — but didn't register with anyone outside of the most dogged fan of high school girls basketball recruiting.
"You keep an eye on that Shaylee Gonzales," he said to no more than 3 or 4 people who could hear. "She's going to be something special."
Just over four months later, his words ring true.
Gonzales, the 5-foot-10 star from Gilbert, Arizona, who barely turned heads when she first arrived in Provo, has risen to become one of the top freshmen in the country.
At the very least, she's become the top freshman in the West Coast Conference. Averaging a team-high 16.3 points, 5.4 rebounds and 4.3 assists, the first-year starter earned WCC newcomer of the year honors last week.
Now, she's got the Cougars with eyes on a bigger prize — an NCAA Tournament berth.
BYU can lock up its tournament destination with a WCC Tournament title, a path that begins Monday at 2 p.m. PST at Orleans Arena in Las Vegas against Pepperdine (20-10).
But did Gonzales realize in the fall the type of impact she could have on a team that lost its leading scorer from a year ago, but rebounded to finish 23-6, the clear-cut second-place team in the West Coast Conference, and a potential NCAA at-large participant?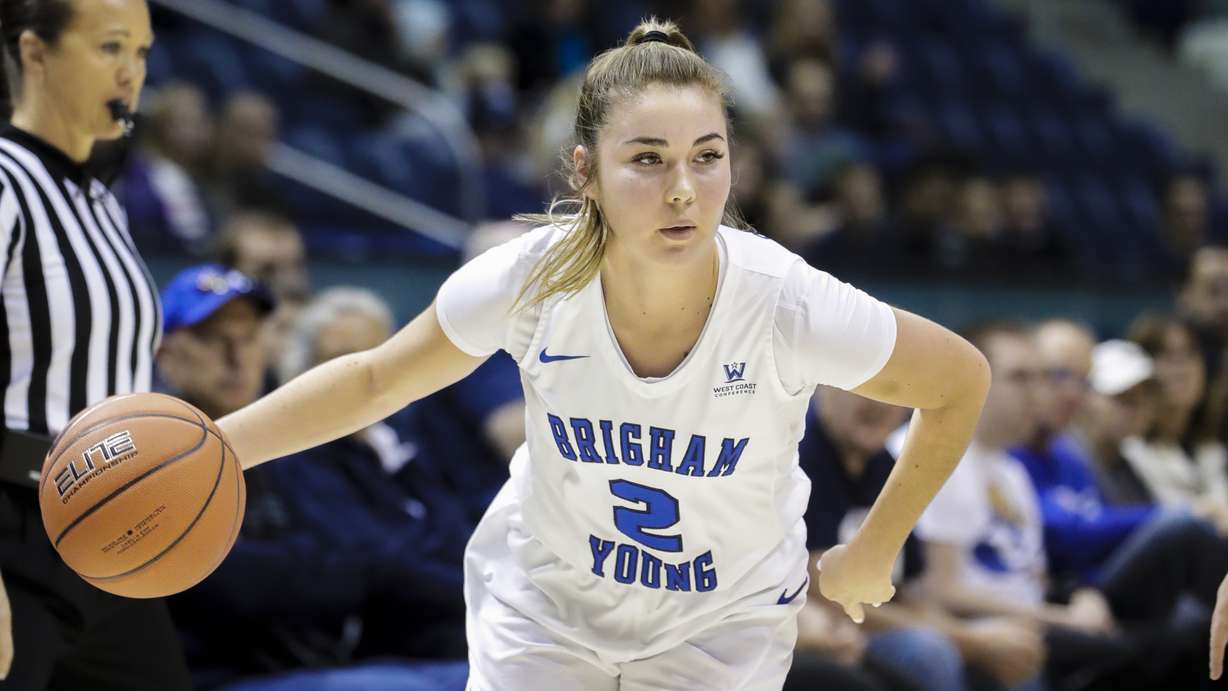 It turns out, she did — or at least, she hoped so.
"As a freshman, that was one of my goals before the season started," Gonzales said late Saturday night at Orleans Arena prior to the BYU men's basketball late tip against San Diego, moments after bumping fists with athletic director Tom Holmoe and taking compliments of 'secret sauce' aimed her direction. "I wanted to be freshman of the year, and that's what I got. I worked hard for it, put in the extra work, and it's awesome."
Gonzales accomplished that goal, making her coach look like a smart man, not only for recruiting her early in her career at Mesquite High School in Arizona, but also for predicting her immediate impact at the college level.
But maybe Gonzales even exceeded Judkins' own lofty expectations.
"She's as good as any freshman I've ever coached. She's definitely one of the top five freshman in the country," Judkins said of Gonzales, who has 474 points, 156 rebounds, 124 assists and 58 steals as a freshman. "For me, as a coach, she's so much fun to coach because she listens and she wants to get better. No matter how good of a game she has, she wants to get better. She's going to be a super player here."
Together with the high-scoring guards Paisley Johnson (14.5 ppg), and Brenna Chase (12.4 ppg), the Cougars have as formidable of a guard line as any in the country.
Pair it with the emergence of 6-foot-7 center Sara Hamson (4.4 ppg, 5.8 rpg, 2.7 bpg), and it's easy to see why BYU has taken the step it has.
And with all that, the Cougars could be just getting started. All three of those players will be back next year — BYU loses just fifth-year senior softball-turned-basketball star Caitlyn Alldredge from its active roster, a critical component of the roster who has started eight of her 22 games and became arguably the Cougars' best defensive player.
But now isn't the time to think about next year, on the eve of the postseason and with two wins over WCC top-seeded Gonzaga, which was ranked in the AP Top 25 during both losses.
"This has been a fun team," Judkins said. "I think we've seen flashes of how good we can be — and flashes of how young we are. We still make some mistakes. But we're excited going into the postseason. We'll give it all we have, and hopefully we can do some damage."
To accomplish those future goals, the Cougars will first have to get past Pepperdine. The Waves have won 20 games this year, including an 87-84 win over No. 6 Pacific in Saturday's quarterfinals, and boast WCC player of the year Yasmine Robinson-Bacote, who averaged 20.4 points and 7.6 rebounds per game during the regular season.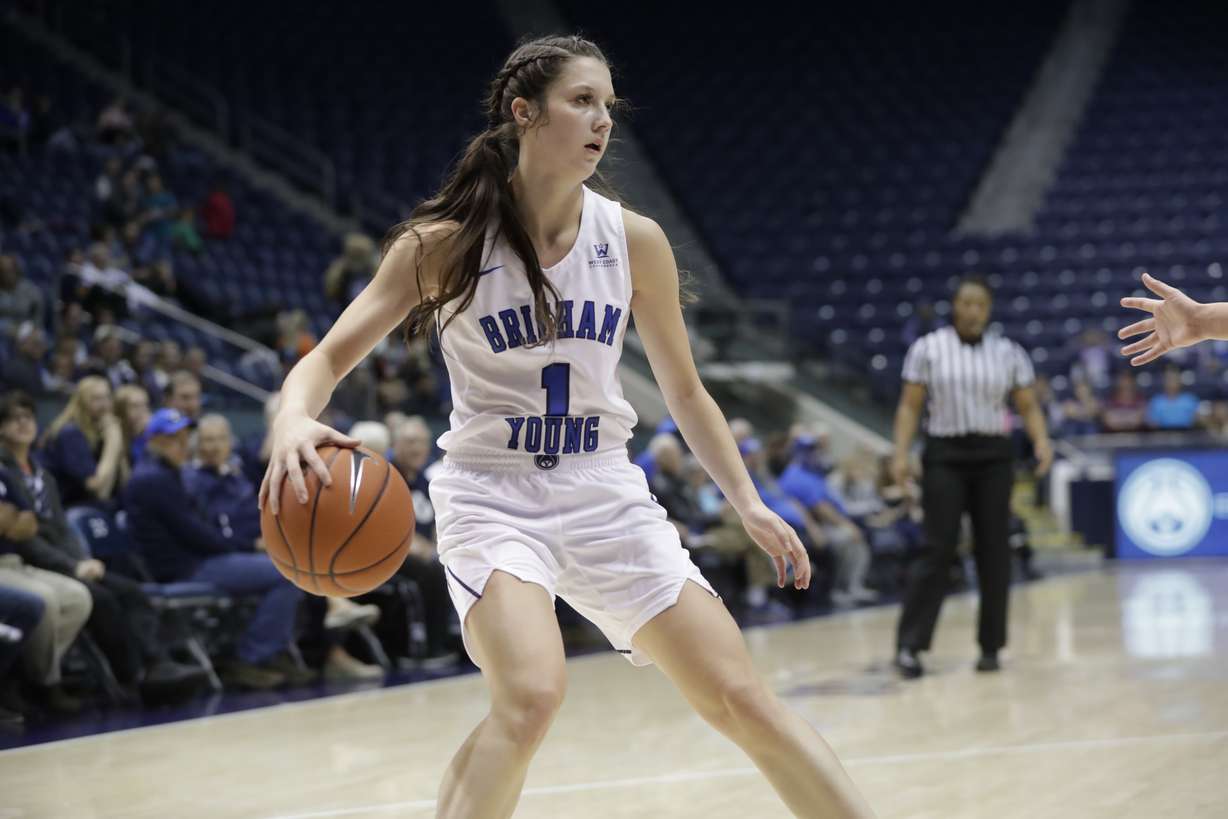 Pepperdine also owns a league win over the Cougars, one of three programs that can make such a claim courtesy of a 79-65 home win in Malibu, California, in a game played the same weekend as mudslides across the greater Los Angeles area that turned the Cougars' bus ride to the arena into a three-hour ordeal.
"They were glued on to our guards, and we could not get open or make shots," Gonzales said of the Waves. "It was hard to move around, because they were stuck like glue on us. Jasmine hurt us; she's an amazing player, and she deserves player of the year."
So yes, the Cougars are motivated for their first tournament game, even getting to Las Vegas early to practice at nearby Faith Lutheran High School and scout their upcoming opponent one more time over the weekend.
Monday's semifinal will be broadcast on BYUtv. The winner will advance to face the winner of Gonzaga and Saint Mary's in Monday's championship at 1 p.m. PST on ESPNU.
WCC semifinals: BYU (23-6) vs. Pepperdine (20-10)
Where: Orleans Arena, Las Vegas
When: 2 p.m. PST
TV: BYUtv
Streaming: TheW.tv
×
Most recent BYU Cougars stories