This archived news story is available only for your personal, non-commercial use. Information in the story may be outdated or superseded by additional information. Reading or replaying the story in its archived form does not constitute a republication of the story.
LAS VEGAS — BYU women's basketball was well represented when the West Coast Conference announced its annual postseason honors following the regular season.
Shaylee Gonzales was the headliner, garnering conference newcomer of the year honors just as she had set out to do in her first season of college basketball.
Then there was Brenna Chase, the junior guard who averaged 12.7 points, 3.8 assists and 33.5 percent shooting en route to All-WCC first-team honors. She was joined by Pepperdine's Yasmine Robinson-Bacote, the conference player of the year; Gonzaga's Zykera Rice, Chandler Smith and Laura Stockton; and Saint Mary's Megan McKay.
But one name was omitted from that list.
Sure, Paisley Johnson was BYU's lone representative on the all-conference second team. But her teammates and head coach Jeff Judkins openly expressed frustration to being left off the league's list of 10 best players after averaging 14.8 points, 3.1 assists and 4.4 rebounds.
"All of them stood behind me and were proud of me; they knew, and Juddy knew, that I should've been somewhere else," Johnson said. "But I told Juddy there was something I needed to prove, and I wanted to come out here and do that.
"Not only get a tournament championship but show the conference the type of player I can be."
Point taken.
The sophomore from Everett, Washington averaged 19.5 points, 4.5 assists and 4.5 rebounds in two games in Las Vegas, and steamrolled to the tournament's Most Outstanding Player honors in much the same way BYU steamrolled by Gonzaga, 82-68 in Tuesday's title game.
WCC All-Tournament Team
MOP: Paisley Johnson, BYU
Shaylee Gonzales, BYU
Megan McKay, Saint Mary's
Zykera Rice, Gonzaga
Yasmine Robinson-Bacote, Pepperdine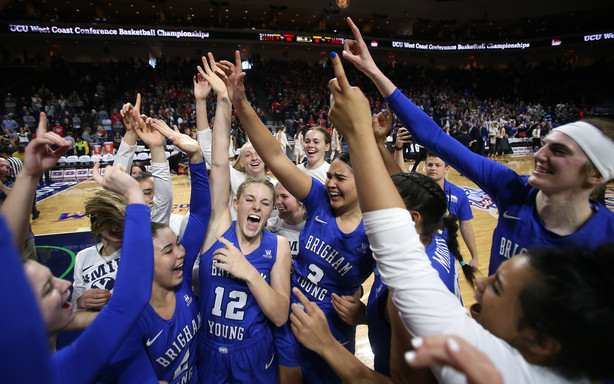 Title Times Five
Caitlyn Alldredge is no stranger to winning, especially in the West Coast Conference.
A former all-league player of the year and star third baseman for the BYU softball team, Alldredge led BYU to four-straight WCC titles during her time on the diamond.
Why not go for a fifth?
So after using her final season of eligibility in another sport, and with a few classes remaining to earn her degree in broadcast journalism from BYU, Alldredge joined Judkins' program. The only senior on the active roster, Alldredge averaged 2.2 points and 1.6 rebounds per game, but became arguably the Cougars' best defensive player, eventually starting 10 of her 24 games in a BYU basketball uniform.
She's believed to be the only BYU athlete — at least since joining the West Coast Conference in 2011 — to win five team titles in her career.
"What a story," Judkins said of his infielder-turned-defender. "An all-league third baseman and she comes in unafraid to compete and battle. I think her presence in our five-man motion offense was big."
Thoughts and prayers
Gonzaga coach Lisa Fortier was unable to finish coaching her team in the tournament final. The reigning WCC coach of the year was pulled off the court along with her husband Craig midway through the fourth quarter, leaving her shoes behind as she ran out of the arena to deal with what school officials termed a "family emergency" involving her brother.
Assistant coach Jordan Green finished the game in her stead.
"That didn't have any impact on the game," Green said. "But I think it put into perspective what this Gonzaga family is."
Judkins offered his condolences to Fortier and Gonzaga, as well.
"Lisa is one of the best coaches in the country in the way she runs her team, and I hope she is alright, that her brother is alright, and that her family is alright," he said. "Gonzaga is a class organization, from the fans to the coaches to the administration. That's why they are on top like that."
New logo, who dis?
In between the men's and women's finals, West Coast Conference commissioner Gloria Nevarez announced the league had signed a three-year extension with Orleans Arena to keep the WCC championships in Las Vegas through 2022.
"The combination of outstanding venue and elite basketball have led to an annual sold-out event," Nevarez said. "The Orleans and Boyd Gaming have proven to be excellent partners for over a decade, and we are excited to extend this valuable partnership."
She also unveiled a new logo and branding scheme that will take effect across all member institutions beginning with the 2019-2020 academic year. The new logo was influenced heavily by BYU president Kevin Worthen, as well as other university presidents and officials from around the West Coast Conference.
"I believe this new initiative will capture well what makes this conference so remarkable," Worthen said. "We really believe that student-athlete is not an oxymoron. They perform in the classroom and outside the classroom for a higher purpose. They play for a higher purpose.
"That's part of what this conference is all about."
Nevarez acknowledged that the conference's media rights agreement expires at the end of this season, but did not provide an update on future negotiations.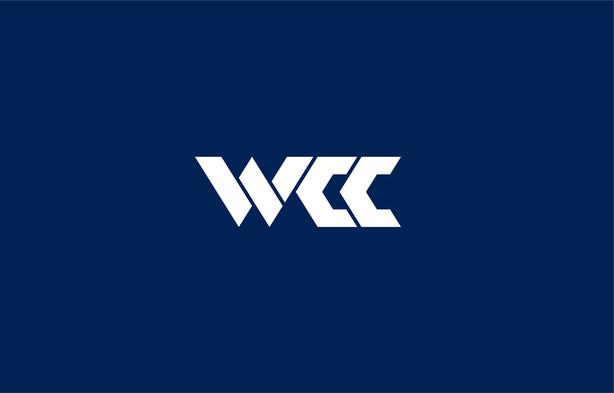 ×
Related Stories