Estimated read time: 9-10 minutes
This archived news story is available only for your personal, non-commercial use. Information in the story may be outdated or superseded by additional information. Reading or replaying the story in its archived form does not constitute a republication of the story.
PROVO — With 13 seconds left and a 2-point lead on No. 13 Gonzaga, BYU women's basketball coach Jeff Judkins turned to defend one final Zags possession.
He needed some size to guard against Gonzaga point guard Laura Stockton and a group that had been charging against the Cougars all game, which he got with 6-foot-7 center Sara Hamson — the reigning West Coast Conference defensive player of the year who averages 3.3 blocks per game.
Then he did something different: he went small. He turned to the bench, and looked up and down the lineup.
Deny. Deny. Deny, he thought.
To put it in the context of another sport, he needed someone who could guard the plate and not let a runner through the basepath.
So with that context, he put in Caitlyn Alldredge, a fifth-year senior walk-on wing.
"He wanted to go small because they were trying to get a three," Alldredge said. "We were switching everything, and that's what I did. I just tried to play my heart out."
Thus began the longest 13 seconds of Alldredge's college basketball career, but it worked: BYU held on for a 70-68 win that propelled the Cougars to one spot outside of the Associated Press Top 25 and kept alive a winning streak that would go on to 10-straight games.
Oh, and it kept BYU unbeaten in West Coast Conference play.
Alldredge, a 5-foot-10 guard from Centerville, had just finished her four years of eligibility with the BYU softball team. But her contributions to the athletic department in Provo didn't end when the Cougars lost to Drake in last year's NCAA softball regional.
Just two weeks after she swung the bat for the last time, Alldredge was in the thick of summer conditioning with the BYU women's basketball team. A few weeks after that, she was on the roster. And just a couple of months later, she was on a plane to Europe for a three-week basketball trip that led straight into the 2018-19 season, which in addition to testing Alldredge's jump shot and defense would also test her leadership as she joined a roster that included eight freshman, three sophomores, three juniors and just one other senior.
It's easy to see why the long, shifty combo guard who is averaging 1.1 points in just 4.3 minutes per game has become an integral part of coach Jeff Judkins' team that is now 16-3 overall and 8-0 in West Coast Conference play heading into Saturday's 3 p.m. MST contest at San Diego (8-11, 1-7 WCC).
And as the Cougars try to win No. 11 in a row, they'll need all hands on deck — including hands that used to grip a bat.
"We need to be healthy," Judkins said. "But we also need to take advantage of what the players can give us, and get the most out of them."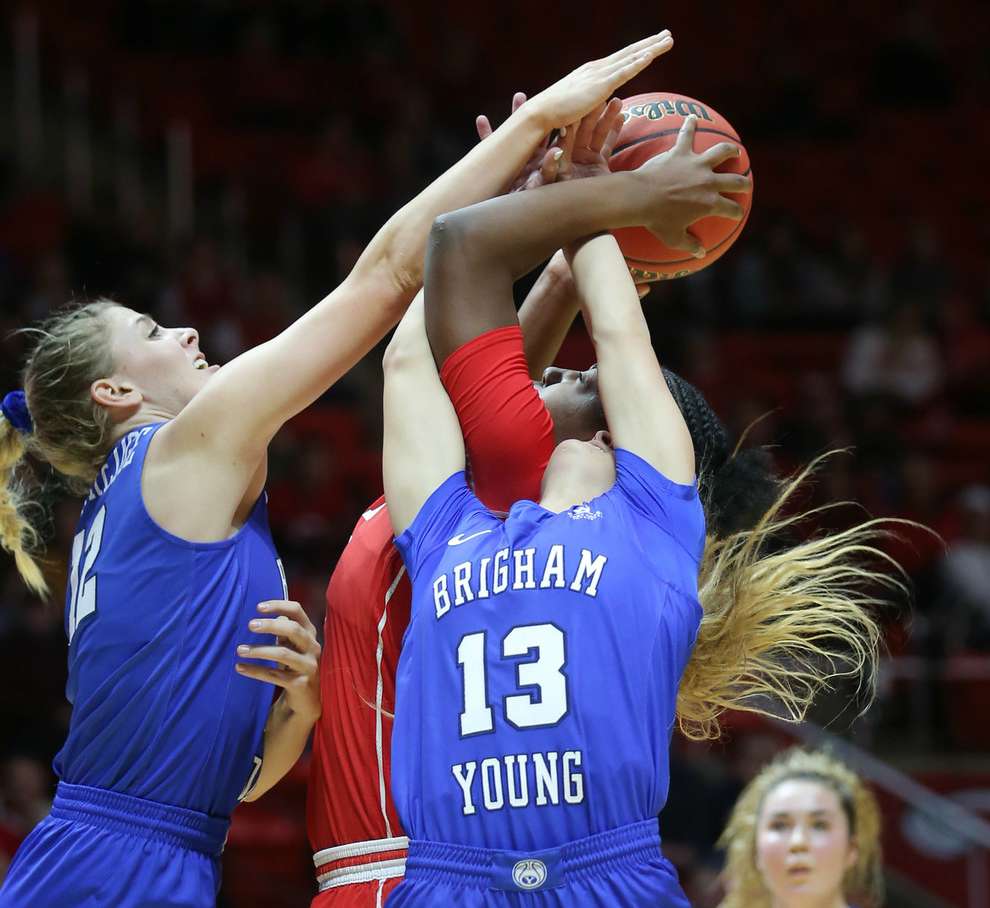 ***
Alldredge's path to that Gonzaga game almost didn't happen.
The fifth-year senior was supposed to be done at BYU by now, after all. After spending four years on the softball diamond making highlight-reel plays, the four-time West Coast Conference champion third basemen still had a few credits she needed before graduation.
Those credits kept her from graduating until April 2019 with a degree in communications, though.
So why not try something else?
"I have a pretty good relationship with Gordon (Eakin), and he told me he had a player who would like to play basketball when she (finishes softball)," Judkins said. "Sometimes I hear about it, and it never pans out. But when we started doing our workouts, Caitlyn was around. She wanted to be a part of it."
It wasn't easy.
NCAA rules prevent football and basketball players from receiving a scholarship spot away from a non-revenue sport if an athlete wants to play with another team. That means that if Alldredge wanted to play basketball, she would have to do so without a scholarship, enlist as a walk-on tryout player, and make the Cougars' roster — all with a limited offseason due to the softball season extending into May.
On top of that, Alldredge hadn't played competitive basketball in four years.
Occasional trips to the local The Church of Jesus Christ of Latter-day Saints ward meetinghouse to shoot hoops against her husband were just that, and she had scarcely played a pick-up game since electing to pursue softball at the college level.
"My whole family plays basketball," she said. "I have a brother-in-law who plays professionally in Europe, and all of my siblings played. It's the same with my husband's family.
"We messed around at the church, but it was never serious"
What was serious, though, was Alldredge's desire to play at BYU — and her new teammates' immediate acceptance, aided by a three-week trip to Europe where the group spent almost every minute together.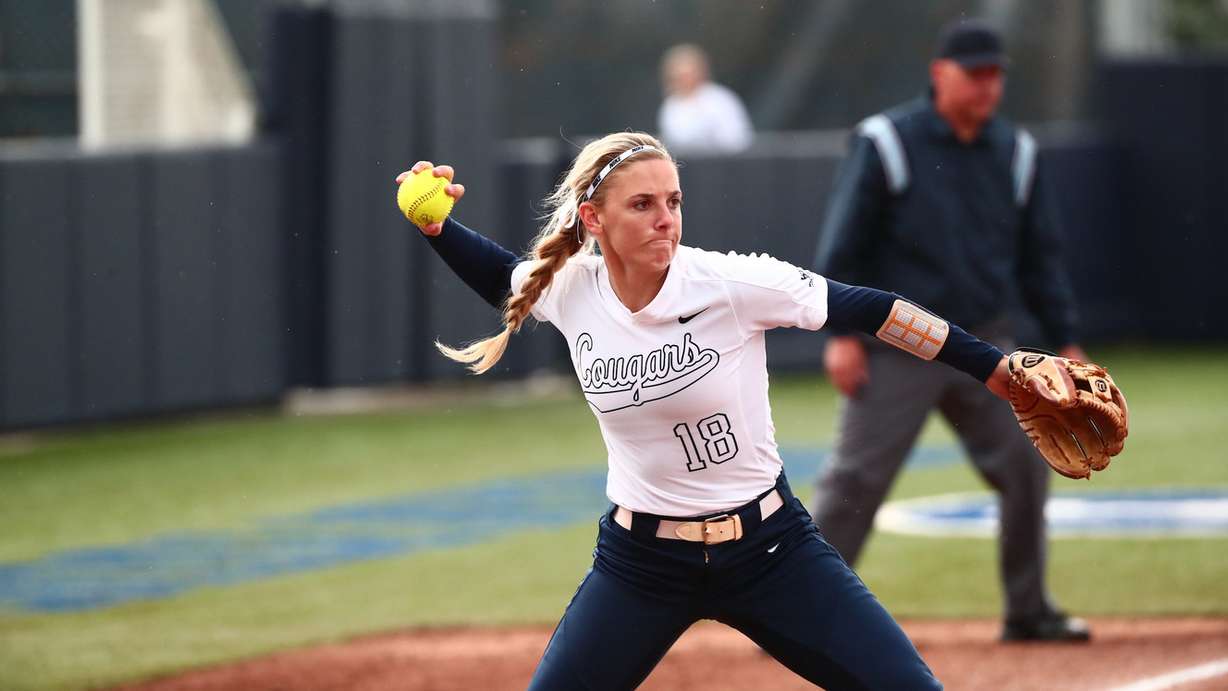 "I didn't know any of them personally," said Alldredge, who is the oldest player on the team. "A few girls from basketball and softball are friends — but I had just gotten married, so I didn't know the younger girls as well.
"They were so welcoming so quickly. It was seriously awesome."
So just two weeks after BYU was eliminated by Drake in that fateful senior-year NCAA regional, Caitlyn Alldredge picked up competitive basketball for the first time since she was Caitlyn Larsen.
The former Viewmont multi-sport athlete was a two-time Deseret News all-state first-team selection in both basketball and softball, and she averaged 18.0 points and 8.0 rebounds per game in 2014 for the Vikings.
But when softball coach Gordon Eakin offered then-Caitlyn Larsen a scholarship, she was quick to jump at the opportunity.
Her basketball career was over … right?
"I signed up for softball. My career was in softball," Alldredge said.
The move proved to be the right one; Alldredge, whose brother Biss played baseball at Utah, was a three-year starter in softball, won WCC player of the year honors as a junior in 2017, and was named a team captain as a senior in 2018.
But the chance to play basketball always stayed in the back of her mind — if for no other reason than her father Scott kept it there.
"My dad always had a joke that I was going to play three years of softball and two years of basketball (at BYU)," Alldredge said. "He's a big basketball guy."
During her senior year of softball, Alldredge reached out to assistant athletic director Brian Santiago, who put her in touch with women's basketball associate head coach Dan Nielson, and the ball was rolling.
It didn't take long for Judkins to be on board, either.
"She had the bug, and she wanted to do it," Judkins said. "Give her credit; she's not on scholarship. She's here on her own dime. But she's worked so hard, and she's done what she needed to do."
***
Earning a roster spot and playing significant minutes — especially during crunch time against the No. 13 team in the country — are different things.
But Judkins had learned from his previous mistakes with his one-year senior.
In the Cougars' 72-70 overtime win over UC Riverside, the coach inserted Alldredge to defend one final possession and help BYU to its first victory of the season.
Then, six games later on the road at Southern Utah, Judkins thought otherwise; he used a different lineup for the final stages against the Thunderbirds.
BYU lost, 67-64, the first of two losses in three games that eventually dropped the Cougars to 6-3 on the season.
So when faced with a similar situation against the Zags, Judkins had learned his lesson.
"I told myself as a coach that if it comes down to the end of a game and you want something executed, Caitlyn is the one who can do it," Judkins said. "She's so aggressive and so tough."
Alldredge has 13 points, 11 rebounds, two assists and a blocked shot in 52 minutes of play, including two starts.
But she's given BYU exactly what it needs — including a veteran leader off the court, and several clutch rebounds and stops.
Not the least of which came last Thursday against the Zags.
"When it became a reality, there was no way I ever imagined that I was going to get called in at that moment of that game," Alldredge admitted. "But I'll take it."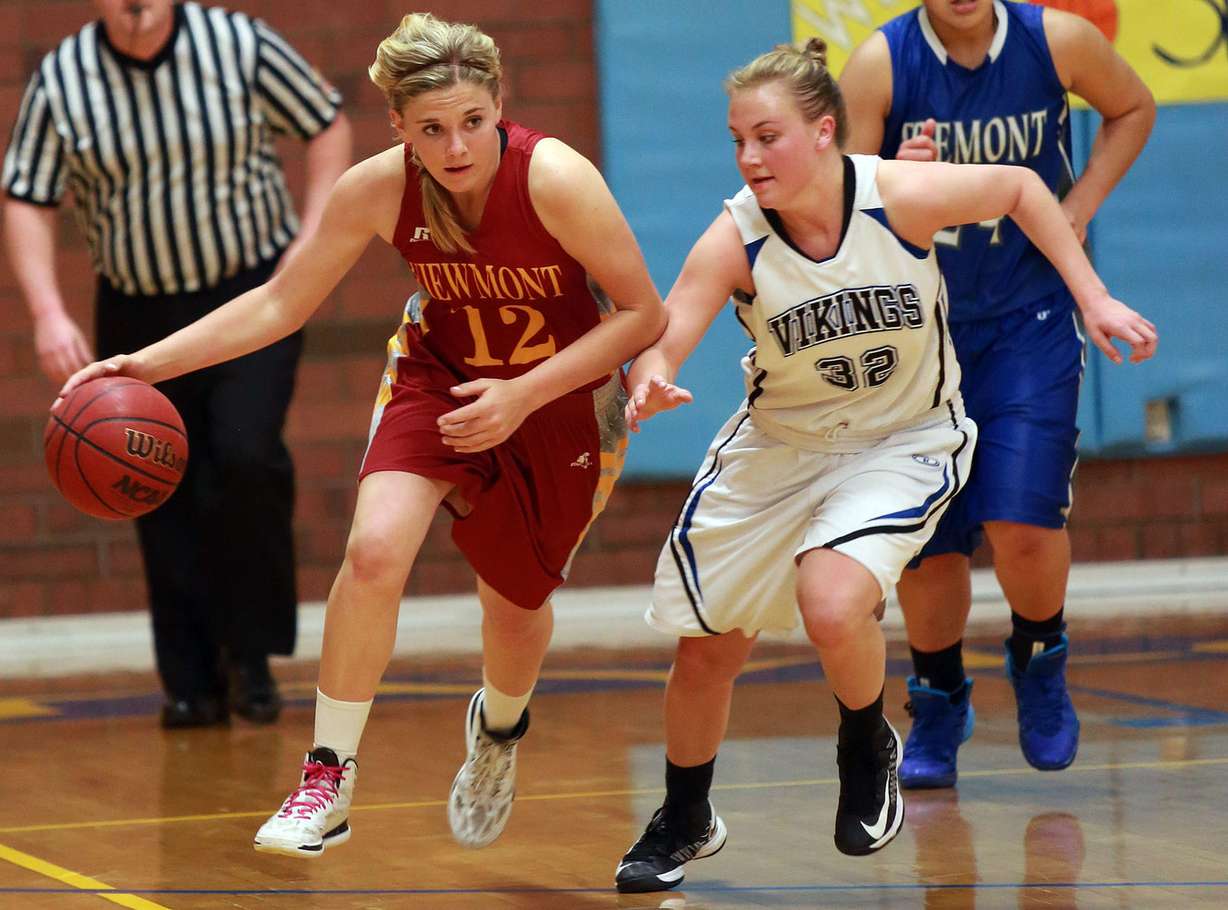 ***
Just two days after the win over Gonzaga, BYU faced another stiff test: it trailed at home to visiting Portland for three full quarters.
When the Cougars needed a bucket, they weren't getting one. Leading scorers Shaylee Gonzales, Brenna Chase and Paisley Johnson were erratic and inconsistent from the field.
So Judkins once again turned to his bench.
He put in Alldredge for defense, and gave free reign to reserve guard Maria Albiero, who rewarded her coach's faith with a career-high 16 points in a 79-71 win over the Pilots.
And while Albiero's efforts can't be discounted, Alldredge once again put on her Superman cape and came to BYU's rescue, finishing with three points, two rebounds and a block in 12 minutes in the eight-point win.
"She just knows how to fit in with the team," Judkins said. "There's a lot of kids who have talent, but they don't know how to fit in with the team. Caitlyn has talent, but she knows how to fit in and do her job."
Maybe it helps that Alldredge's softball career is over. She's earned the accolades, seen the limelight, played with record-breaking teammates, and left a stamp on a BYU program that won't soon forget her contributions.
Now, she's all about having fun — and playing a little hoop before she starts a career in sports broadcasting.
But first things first: Alldredge wants to win. And the Cougars are doing plenty of that.
"We realize how good of a team we are, and we have to keep playing to that," she said. "If we keep that in our heads, we'll be able to compete."
×
Photos
Related stories
Most recent BYU Cougars stories