JAZZ FANDOM — Being a fan of a sports team has its ups and downs. But in the end, your love of your team will be with you throughout your life.
Someone who knows a thing or two about this is Utah Jazz superfan Roberta Morgan. She is 102 years young and her love for the Jazz can never be questioned. Morgan never misses watching a Jazz game and even has bobbleheads of some of the Jazz players.
Who's Morgan's favorite player?
"Donovan Mitchell," she told KSL TV.
For as much of a fan as Morgan is, she had never attended a Jazz game in person. That all changed a few days ago when the Jazz Bear went to Morgan's house to request her presence at Utah's game against the Milwaukee Bucks on Saturday night.
Bear not only brought Morgan tickets to the game for her and her family, he also brought a customized Jazz jersey for Morgan — a jersey with her last name and the number 102 on the back.
"That means how young I am," a smiling Morgan said of the jersey number.
Morgan got a front-row seat to watch the Jazz battle the best team in the Eastern Conference. During player warmups, Mitchell walked over to Morgan and handed her a little (or should I say, big) souvenir: an autographed shoe.
Look who made it to tonight's game!#ThisIsWhyWePlay | @nbacarespic.twitter.com/9D3JyNNxP6

— Utah Jazz (@utahjazz) March 3, 2019
"(Mitchell) gave me this shoe and gave me a big bear hug," Morgan said. "That was a thrill because I was so surprised! Oh my goodness I was surprised!"
The best part is seeing a glowing Morgan take the shoe and hold it up over her head, as Jazz fans around her cheered on.
"He's a sweetheart," Morgan said of Mitchell.
Some of you may be asking: What did Mitchell do with the other shoe? Well, "Spida" gave the right shoe to a young fan sitting courtside. Just look at the kid, staring in awe of the moment.
March 3, 2019
So what will Morgan do with Mitchell's shoe?
"Oh, I'm going to keep it," she said, hugging the shoe.
After the good-guy deeds, Mitchell went to work against the Bucks. In the fourth quarter of the game, the Jazz were down 17 points, and only an epic performance could help Utah come back.
Then Donovan went from "Spida" to Superman.
Mitchell scored 19 of his career-high 46 points in the fourth quarter to lead the Jazz to a thrilling comeback win over Milwaukee. On Monday, Mitchell was named the NBA's Western Conference Player of the Week.
Overall, it was a wonderful night for all Jazz fans — especially for Morgan. She got to go to her first Jazz game, got an autographed shoe from Mitchell, and witnessed her favorite player lead an epic comeback win.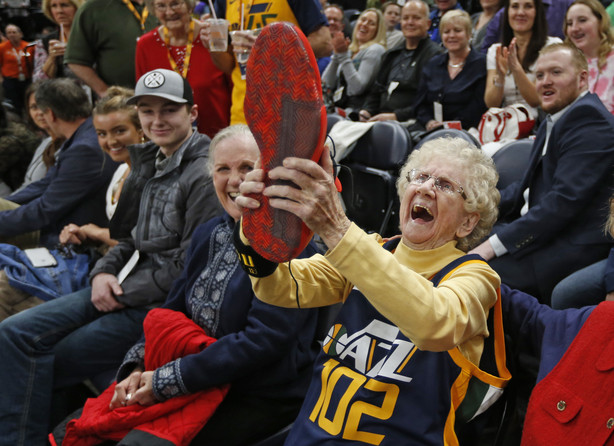 Here's to you, Roberta Morgan, and your love of the Jazz! And here's to you, Donovan Mitchell, for being a monster player and an overall good guy!
---
Last week's Have You Seen This?
×
Related Stories