This archived news story is available only for your personal, non-commercial use. Information in the story may be outdated or superseded by additional information. Reading or replaying the story in its archived form does not constitute a republication of the story.
Editor's note:This article is a part of a series reviewing Utah history for KSL.com's Historic section.SOUTH SALT LAKE — The Bonwood Bowl sign — a giant neon sign topped with an 8-foot tall bowling pin with a bowling ball — was one of Salt Lake Valley's more distinct and recognizable business signs for the past six decades. That is until an alleged drunk driver crashed into it and damaged most of it last October.
Now the sign is restored as best could be after more than $25,000 in repairs. A ceremonial unveiling of the new 42-foot sign outside of the bowling alley, located 2500 S. Main., will be held Tuesday afternoon.
For Emma Dugal, vice president of Bonwood Bowl, and other members of the family-owned business, restoring the sign was important to honor the legacy of the company.
"For a fraction of the cost, we could have put up just a generic sign in its place, but we have owned Bonwood since it opened in 1957 and just over all these years, (the sign) has been just an identity of the bowling center," she said. "Aside from that, it's a throwback to the classic signs that were made during that part of history, back in the '50s that are so quickly disappearing. We felt like it was important to salvage it for those reasons to keep our parents happy."
Dugal's parents, Bonnie and Woodrow White, cleverly combining their first names together, opened Bonwood Bowl in 1957. They placed the giant sign with bright neon colors to draw in customers to the 18-lane bowling center, and it worked. The Whites added 10 more lanes the following year and, later, 14 more lanes were added in 1972.
In its first couple of years, bowlers won things like chocolate, sandwiches or even steak dinners as prizes, according to newspaper reports at the time. In one bowling tournament held there in 1958, winners were sent to the National All-Star Bowling Championship in Buffalo, New York, according to Dugal.
She added bowling leagues became increasingly popular in the 1960s. Various companies sponsored competitions that led to as much as $7,500 in prizes. Those leagues continue today. In fact, there are about 50 leagues the alley hosts.
As Dugal noted, Bonwood Bowl's sign was a large part of its identity during this time. Lisa Michele Church, a community historian from Relentless History, described it as "one-of-a-kind" and one of the last remaining signs in the Salt Lake Valley showcasing the area's neon signage past. It was designed by a local neon sign company, Brimley Brothers Neon (now Brimley Neon).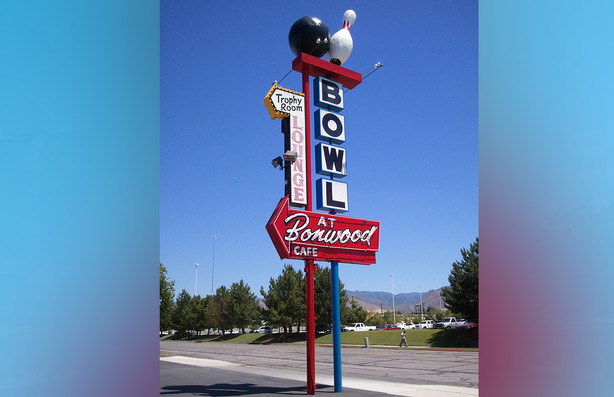 "The sign was very much associated with the family. It was designed by the family, and family businesses are known for their images," Church said. "The image on the sign was designed by Woody and Bonnie ... that was designed in 1957 when they opened."
That history came crumbling down in October. An alleged drunk driver crashed into its post, destroying most of the sign, Dugal said.
"What it did is it caused damage to the main part of the sign," she said. "Fortunately, it didn't damage the ball and the pin, which are so iconic, but it pretty much destroyed everything else."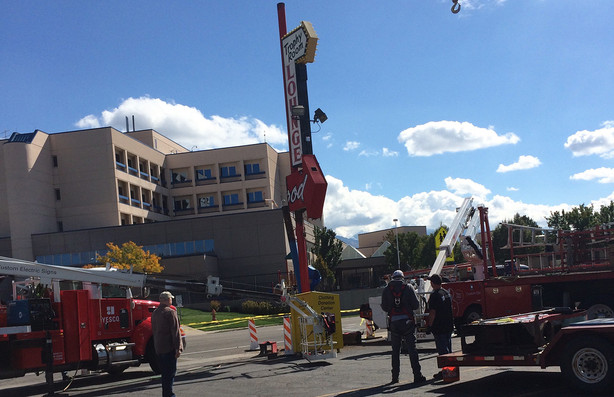 Dugal added the driver didn't have any insurance either, meaning it was up to the family company to pay out of pocket for a new sign or any repairs. The family then came in contact with the Utah State History preservations office and Relentless History. Both history groups stated interest for the sign be preserved, though neither could help provide financial support, Church said.
"You just hate to see them lose that image and have it be a really generic plastic sign. (A plastic sign) doesn't really represent the family's uniqueness," she said. "The other thing is, this was an era when all signs were custom signs. Nowadays, there are pretty standard signs with plastic and everything. … To lose that would be heartbreaking not only when you see it's the history of Bonwood business but our local sign family businesses, too."
However, they were able to help point Bonwood Bowl toward Salt Lake City-based YESCO, which worked to repair it. Dugal said it would have cost more than $50,000 to return it to what it was prior to the crash, so a few modifications were made to it.
The "At Bonwood" part of the sign was altered and the sign's arrow, as well as "cafe and pro shop" portion of the original sign were destroyed. The new sign is also now LED-lit instead of neon.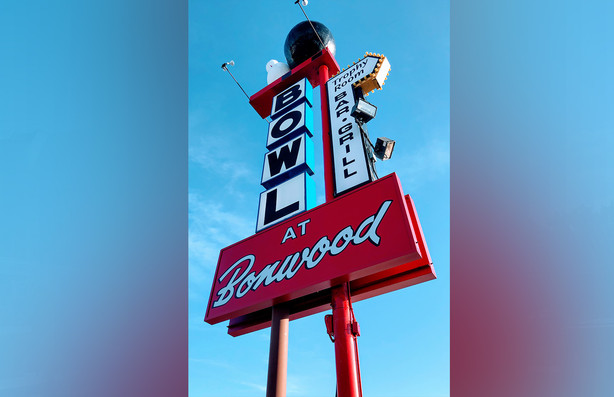 In honor of the sign's return, the South Salt Lake Chamber of Commerce and South Salt Lake Mayor Cherie Wood will participate in a ribbon-cutting ceremony 3 p.m. Tuesday. Members of Utah State History and other organizations will also be on hand.
A game of bowling will be $0.57 (paying homage to year Bonwood Bowl was established) from 2 to 5 p.m. on Tuesday, as well. In addition, shoe rentals, a small drink and small french fries will also be $0.57 during the celebration.
Dugal said the whole point is to give back to the community, which has been supportive since the sign was damaged.
"I have personally received a lot of positive reinforcement about it," Dugal said. "As we've shared it on social media, we've had lots of positive comments about it. … It's just bringing back a lot of good memories, a lot of good times for people."
×