DRAPER — Loveland Living Planet Aquarium celebrated Penguin Awareness Day over the weekend with a variety of penguin-themed activities that patrons were invited to participate in.
Loveland is home to 21 gentoo penguins, 10 of which were hatched at the facility.
Friday, guests fed the penguins as part of the penguin encounter, a close-up interaction with the birds ahead of Penguin Awareness Day, which was Sunday.
"I enjoy them, they're a nice species of bird," said 13-year-old Aidan Schwartz. "It's quite unique how they work."
For Brent Beardsley, Loveland's public programs manager, helping the public understand penguins is important.
"We want to help people understand penguins and love them, so that when they have an oppurtunity to change their seafood or their habits, it's not just 'I'm able to do it because it's good for penguins,'" Beardsley said. "They can look and say 'I'm doing this because I know Uno, I love Uno.' Or, 'I know Samson, I loved seeing him at the aquarium.'"
Utahns often feel that they can't make a difference when it comes to helping endangered species of penguins, Beardsley said. However, practicing simple conservation habits like not using plastic straws, for example, can make a big difference, he said.
"It's something Utahns can do right here to help penguins in the wild," he said.
Penguins are a huge indicator of the health of the environment and ecosystem, Beardsley said.
"Penguins are an apex predator, they're at the top of the food chain where they live," he said. "So being aware of the health of penguin colonies, it can tell us a lot about the health of oceans in the area where they live."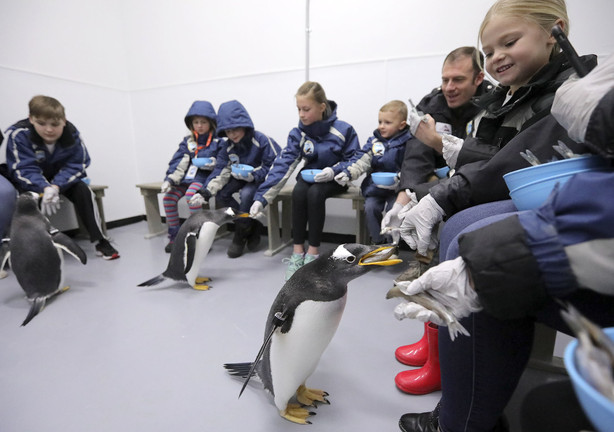 While penguins are widely thought of as cute, it seems not many people know a lot about the birds, said Scott Chambers, curator of mammals and birds.
"There's so much about penguins that people don't know," Chambers said. "Cool, fascinating things."
For example, gentoo penguins are the fastest species of swimmers and can reach speeds up to 22 mph. They are the third-largest species of penguins, with adults weighing in at around 12 to 16 pounds, and make a variety of calls.
Aquarium staff also explained that they're gearing up for the facility's penguin breeding season, which begins on Valentine's Day. The aquarium trucks in 2,000 pounds of rocks for the occasion, which the penguins use to build their nests.
Chambers sees the penguins almost every day, and makes a note to check in on the penguin he helped hatch four years ago — Uno.
"You can't not come see the little guy," he said.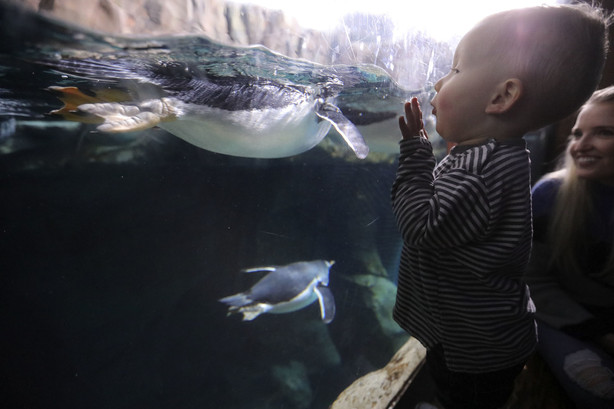 Uno was the first penguin hatched at the aquarium and is a favorite among guests. Chambers said gentoo penguins aren't currently at risk for extinction.
"These guys are doing better than most penguin species out there," Chambers said. "But that's not really saying much."
According to the International Union for Conservation of Nature's Red List of Threatened Species, populations for 11 of the world's 18 species of penguins are decreasing.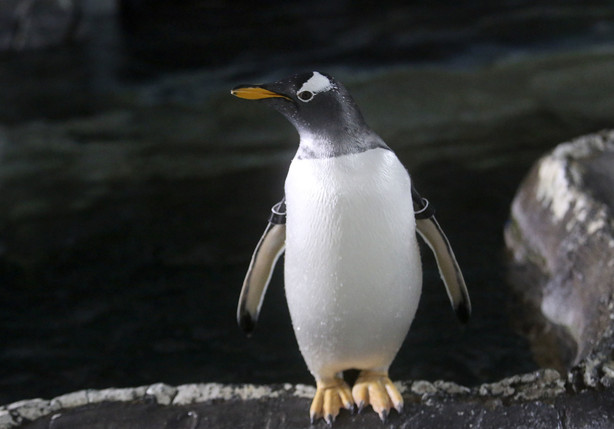 Syndie Sessions, a parent-chaperone for Rose Spring Elementary's second-grade field trip, stressed the value of taking children to learn about nature during the group's visit to the aquarium Friday.
"They need to know more about the world outside themselves," she said of the children. "Especially the environment outside of where they grew up and how their actions can affect it in the long term."
×
Photos