OREM — The last thing he did before going to work that night was cuddle his 1-year-old son to sleep.
"It was the same thing he did every night," Kaylyn Shinners said at her husband's funeral on Saturday. Provo police officer Joseph Shinners was shot and killed while apprehending an armed fugitive during his usual overnight shift on Jan. 5.
It "was the day we all dreaded would come," Provo Police Chief Richard Ferguson said. Joseph Shinners, he said, put himself between a wanted and known dangerous fugitive and another officer when he saw there was a threat.

"He selflessly sacrificed his life to protect the lives of his fellow officers," Ferguson said. "He was lost at the hands of evil."
Hundreds of uniformed officers, including many from outside of Utah, attended the funeral held at the Utah Community Credit Union Center at Utah Valley University to honor the life of 29-year-old Shinners, a three-year veteran at the Provo Police Department.
"He was the very best kind of police officer," Ferguson said, adding that Shinners was "a high-speed and low-drag kind of cop."
"He was always happy, energetic and excited about being a Provo police officer," the chief said. "He loved life."
Ferguson promised Kaylyn Shinners that her husband "will not be forgotten and justice will be pursued for his death."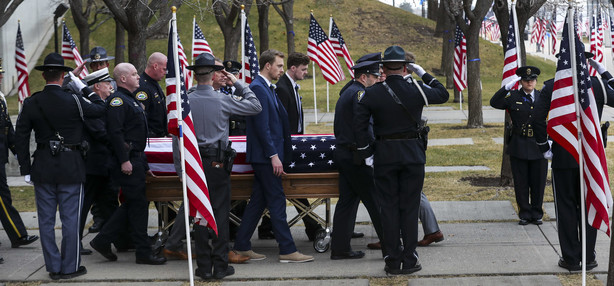 The man in custody in connection with the shooting, Matt Frank Hoover, 40, has a lengthy criminal history and may face aggravated murder charges. According to police reports, the two each fired a shot, with Hoover being hospitalized with minor injuries.
"Joe fought as a warrior on the outside, but had a caring heart of gold on the inside," said his older brother, officer Michael Shinners, a member of the police force in Haverhill, Massachusetts. "Joe is the first man you want next to you when things go bad."
He said "Joe knew what he was doing that night … apprehending the bad guys and getting them off the street."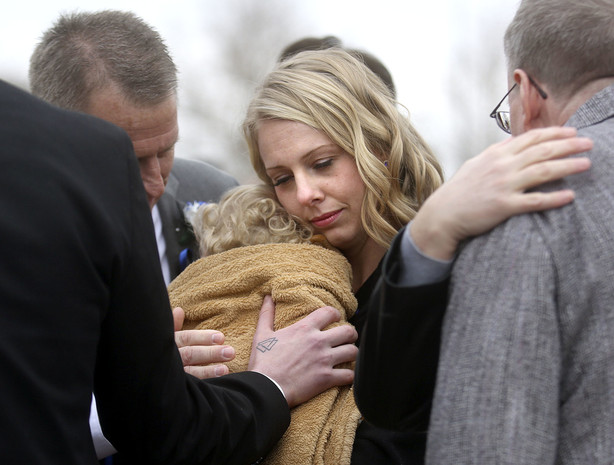 "He paid the ultimate sacrifice doing what he loved to do," Michael Shinners said, adding that as youth, they were always taught "to be a giver."
"I want more people to be like Joe," he said.
Kaylyn Shinners said she will miss her husband for the man he was at home.
"He loved clean sheets," she joked. "He made me shower before going to bed every night. I changed my whole routine to marry him."
The two met in junior high, but began dating in high school and were married after Joseph Shinners completed his mission in El Salvador for The Church of Jesus Christ of Latter-day Saints. She said he was anxious about having children, but quickly became a wonderful father to their son, Logan.
"Your daddy is and always will be a hero," Ferguson told the boy.
He said it has been a difficult week for the agency, but the tragedy of losing one of their own has strengthened them.
"They're carrying each other's water right now," Ferguson said.
Tears streamed down the faces of many of those officers at the graveside service that followed the funeral. Shinners was buried at Evergreen Cemetery in Springville, near where he lived with his wife and son.
A procession of law enforcement vehicles preceded Shinners' casket, winding from flag-lined streets in Orem, to Center Street in Provo, where the trees were tied with blue ribbons, and on to Springville, where more American flags lined the way to the cemetery.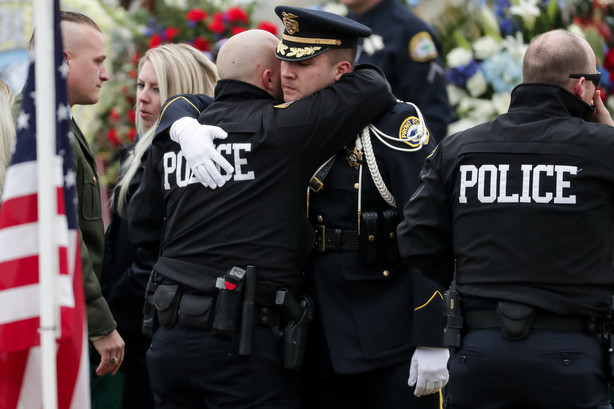 Citizens gathered along the route to pay their respects to the fallen officer, and Shinner's patrol car sat outside the police station adorned with flowers, notes and gifts.
Shinners is one of five police officers killed since Jan. 1 across the United States. Ferguson and Michael Shinners both called that fact "unacceptable."
"Our officers need support from the communities they serve just as the communities need them," Michael Shinners said, asking for more respect for officers from the public.
Gov. Gary Herbert, who also spoke at the funeral, thanked the fallen officer "for his service … and his sacrifice."
"It's a tough world out there," he said. "We will never forget. Let's improve our doing to follow in his example. Let's be more compassionate, more helpful, better neighbors, more caring."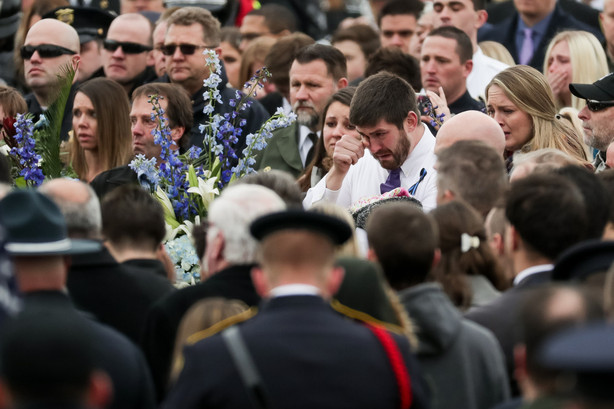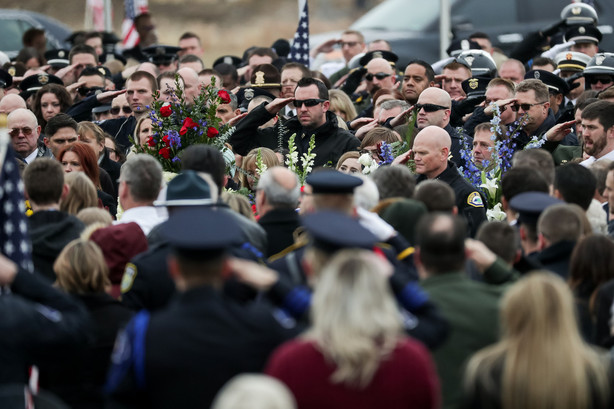 Policing, Ferguson said, has always been dangerous, because of the "evil" that exists in communities.
"Police officers, just like the military, understand there are only two rules," he said. "One rule is that good men and women are going to die protecting the peace and civil liberties of everyone. And rule No.2 is that you can't change No.1."
He said police work "is not a job, it is truly a calling," one that Shinners did well.
The police chief said he will remember Shinners as "one of the very best police officers I've ever had the opportunity to associate with.
"He's a leader and he's a hero. And he has the ability that a lot of people don't have and that is to be humble while confident," he said.
×
Photos
Related Stories