SALT LAKE CITY — Utah Transit Authority and Division of Water Resources officials teamed up in an effort to purchase a stretch of land in Box Elder County that runs aside a Union Pacific line for future projects they hope to complete in the coming decades.
Under this plan, the two agencies will split a corridor that extends as far out as 140 feet east of the rail line in some areas of the county.
The plans to purchase isn't for an upcoming project; rather, it's to be prepared for projects that could be greenlighted in the future, officials from both agencies said.
"Nothing is imminent as far as anything being built, but if you don't acquire the land now and have it there available to you, 10 years from now, 15, 20 years from now, whoever is running UTA may not have the option," said UTA spokesman Carl Arky.
If those informal future projects come to fruition, FrontRunner trains could run as far north as Brigham City in the distant future. There also could be an underground water pipeline tied to future developments in Bear River projects, as well as a nature trail aligning the railroad lines.
Cost details for the land weren't disclosed and " final alignments" aren't complete, Division of Water Resources officials said. Arky added the two sides will try to acquire land together.
The pairing of a transit and water resource agencies may seem a bit odd; however, both said they needed a swath of land in case their future plans line up. It all started a few years back during Box Elder County planning meeting. Water Resources officials went there to seek a corridor for future water projects and learned UTA officials were also seeking a similar corridor for their future projects.
"(We) just kept in touch over the years. UTA specifically has money from Box Elder County to preserve corridors through there and it just seemed like a great fit," said Marisa Egbert, an engineer for the Utah Division of Water Resources. "If you need some corridors through a narrow area, just put them right next to each other and work with that other agency to try to save some money by partnering and by staying ahead of future, additional housing."
Here's how their plan works:
UTA would grab a 40-feet wide row next to current Union Pacific line, which is east of I-15 for most of Box Elder County. The extended line would go from Ogden, where FrontRunner currently ends, north to Brigham City.
As a part of its 2040 master plan, UTA is looking to possibly expand FrontRunner service to Brigham City. That wouldn't happen unless the demand is there from the community, Arky added. UTA canceled FrontRunner service to Plesant View (north of Ogden) earlier this year because the demand wasn't there.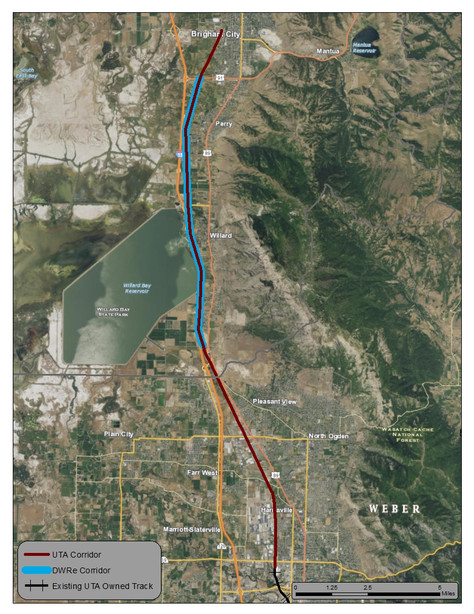 Utah Division of Water Resources would take a 70-to-100-foot wide row of land next to the new UTA line from South Willard to a spot between Brigham City and Perry. It would be an area where the agency would place buried pipeline to supply water from the Bear River to communities. The proposal includes the option for trees and a recreational trail aligning it.
Egbert said the idea is to make that land a "buffer" from the rail line to homes built in Box Elder County.
Neither projects from the agencies are a go at this point. Both agencies expected it would likely be years before those formal discussions are started.
The reason both agencies are jumping in now is that they expect the cost will rise in the future. That and the growing amount of homes projected in the coming decades would make it more difficult for either agency to acquire land once a project is finalized.
"This is just a way for us to ensure and make sure that at that point in time when we ready to (extend FrontRunner service) and the taxpayers are ready to do this and it's justified and it makes sense that we have that alignment," Arky said.
Egbert said nothing is finalized yet for Water Resources' plans with the land.
×