This archived news story is available only for your personal, non-commercial use. Information in the story may be outdated or superseded by additional information. Reading or replaying the story in its archived form does not constitute a republication of the story.
SALT LAKE CITY — Utah's first snowstorm of the year helped the state snowpack get off to a solid start before winter officially begins, but experts say there's a lot of snow left to fall before the state gets out of its drought.
Snowpack is defined by the amount of water contained within fallen snow (snow water equivalent) and plays a factor in Utah's water supply.
All of Utah's basins reported average to above average snowpack totals Monday after the storm hit, according to the Natural Resources Conservation Service. The San Pitch basin in central Utah led at 163 percent of the average. The northeastern Uintahs and southeastern Utah, each at 100 percent, were the lowest totals.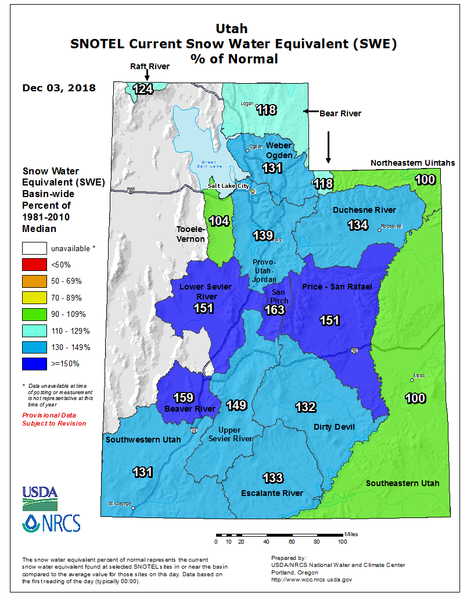 That's compared to numbers as low as 9 percent in southwestern Utah and 82 percent in northern Utah on Dec. 3, 2017, according to Natural Resources Conservation Service numbers. Those numbers remained well below 60 percent throughout winter for most of the state.
"We are super excited for all the storms we've had," said Candice Hasenyager, assistant director of the planning branch at the Utah Division of Water Resources. "We are above normal across the state … so we're really excited for where we're at right now."
That's not to say Utah is out of a drought. The state's drought was mostly created from the below-average snowpack during the 2017-18 water year, which runs from Oct. 1 through Sept. 30 each year.
In fact, places like Ogden, central Utah and eastern Utah remain in an "extreme drought," according to the National Integrated Drought Information System map. Most of the rest of the state is in a "severe drought," while southwestern Utah and the Uinta Mountains area are in a "moderate drought."
KSL meteorologist Grant Weyman said the storm that slammed the state Sunday and previous storms have snowpack totals right where experts want them to be for now, but prolonged snow this winter and next year would likely be needed to fix the drought.
"This is a great start for where we are in early December. If we ended the (winter), got into April and still had a snowpack that was 100 percent or better, we'd be looking pretty good — and then you'd like see that drought map change," Weyman said. "Maybe it wouldn't go away, but we'd be in a lot better shape."
In the meantime, Hasenyager urges residents to use water "wisely" as Utah's drought lingers. She also hopes more snow like Sunday's storm will fall during the winter.
"Our snowpack is our largest reservoir," she said, "so any storms we get will help."
×
Related Stories