This archived news story is available only for your personal, non-commercial use. Information in the story may be outdated or superseded by additional information. Reading or replaying the story in its archived form does not constitute a republication of the story.
SALT LAKE CITY — Maj. Brent Taylor has returned to Utah.
"He is finally returning home," said his wife, Jennie Taylor.
"On behalf of our family, I would like to thank you for being a part of this important homecoming," Taylor said Wednesday as the family awaited the fallen hero's arrival at the Roland R. Wright Air National Guard Base in Salt Lake City.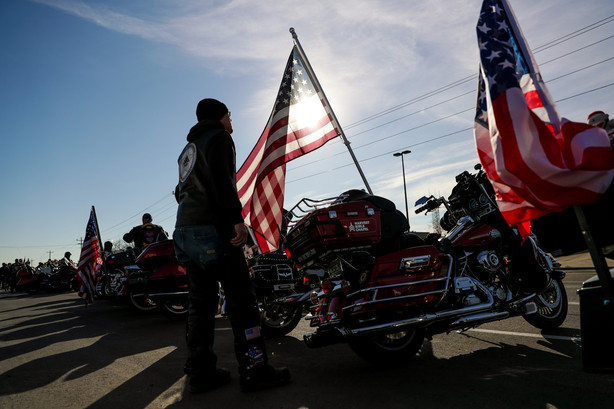 She said the family wore yellow to welcome Taylor home, "as women have done since the days of World War II."
"Today he comes home to so many of his friends, family members … and Major Taylor is also coming home to his brothers in arms. This is a tender day for all of us," Taylor said.
Fellow soldiers, dozens of supporters on motorcycles and others lined up to salute the North Ogden mayor killed in Afghanistan ahead of his dignified transfer, which stretched from Salt Lake City to North Ogden.
After the plane carrying Taylor's body touched down on the tarmac, six fellow soldiers carried his casket and laid it down in front of a line of soldiers in combat uniforms.
His family, some of the children wrapped in blankets, were then given a moment to surround the flag-draped casket.
Among those who gathered Wednesday to salute Taylor, the Patriot Guard Riders of Utah lined up outside the base and filled the air with the sound of motorcycles revving.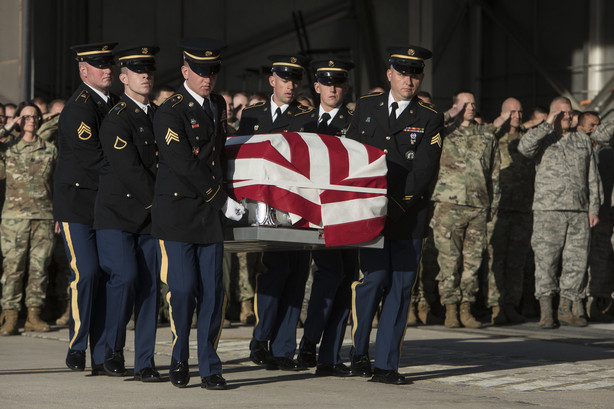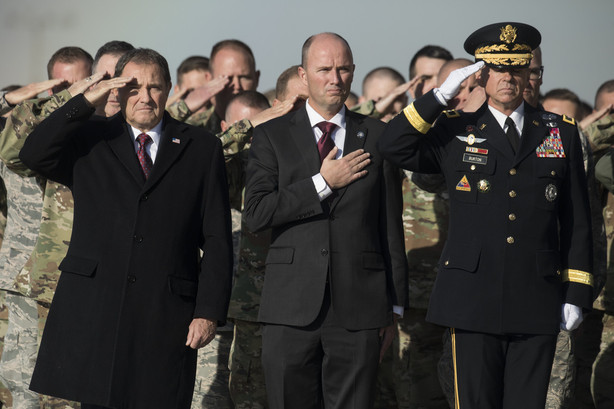 "Any veteran's loss is important to us. We appreciate the sacrifice they gave. … They have given the ultimate sacrifice to help us out," said Reed Newman, ride captain with the Patriot Guard Riders of Utah. He said that more than 100 riders showed up to salute Taylor.
As the white hearse carrying Taylor's remains exited the base, silence fell on the crowd. A little girl, there with her family, wept and was comforted by another child.
The hearse was accompanied by more than two dozen law enforcement officers on motorcycles as it made its way north.
In North Ogden, residents of all ages lined Washington Boulevard an hour and a half before the hearse passed through the area. They waited for their fallen mayor to arrive, many holding American flags.
Becky Marston wanted to make sure her kids paid their respects.
"It was nice for them to see somebody actually leaving to go fight for our freedoms. And then to hear the tragedy that he's coming home, but he's not coming home how we want him to come home," Marston said.

A public viewing is scheduled for 5 p.m. to 8 p.m. on Friday at the Dee Events Center, 4400 Harrison Blvd., in Ogden. Following the viewing, a vigil will begin at Myers Mortuary as members of the military watch over Taylor's remains, according to the Utah National Guard.
The funeral will take place Saturday at 1 p.m. in the Dee Events Center, after which Taylor will be laid to rest in the Ben Lomond Cemetery in North Ogden.
Taylor, 39, took an unprecedented one-year leave of absence from his post as mayor for his deployment in January.
Taylor volunteered for a NATO mission to train members of the Afghan National Defense and Security Forces. While on a foot patrol, one of the Afghan commandos shot and killed Taylor on Nov. 3. Other Afghan commandos immediately killed the attacker. Another U.S. service member was injured in the attack.
Taylor leaves behind his wife and seven children ranging in age from 13 years to 11 months.
Contributing: Caitlin Burchill
×
Photos