Estimated read time: 6-7 minutes
This archived news story is available only for your personal, non-commercial use. Information in the story may be outdated or superseded by additional information. Reading or replaying the story in its archived form does not constitute a republication of the story.
LEHI — Even though incumbent Republican Rep. Mia Love trailed Democratic Salt Lake County Mayor Ben McAdams in the 4th Congressional District race she said believes she can pull off a victory.
Love has 48.6 percent compared to 51.4 percent for McAdams in statewide results reported from the largely by-mail election, but both campaigns said they may not know the winner until later in the week as more votes come in and are counted.
"It looks really good. I'm optimistic about it but I am certainly going to wait until we get all those numbers in before we do anything," she told reporters. "But I feel fairly confident that this is going to work out."
During a second appearance at her campaign's election night party in a small conference room at a newly opened Lehi hotel, the two-term congresswoman said the turnout in Utah County was "off the charts."
Given how many voters waited in line for hours in largely Republican areas like Lehi and Eagle Mountain to vote Tuesday, Love said, "my gut tells me that we're going to pull this out."
Earlier in the evening, Love's campaign manager, Dave Hansen, said the long lines of voters in Utah County were a "very good" sign. The county, Love's conservative stronghold, makes up about 11 percent of the district.
Hansen said if turnout is strong enough in Utah County, Love can lose Salt Lake County and still win re-election. Poll watchers for Love reported about 2,000 voters were still waiting to cast their ballots in Utah County as of about 9:30 p.m.
He said it could take until Friday for "definitive results" in the race.
At the Utah Democratic Party's election night party at the Radisson Hotel in downtown Salt Lake City, McAdams took the stage shortly before 10:30 p.m., drawing loud applause and wild cheers from a crowd of supporters.
"I know there's a lot of excitement, a lot of optimism in the room. I have to say, it's not over — but everything is looking good," McAdams said, to an explosion of cheers, and chants of "Ben, Ben, Ben."
"The only thing that is clear is that Utahns are ready for change," he said. "They are sending a message that we want an independent voice to represent us in Washington."
McAdams said it will "take a few days before we know the outcome of this election, but if we win, this will be a win for people over politics," and "a win for fixing a broken Washington with your interests, not special interests writing the agenda."
He did not comment on Love's predicting a win, but speaking to reporters after his speech, he said he was "cautiously optimistic."
"There are a lot of votes still to be counted," he said, adding that a victory may have to wait until more votes are tallied perhaps on Friday, when Utah County was expected to release more results. "We're still waiting to see how those come in."
"We've been working hard at this race for over a year now, so if it takes a few more days to find out if we've prevailed or not it's worth the wait," he said. "We are optimistic, and can wait a few days or however long it takes to see how this ends up."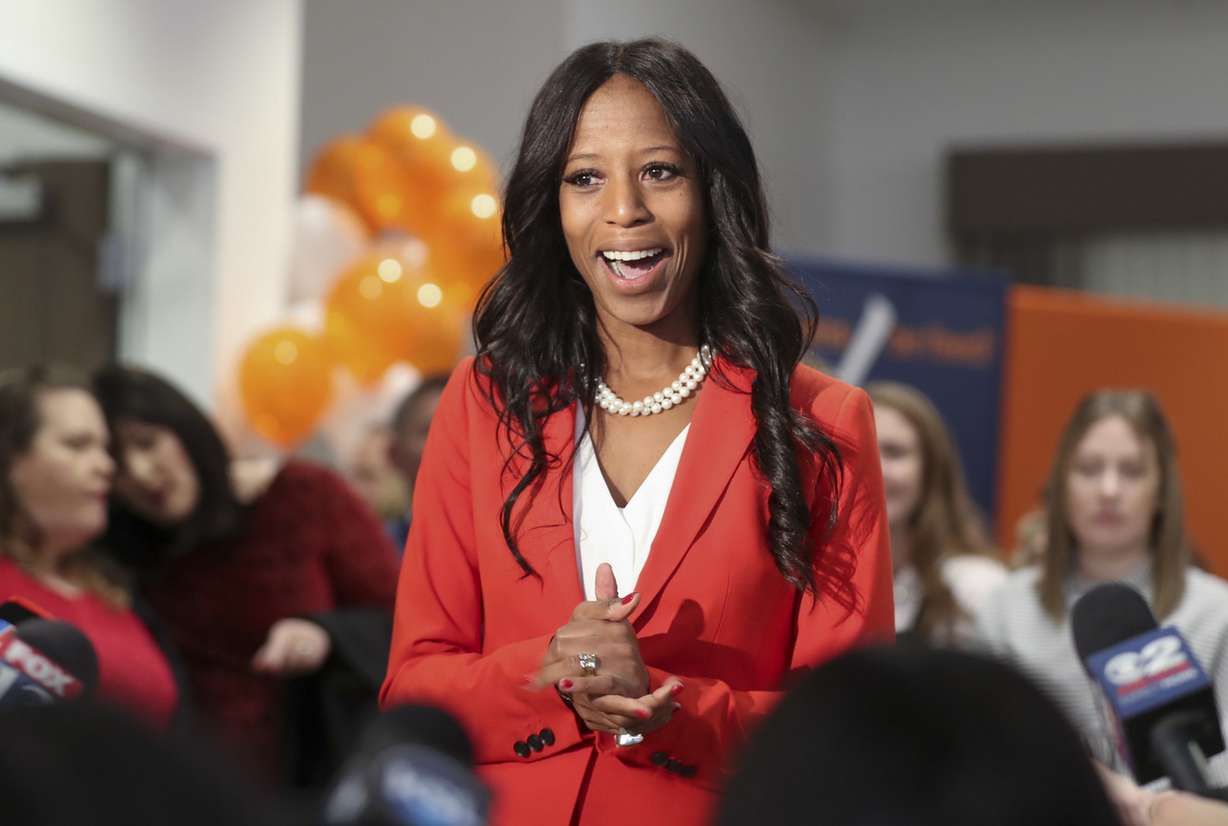 McAdams stayed ahead throughout the night, but saw his lead narrow from 10 points in early results just from Salt Lake County to 3 points as more counties reported vote totals, especially Utah County.
"It's an impressive early lead for McAdams, but it is entirely from Salt Lake County," Chris Karpowitz, co-director of BYU's Center for the Study of Elections and Democracy, cautioned after the initial results.
He said when votes come in from areas of the district that favor Republicans, "the margin will narrow considerably," pointing out that in 2016, Love won the Utah County portion of the district by 20,000 votes.
It's been a tight race all along, with most polling showing Love slightly ahead but McAdams within the margin of error. In the final weeks, the race was widely viewed by national analysts as a toss-up, or even leaning Democratic.
Related:
More than $10 million is expected to end up being spent on the 4th District contest, including several million dollars by partisan and special interest groups from outside Utah for attack ads targeting both candidates.
Love and McAdams also went after each other in TV commercials focused on accusations Love illegally raised campaign funds and McAdams is a tax and spend Democrat who backs House Minority Leader Nancy Pelosi, D-Calif., for speaker.
Both candidates have repeatedly denied the accusations made against them but the contention continued throughout the campaign.
Even during their only debate, held in mid-October, the candidates seemed to spend more of their time taking swipes at each other than talking about their stands on issues.
Love, 42, the only black Republican woman in Congress, has campaigned on her accomplishments during two terms in office, including passing five bills in the House. One, helping small community banks provide loans, has been signed into law.
"I can say no matter what happens, I do my very best," Love has said about the race. "You don't have all the funds in the world to let people know all the things that we've done. But we've worked really hard."
The former Saratoga Springs mayor has touted support from members of the otherwise all-Democratic Congressional Black Caucus, and her ability to collaborate with President Donald Trump on some issues while criticizing him on others.
Trump has loomed large in the race, because despite the state's reputation as one of the most Republican in the nation, the president's popularity lags in Utah, especially in the 4th District.
McAdams, 43, a former state senator elected mayor of the state's largest county in 2012, has been backed by several Republicans, including Draper Mayor Troy Walker. The pair worked together on the homeless issue.
"I don't get credit for what I try to do or what I say I want to do. I'm judged based on what I accomplish," McAdams has said about serving as mayor.
He has promised voters he'd continue to cross the aisle if they send him to Congress "to overcome Washington's broken politics," and distanced himself from national Democrats like Pelosi.
This is McAdams first run for Congress.
Love lost her first bid for Congress in 2012, against then-Rep. Jim Matheson. When Matheson, the last Democrat to represent Utah in Congress, retired two years later, Love won the seat and was re-elected in 2016.
Salt Lake County is expected to release more results on Thursday, while Utah County will wait until Friday. The final canvass won't be until Nov. 26 at noon, when Lt. Gov. Spencer Cox and other state officials meet to certify results.
Contributing: Katie McKellar
×
Photos
Related stories
Most recent Utah stories