PROVO — A 19-year-old Spanish Fork man admitted Tuesday to filming a teenage girl's suicide in Payson Canyon last year after buying rope, tying the noose and speaking to her as she and passed out and died.
"I feel like I did murder her," Tyerell Przybycien told officers after the death of his former classmate, 16-year-old Jchandra Brown, according to a statement read aloud in court.
"That's what it is. Because I helped her so much. That was my plan."
In accepting a plea deal, Przybycien, who was 18 at the time of his friend's death, evaded a murder conviction.
He pleaded guilty to a reduced charge of child abuse homicide, a first-degree felony, in the death of Brown, a spunky champion cheerleader who disliked following the rules but loved Batman and her younger nephews.
The guilty plea carries a potential maximum sentence of five years to life in prison. It spares the risk that defense attorneys would poke holes in the state's case at trial and also brings closure to the girl's family sooner, said deputy Utah County attorney Chad Grunander.
"We feel very good about this conclusion," he said.
A murder conviction could have brought a potential sentence of 15 years to life.
Grunander noted that the Utah Legislature added assisted suicide to its manslaughter statute earlier this year, but no such option was available to prosecutors when they charged Przybycien a year earlier.
Susan Bryan, Jchandra's mother, said she trusts the court system and prosecutors, but life without her daughter does not get any easier as time passes.
"It really doesn't make a difference, because nothing's changed," she said, surrounded by other family members and friends of her daughter. "I cannot bring Jchandra back."
Bryan wore a hair clip with a bright blue flower that belonged to her daughter, who had dyed her own hair a similar, vibrant color before her death.
On Tuesday, less than two months before his murder trial was set to begin, Przybycien admitted he did not try to help save the girl's life. A suicide note referenced a recording on a phone in which "he can be heard saying her body should be depleted of oxygen. He was standing just a few feet away while filming her death," according to court documents.
He had picked up the girl from work on May 5, driving her to the spot near Maple Lake where she drew her last breath. He was arrested after a turkey hunter came across Brown's body the following day. Among the items found at her feet was a rope, a receipt for its purchase with Pryzbycien's name, the handwritten note and a can of industrial strength air duster.
A shackled Przybycien sat quietly during the hearing, wearing a blue jail jumpsuit, a mullet and glasses with thick, white frames.
"Yes," he replied, after the judge asked him whether a page-long series of facts in a statement read out loud by Grunander were correct.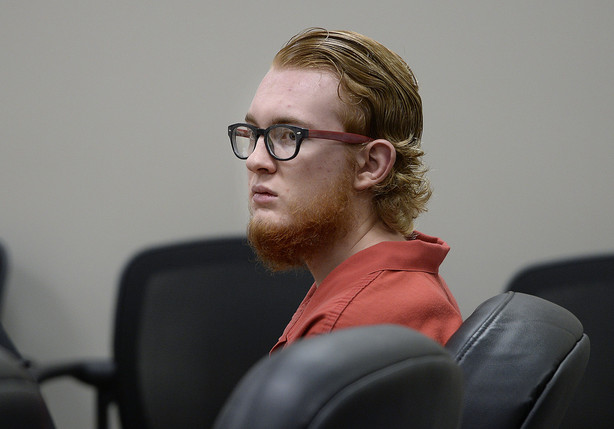 The statement referenced letters he sent to friends after the girl's death about getting a tattoo of a noose on his arm and writing, "I have changed the world," after reading an article about a rise in youth suicides.
Przybycien also wrote to his friends that he believed the prosecution's best case against him would be what he called a "child murder theory" based on his interviews and the evidence. "In it, all he has to do is prove I knew what I was doing, or had knowledge of obtaining the desire result," he wrote.
Prosecutors emphasized Tuesday that investigators recovered messages he sent to friends before Brown's death, saying he was going to help a friend kill herself and that it would be "like getting away with murder."
The state has maintained that even though Brown was seeking to take her own life, Przybycien was also responsible because he made sure the rope was taught and tied the noose, drove her to an isolated campground in Payson Canyon and built a pedestal.
Defense attorneys have countered that Brown was knowingly responsible for her own death and that his actions don't add up to murder. Outside the courtroom, his lawyer, Greg Stewart, and members of his family declined comment.
In exchange for the guilty plea, a charge of desecration of a human body, a class B misdemeanor, was dropped. Several counts in two other criminal cases against him also were dismissed.
They include two charges of witness tampering, a third-degree felony, after prosecutors said he wrote a letter to a friend who testified during a hearing last year, urging him and others not to speak with investigators.
Przybycien also admitted that police who served a warrant on his phone in Brown's death found a picture of a nude girl under the age of 18. He pleaded guilty to a reduced count of attempted sexual exploitation of a minor, a third-degree felony. In exchange, four other counts of sexually exploiting a minor, a second-degree felony, were dismissed.
He is scheduled to be sentenced on Dec. 7.
Anyone experiencing thoughts of self-harm or suicide can reach a crisis worker 24/7 at the University of Utah Neuropsychiatric Institute by calling their hotline at 801-587-3000 or using the SafeUT app.
Suicide prevention resources
If you or someone you know is struggling with thoughts of suicide, call the suicide prevention hotline at 1-800-273-TALK.

Crisis Hotlines
National Suicide Prevention Lifeline: 1-800-273-TALK (8255)
Statewide/Salt Lake County Crisis Line: 801-587-3000
Utah County Crisis Line: 801-691-5433
Wasatch Mental Health Crisis Line: 801-373-7393
Trevor Project Hotline for LGBTQ teens: 1-866-488-7386
Online Resources
Warning signs of suicide:
Talking about wanting to die
Looking for a way to kill oneself
Talking about feeling hopeless or having no purpose
Talking about feeling trapped or in unbearable pain
Talking about being a burden to others
Increasing the use of alcohol or drugs
Acting anxious, agitated or reckless
Sleeping too little or too much
Withdrawing or feeling isolated
Showing rage or talking about seeking revenge
Displaying extreme mood swings
The more of these signs a person shows, the greater the risk. Warning signs are associated with suicide but may not be what causes a suicide.
Information from the American Foundation for Suicide Prevention.
---
What to do if you see warning signs of suicide
Do not leave the person alone
Remove any firearms, alcohol, drugs or sharp objects that could be used in a suicide attempt
Call the U.S. National Suicide Prevention Lifeline at 800-273-TALK (8255)
Take the person to an emergency room or seek help from a medical or mental health professional
Information from the American Foundation for Suicide Prevention.
×
Photos
Related Stories