This archived news story is available only for your personal, non-commercial use. Information in the story may be outdated or superseded by additional information. Reading or replaying the story in its archived form does not constitute a republication of the story.
WEST VALLEY CITY — After spending a while looking for somewhere to get their three kids' car seats checked, Jefferson and Sarah Jamieson were relieved when they heard about an event Friday at Gus Paulos Chevrolet focused on just that.
Certified child passenger safety technicians with Safe Kids Salt Lake County, Primary Children's Hospital and AAA inspected families' car seats at the free event. Parents learned how to properly fasten their kids' seats, and those that were too small, too big, damaged or expired were replaced for free.
Safe Kids Salt Lake County coordinator May Romo said a lot of parents don't realize car seats expire after six years of purchase because of regular use and materials breaking down over time, especially from sun exposure.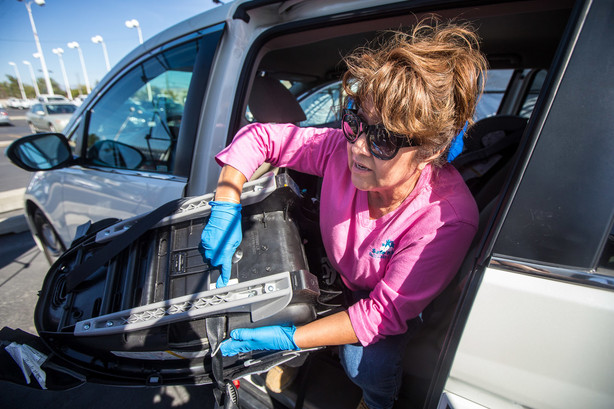 Romo said the most common mistake parents make is not tightening the seatbelt or straps enough, or not placing the buckle directly below the child's armpits.
Marilyn Morris, one of the technicians on site, said another common problem she sees is when parents move kids into a bigger car seat too soon.
Forty-six percent of car seats are not properly installed or used, according to Safe Kids Worldwide.
"We thought we were pretty good," Sarah Jamieson said, "but two of (our kids) weren't in the right way."
Safe Kids gave the Jamiesons and other families free new car seats to replace theirs, which weren't the right size for their kids.
"I wasn't expecting that, so that's awesome," Sarah Jamieson said. "And now I know they're safe."
Expired or damaged seats were taken away for disposal, but parents were allowed to keep their previous seats if they were simply the wrong size so they can be used for other children.
"Of course, kids are the most important thing for us," Jefferson Jamieson said, "so we want to make sure they're safe."
Jefferson Jamieson was also excited about safety reminder lanyards that Primary Children's Hospital gave out at the event.
The bright yellow lanyards that read "BABY IN CAR" have piece of a child seat buckle on the end, which parents can plug into their children's seats when empty. Then, when they buckle the child in, they hang the lanyard around their neck as a reminder when they get out of their car to not forget their precious cargo.
"I mean, we've never had that issue before," Jefferson Jamieson said, "but you never know."
Morris, who works at Primary Children's Hospital's injury prevention campaign, said 46 children have died in hot cars this year in the United States.
"Parents always tell us, 'I would never forget my baby. Who would forget their baby?'" Morris said. "But people do, because we're such creatures of habit."
Safety technician Kevin Condra said he also sees older children being moved from a booster seat into a regular seat too early.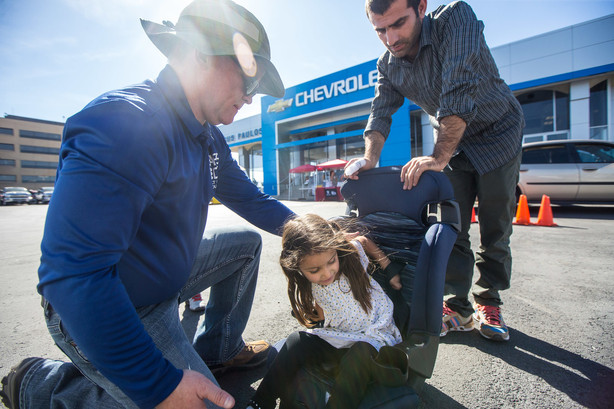 "If that seatbelt doesn't fit them like it does for us adults, they're not ready for the seatbelt yet. They still have to be in a booster," Condra said. He added that children should sit in the back seat until age 13 to avoid airbag injuries.
Carol Avery, who works for the Salt Lake County Health Department and was on scene to help check car seats, noted, "People don't read their manuals. They don't know that the automobile manual has a section on car seats, and it's worth reading."
Parents can find free child seat fitting stations online at highwaysafety.utah.gov/seat-belts-and-car-seats/car-seat-safety.
Correction: An earlier version reported incorrectly that car seats expire after six months. They actually expire after six years.

×
Photos