This archived news story is available only for your personal, non-commercial use. Information in the story may be outdated or superseded by additional information. Reading or replaying the story in its archived form does not constitute a republication of the story.
WEST VALLEY CITY — Joel Ewell hates waste of any kind, routinely trotting after his family to turn off lights — even if they happen to still be in the room.
So when he was taking his kids to school and noticed the idling school buses, he wanted to figure out a way to turn the pollution off, but keep the heat on for the students and bus drivers.
Three years later, at a media briefing on Tuesday, he stood against a backdrop of school buses bearing his Idle Free Heat system outside Granger High School.
The Granite School District had the technology installed on 40 buses in its fleet to save on fuel efficiency, emissions and to make sure bus drivers in their down time can remain warm.
"It gets really cold in those buses," said David Gatti, the district's director of transportation. Drivers between routes are faced with two choices, Gatti said — sitting on a freezing school bus with the ignition off or idling to keep the heat on.
Ewell's invention solves that problem. It captures heat from the engine block and distributes that throughout the bus to keep it warm.
"It is everything that is right about Utah. It is what we do best," Lt. Gov. Spencer Cox said at the briefing.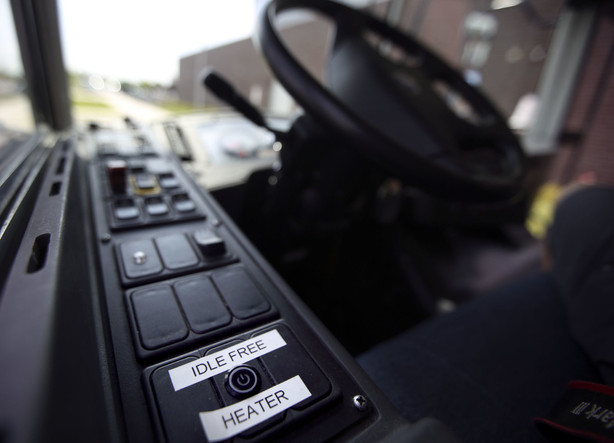 "This is a big deal, a really big deal, to help clean our air," Cox continued, emphasizing he hopes other districts in the state follow Granite's lead and get the technology.
The installation was made possible with funding from the Utah Clean Air Partnership grant program, with matching money from the school district and Idle Free Heat.
The pilot program is expected to eliminate hundreds of pounds of emissions, said Thom Carter, executive director of the program.
A single school bus idling for an hour will emit 81 grams of nitrogen oxide, carbon monoxide, PM10, PM2.5 and other pollutants.
Carter said the buses will have an immediate impact on air quality as the state enters the inversion season.
Related story:
"This type of direct reduction in emissions is the purpose of the UCAIR grant program," he said. "We are putting our money where are mouth is."
Rep. Mike Winder, R-West Valley City, also spoke at the event, praising Ewell's inventiveness and determination.
Winder was a judge at a clean air challenge in which Ewell was the grand prize winner, later helping him make connections to push forward with Idle Free Heat.
"The heat will keep going long after the ignition has been turned off," Winder said. "No student wants to climb aboard a cold bus."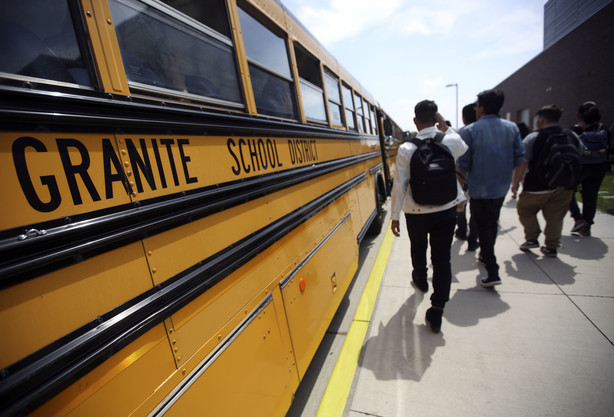 Ewell said he considers the technology a waste elimination system.
"I hate waste," he said, adding that the technology eliminates wasted fuel, wasted air full of smog and wasted memories of children who can't go out to play at recess because of dirty air.
"I am just a normal guy who had an idea, and today that idea is making an impact."
×
Photos
Related Stories