Estimated read time: 9-10 minutes
This archived news story is available only for your personal, non-commercial use. Information in the story may be outdated or superseded by additional information. Reading or replaying the story in its archived form does not constitute a republication of the story.
WEST VALLEY CITY — Tom Burchett was afraid that over time, he would forget what his son's voice sounded like.
Fortunately, he still has voicemails on his phone left by Matthew Burchett, some of which he played Monday at his son's funeral. Then he called his son's cellphone back and left one final message of his own.
"I just wanted to call and thank you for all things you've done for Mom and I," Tom Burchett said. "We want you to know how proud we are, not just for all you accomplished, but most of all for the kind, caring, thoughtful, generous person you are.
"Call us back when you get a chance. Love you. Dad."
The call was one of many emotional moments during the funeral for fallen Draper Fire Battalion Chief Matt "Matty" Burchett, 42, who was killed in the line of duty in California while helping with the raging wildfires in that state.
Thousands of family members, friends and firefighters from across Utah gathered at the Maverik Center Monday for a 2 ½ hour ceremony filled with many tears and laughter as speakers reflected on Burchett's life, as well as powerful moments from the brotherhood of firefighters who joined together to give their colleague a hero's farewell.
"Matt was a hero. He was a hero son, and a hero brother, a hero husband to Heather, a hero father. … He died a hero doing what he loved. What you all know of him professionally doesn't even compare to what kind of father, husband, son and brother he was," said Dominic Burchett, Matt Burchett's brother who is also a member of the Unified Fire Authority.
---
Matt was a hero. He was a hero son, and a hero brother, a hero husband to Heather, a hero father. … He died a hero doing what he loved. What you all know of him professionally doesn't even compare to what kind of father, husband, son and brother he was.
–Dominic Burchett, Matt Burchett's brother
---
While he and two sisters all admitted that their brother, who was known as a quiet leader who didn't like the spotlight, would be "mortified" if he saw the large production his funeral was, Dominic Burchett said his brother deserved it.
"He was my brother and my best friend," he said. "He gave everything he had to offer in the service of other people."
Burchett served 20 years with the Unified Fire Authority before recently accepting a battalion chief position with the newly formed Draper Fire Department. He left Aug. 2 with a group of about 40 firefighters from Utah to join more than 12,000 firefighters from throughout the country who are helping California firefighters.
According to a brief initial report released Monday, Burchett died afer being hit by falling tree debris after thousands of gallons of retardant were dropped on the area where he was helping battle California's largest-ever wildfire, the Mendocino Complex Fire. Three other firefighters suffered minor injuries. The two-paragraph summary calls for an immediate corrective action, saying firefighters must remain clear of areas with overhead hazards during a retardant drop.
Since his death, an honor guard — each member armed with symbolic silver axes — has been with his body around the clock. They escorted his casket, drapped with an American flag, into the Maverik Center Monday. His wife, Heather, and 7-year-old son Griffin, while holding his father's firefighter helmet, followed the procession into the arena.
While deeply grieving the loss of their loved one, Burchett's family also gave bits of the kind of humor to the congregation that Matt Burchett showed in his life.
Sisters Monica Brinkerhoff and Gina Zipp read their brother's eulogy.
"Our hearts are aching with your parting from this earth. The thought of another day without your smile, the sound of your voice, or your presence is more than we can bear. It is so unbelievably hard to admit that you are gone from this world.
"We know we must continue and carry forward the gifts you have given us during your life: service, kindness, generosity and humility," they read.
They also honored Dominic Burchett — the other half of the brother team — and thanked him for his service and for protecting the community, something Zipp and Brinkerhoff said they wished they would have told Matt more when he was alive. The family is encouraging others to do as their brother did, and "don't ever be too busy to say I love you, tell people thank you and give them your gratitude. Live your life with your fullest passion and joy because it is the only one you have, and always, always treat others with kindness and respect."
Tom Burchett said the first few days after his son's death were a "blur." He was "overwhelmed with grief, sorrow, emptiness. We want him back so badly. And yet, we know he won't be here anymore."
But he soon realized that healing won't happen if he remains in grief, anger and sorrow. He said he needs to "step up" and "make Matt as proud of me as much as we were proud of Matt."
"I need to turn the pain of this experience into motivation to honor Matt's memory," the elder Burchett said. "Carry on his memory by doing your best in everything you do, seek the goodness in others, do thoughtful things for others."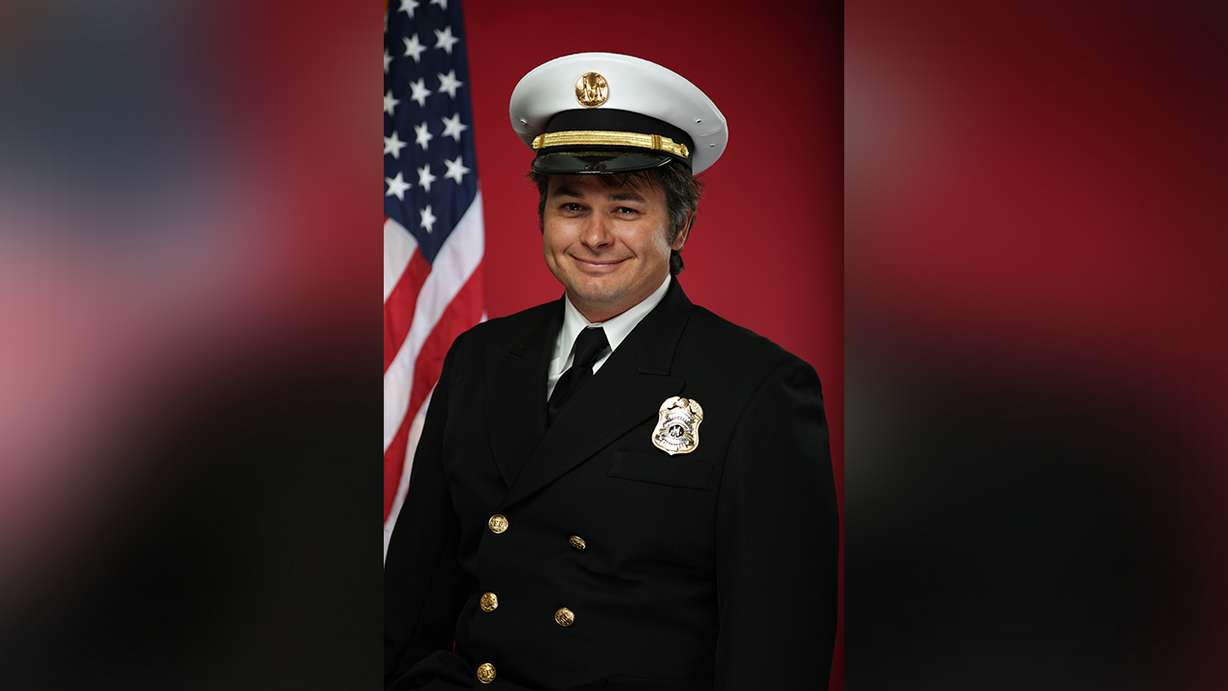 Dominic Burchett, nearly two hours into the ceremony, had the audience stand up and cheer, scream and clap for his brother as he began his talk. He then made his hair messy to resemble the "bed head" his brother was known for, and asked his brother to help give him the strength to get through his talk.
"I can feel you standing here by my side like always," he said.
Growing up, Dominic Burchett said there wasn't a picture taken of one brother without the other standing nearby.
He became very emotional as he recalled the night the family learned of the death. They were all on a camping trip, and his brother was originally supposed to be with them.
"We were sitting around the campfire that night telling stories about Matt as if he were there. And as we retired to go to bed, we got the phone call about his death." he said.
Dominic Burchett said he stared at the sky that night, watching shooting stars light up the dark skies. Like those stars, he said his brother's life was "brilliant, bright, high speed, and way too short."
"Thanks, Matt, for getting me through this. I love you," he ended his speech with. After, the crowd again rose and gave Burchett a standing ovation, something rarely seen at a funeral.
#ksl_lastcall
Matty Burchett's wife, Heather, who has remained very private since news of her husband's death broke, was originally scheduled to speak at the funeral services. But she asked Draper Fire Chief Clint Smith to say a few words on her behalf instead.
On behalf of Heather and Griffin Burchett, Smith thanked everyone from across the nation for their overwhelming outpouring of love and support.
"She knew what a great person Matt was. She got to experience it everyday. But what she has truly come to realize is how amazed they are at the impact that Matt had on all people that he came in contact with," he said.
Unified Fire Chief Dan Petersen addressed Griffin during the ceremony, telling him that his father's legacy will live on, and that every time he sees a fire engine drive by, there's a good chance his father played a role in making that crew better.
An emotional slideshow was shown to the congregation highlighting all aspects of Burchett's life: as a veteran wildlands firefighter, as a loving brother, as a devoted husband and father, and showing his love of the outdoors and particularly skiing.
A "last call" was then given for Burchett by dispatchers, and a bell was rung three times, signifying his end of watch.
Outside the Maverik Center, hundreds of firefighters stood in salute against dozens of wind blown American flags, as Burchett's casket was carried through the crowd and onto a Draper fire engine where it was transported to a private interment ceremony in Provo.
Unified Fire Authority spokesman Matthew McFarland said the large funeral was the right way to say goodbye to someone who gave so much to serving his community.
"This is the kind of appropriate send-off I would hope that any firefighter who died in the line of duty would receive. But for us, this is one of our most trained officers. His two decades in the wildland arena marks him as one of the most qualified people to do jobs like this. And for us, I think, that deserves special honoring. He devoted his whole career," McFarland said. "The outpouring from the community has been immense."
To ensure that Draper and Unified firefighters could attend the funeral, nearly 100 firefighters from 27 agencies throughout Utah and one from Spokane, Washington, arrived in Salt Lake County on Sunday to help cover shifts on Monday.
"We've had fire agencies from this entire country volunteering to come out and be a part of this ceremony and honoring Battalion Chief Burchett. And for us that were close to him, that tribute can't even be put into words," McFarland said.
The firefighters who were able to attend the funeral have a shared sense of grief that can typically only be expressed with a hug for each other, no matter what agency they're from, he said.
"It's amazing and unfortunate this sort of incident pulls us together the way it does. … The fraternal bond that is heightened at a time like this between all firefighters and law enforcement alike, it's pretty amazing to see."
Ken Cooley, from the CA State Assembly, presents Draper Mayor Troy Walker with a picture of Cal State Capitol, a letter of appreciation for Matt Burchett's service, and an CA flag (in background). pic.twitter.com/fr2rgBNRwi

— DNews Crime Team (@DNewsCrimeTeam) August 20, 2018
Before the ceremony, Ken Cooley, an assembly member of the California Legislature, presented Draper Mayor Troy Walker with a framed picture of the California Capitol.
"On behalf of the people of California, I want to express my sorrow, condolences. And I have this for you as a reminder we're in this business of serving people, in the good times and the bad," he said.
Cooley also presented the mayor and Burchett family with a California state flag and a letter from Gov. Jerry Brown.
"I think the reason we do a funeral like this and the reason it's so important is they are symbolic of what people do to serve each other. These public safety servants, they're there for us and I think this is apropos to have this kind of memorial. It means a lot. It's not just about Chief Burchett, it's about what they do everyday. The fact that these guys will come through your front door and get you out of your burning house, they'll do it for you," Walker said.
In their final goodbye, Burchett's sisters remembered a man with a mischievous grin, a prankster, an extremely hard worker, and a quiet leader who was considered the best in his field.
"A fantastic life most would agree — and yet, your quiet and unassuming presence shied away from public recognition or praise. You were humble, quiet; you did things because you were called to do them and because they were right, not for attention. Matty, we love you, and we will only try to be stronger now that you are not on this journey with us. We will celebrate your life and will cherish what you offered us.
×
Photos
Related stories
Most recent Utah stories