Estimated read time: 5-6 minutes
This archived news story is available only for your personal, non-commercial use. Information in the story may be outdated or superseded by additional information. Reading or replaying the story in its archived form does not constitute a republication of the story.
Editor's Note: This is the fourth in a series of articles featuring local tech startups three years or younger that have grown exceptionally quickly. The third can be found here.SALT LAKE CITY — For local entrepreneurs Alex Bean and Blake Murray, there was always a pain point in business that festered more often than the rest.
Both had worked in the corporate world for years and experienced the tediousness and inefficiency of the end-of-the-month expense report.
"It killed me that while I'm sitting there reconciling our reports … those numbers functionally were changing across time," Murray said.
While entrepreneurs could watch their business' revenue change in real time thanks to a myriad of available software, the same couldn't be said for company expenses.
"I went to the market to look for a solution … because we were sitting there taking pictures of receipts," Murray said. "(But) I was completely, completely underwhelmed."
So Murray and Bean spent the next two years creating Divvy: an expense management platform affectionately nicknamed "Venmo on steroids for business." In January 2018, the product went to market.
Past coverage:
Four months later, Divvy had raised $10.5 million during its first funding round. Just three months after that, on Tuesday, the startup announced a second funding round for $35 million, bringing the company's total funding to $57 million.
Forbes reported that the second funding round tripled Divvy's valuation from between $50 million and $80 million to between $150 million and $200 million, though the company is not yet officially confirming those numbers.
But Divvy's recent growth is just the tip of the iceberg, according to Murray.
So what is Divvy?
"Businesses want one place to see and control how their company spends money. Divvy is truly the solution the market has been waiting for," Murray said.
The platform essentially simplifies a process businesses often find necessary, but inefficient. Divvy automates expense reports, allows companies to monitor their budget in real time, lets employees send and request funds in seconds, gives every employee a company card and provides virtual cards for business subscriptions and expenses.
If an employee is taking a business trip, Divvy will track everything that employee is spending using the Divvy credit card and show it in real time on the platform. The card will have as much money on it as the company deems is necessary for the trip and will keep track to ensure the trip stays on budget.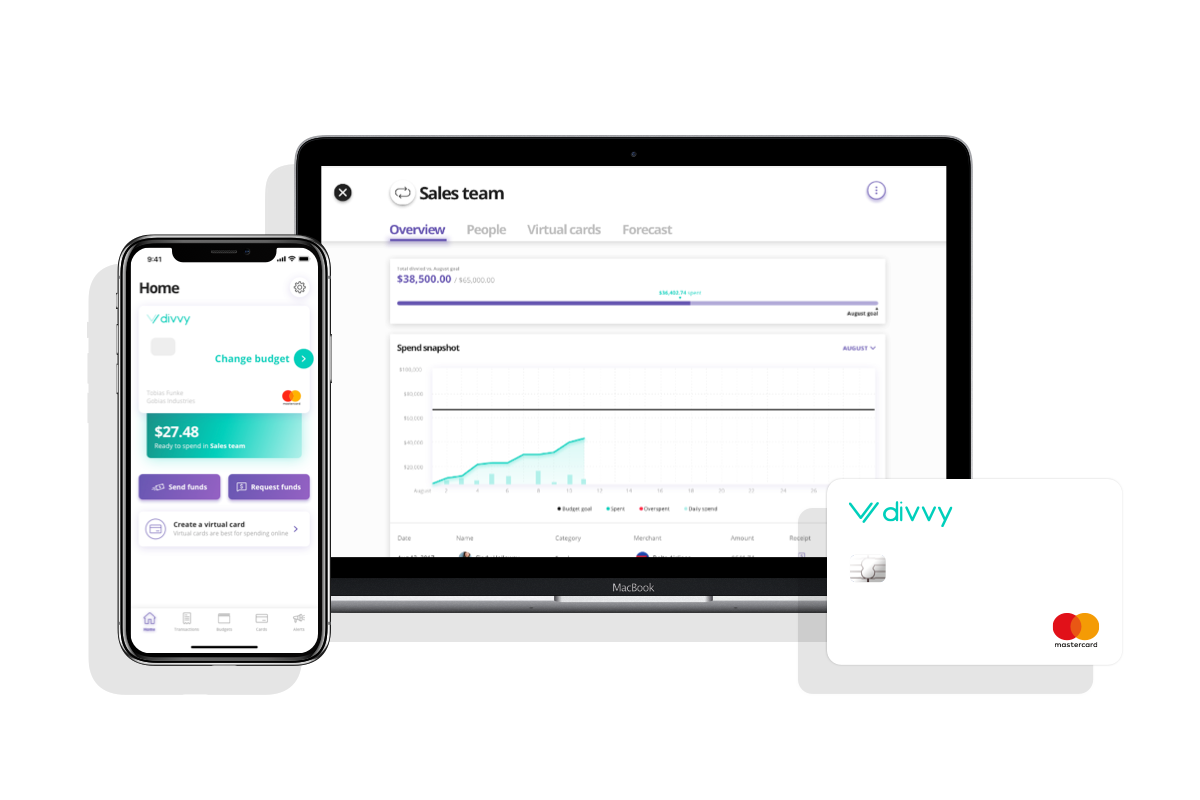 If the employee needs more money, they can send a request which can be approved in seconds. Those with access can also track the budget for the month, all the way down to an individual's spending.
Oh, and the whole thing is free.
Divvy partners with banks who underwrite the credit for the businesses that use the platform, then when the expenses come across the Divvy platform, Divvy and the banks share the interchange.
How did it come about?
It was the spring of 2016 when Divvy started meeting with banks to show them what was then only a PowerPoint presentation of the product. Yet Murray and Bean kept walking away from the meetings with new partnerships.
"That was because we had connected the dots in a way that all of our predecessors had just simply missed," Murray said. "From the public's perspective, (hyper-growth companies) always feel like overnight successes, right? Like you have that feeling of, 'Where did this company come from?' But in reality, nobody sees behind the curtain."
Divvy's platform was built with two years of hard work, Murray said, amidst challenges that sometimes made him question whether the company would ever survive at all.
"We simply had to take on so many big integrations … with some of these massive banks that have very, very old legacy software that's so outdated," Murray added. "We had to challenge them, and we had to push them, and, frankly, we had to tell them that their technology wasn't good enough."
Once the product went to market, however, Divvy saw a huge influx of customers — and still does. Over 700 companies have signed up for the free service in the seven months since the product launched with $450 million in underwritten credit.
---
We had connected the dots in a way that all of our predecessors had just simply missed,
–Blake Murray, Divvy CEO
---
"Going from an A (funding round) to a B (funding round) at this speed doesn't happen because of smoke and mirrors," said Sterling Snow, Divvy's vice president of marketing. "They're not doing it because (the CEO) tells a good story."
What's next?
For Murray, the biggest challenge now is ensuring Divvy doesn't get distracted by "shiny objects." While the company may be tempted to take on other projects for high-profile companies, Murray doesn't want Divvy to divert from its core competencies.
"We're going to be very careful, especially over the next 12 months, of making sure that we stay true to the business that we've already built and making sure that it just works really, really well for our customer base," Murray said.
Divvy currently employs 70-plus employees but plans to grow to about 150 in a matter of 18 months. Murray says the company also plans to remain headquartered in Utah, even as it grows.
"We want to be a tech hub in Utah where the most talented engineers and product minds in Utah look at Divvy and want to come work at Divvy because we continue to innovate and build on incredibly innovative technology."
×
Related stories
Most recent Utah stories