This archived news story is available only for your personal, non-commercial use. Information in the story may be outdated or superseded by additional information. Reading or replaying the story in its archived form does not constitute a republication of the story.
Editor's Note: This is the third in a series of articles featuring local tech startups three years or younger that have grown exceptionally quickly. The second can be found here.PROVO — Vanessa Quigley's son was 5 years old when he came home crying, clutching a photo album his preschool teacher had compiled for him.
Startled, the mother of seven asked him what was wrong. Through his tears, he explained that he never wanted to grow up.
"He had been looking at the photo album … and his little heart was touched," Quigley said. "He was reminiscing on his life, and he was feeling nostalgic. It was adorable, but also it was like this major moment where I felt the weight of the world fall on my shoulders. I had been failing in my job because, not only did he not have a scrapbook, but I hadn't even printed a single photo of him."
Though Quigley said she was a fairly diligent scrapbooker with her first couple of children, as the years went by (and everything turned digital), she often found herself simply scrolling through her Instagram feed to relive memories with her kids.
"But my little 5-year-old isn't going to scroll through my Instagram and walk down memory lane," she said.
What she needed, she thought, was a way to print her Instagram feed and put it in a book. Her feed was already a carefully-curated compilation of some of her family's best moments, but she wanted a way to share that with her kids — in a less digital way.
Her husband, Nate Quigley, had been working on a family history-like app that hadn't been gaining much traction, so she came to him with the idea.
"I told him to create an app that can print my Instagram," Quigley said. "I couldn't get out of my mind this National Geographic subscription that my grandparents had. They would save every issue, and they would be lined up on the bookshelf chronologically. … But I wanted a product I didn't have to think about. … I wanted to create an ongoing magazine where I could just do what I normally do — like posting photos to social media."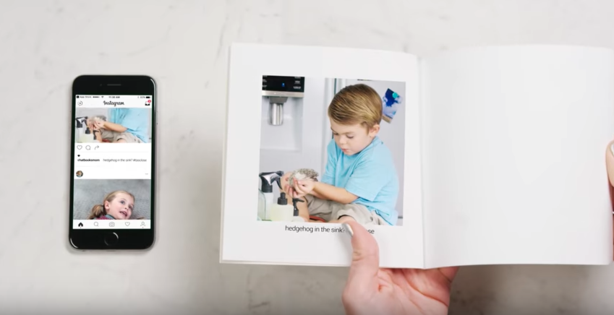 Soon, the first iteration of Chatbooks was born.
Now, the Chatbooks app automatically prints and ships a photobook once the user adds 60 pictures to either Instagram, Facebook or their phone favorites. For those who document their lives on social media, the chatbook will include the Instagram or Facebook caption and geotag with the picture. For less social media-inclined folks, the favorites folder of the iPhone app will work the same way.
"It's like getting a magazine subscription to your own life," Quigley said.
Thanks to a savvy marketing campaign and a loyal customer base, Chatbooks has grown quickly since its genesis in 2014. Within its first year, the company sold half a million books and another half million in the next six months. A viral ad that has since garnered over 16 million views on YouTube rocketed the company even further.
Since then, Chatbooks has tripled revenue for its first two years and more than doubled in 2017. Chatbooks also currently employs 168 people — a slight increase from the initial four — and raised over $20 million in venture capital funding.
"We weren't prepared for the overwhelming response that we got when we first launched," Quigley said. "The holiday season came upon us and we were just at capacity. I mean, it was a good problem to have, but we just didn't anticipate the overwhelming response."
While customers' main complaints, especially early in the company's history, stem from problems caused by overcapacity, Chatbooks has since hired part-time customer support specialists — an army of stay-at-home mothers, who can work from home when they have the time.
"I really feel like because our brand voice was so relatable and human and not super corporate or trying to be this big official company, I think that really resonated at the beginning with our demographic," said Heather Mildenstien, one of Chatbooks' earliest social media and marketing employees.
"Our target market is millennial moms, and I really feel like, because we set that tone at the very beginning, people felt like these were real people behind this company who genuinely have an interest in helping us preserve our memories."
And Quigley hopes this is only the beginning. Chatbooks plans to launch a new feature — something called the "Printability Score" — that is essentially an algorithm that can curate the photos itself and pick the best ones from those compiled in a photo log.
And for parents who barely have time to take the photos, Chatbooks wants to be there.
×
Related Stories