Estimated read time: 3-4 minutes
This archived news story is available only for your personal, non-commercial use. Information in the story may be outdated or superseded by additional information. Reading or replaying the story in its archived form does not constitute a republication of the story.
SALT LAKE CITY — New research says states that take the lead on embracing renewable energy investments help drive down costs on the technology, ultimately passing those savings on to energy consumers.
States, the study found, that have strict renewable energy standards foster greater expansion of wind development and solar power by utility companies.
"Strong laws work really well and weak laws don't," said Lincoln Davies, a University of Utah S.J. Quinney College of Law professor.
Davies was part of a team of researchers led by Indiana University professor Sanya Carley. David B. Spence, a law professor at the University of Texas at Austin, and Nikolaos Zirogiannis, an assistant scientist from Indiana University, also participated in the project.
The peer-reviewed journal Nature Energy published the study's findings on Monday.
The group examined the evolution of state renewable portfolio standards and also interviewed more than 40 experts on implementation of those rules, which require utilities to increase their percentage of renewable energy generation by a certain amount and date.
"The more aggressive the law, the more effective they are, which means they will also push down price over time," Davies said.
About 30 states around the country have some sort of renewable energy standard on the books.
Hawaii has the strictest standard at 100 percent, with Vermont at 75 percent. California has a standard of 50 percent.
"The way (the standards) are written tends to be very sophisticated," Davies said, adding that loopholes in laws often allow utility companies to dial back renewable energy investment.
"The details really matter, our study shows," he said.
Utah has a renewable energy goal of 25 percent by 2025, according to the National Conference of State Legislatures.
A July posting by that organization noted that across the country, roughly half of the growth in renewable energy generation in the United States since 2000 derives from state renewable energy requirements.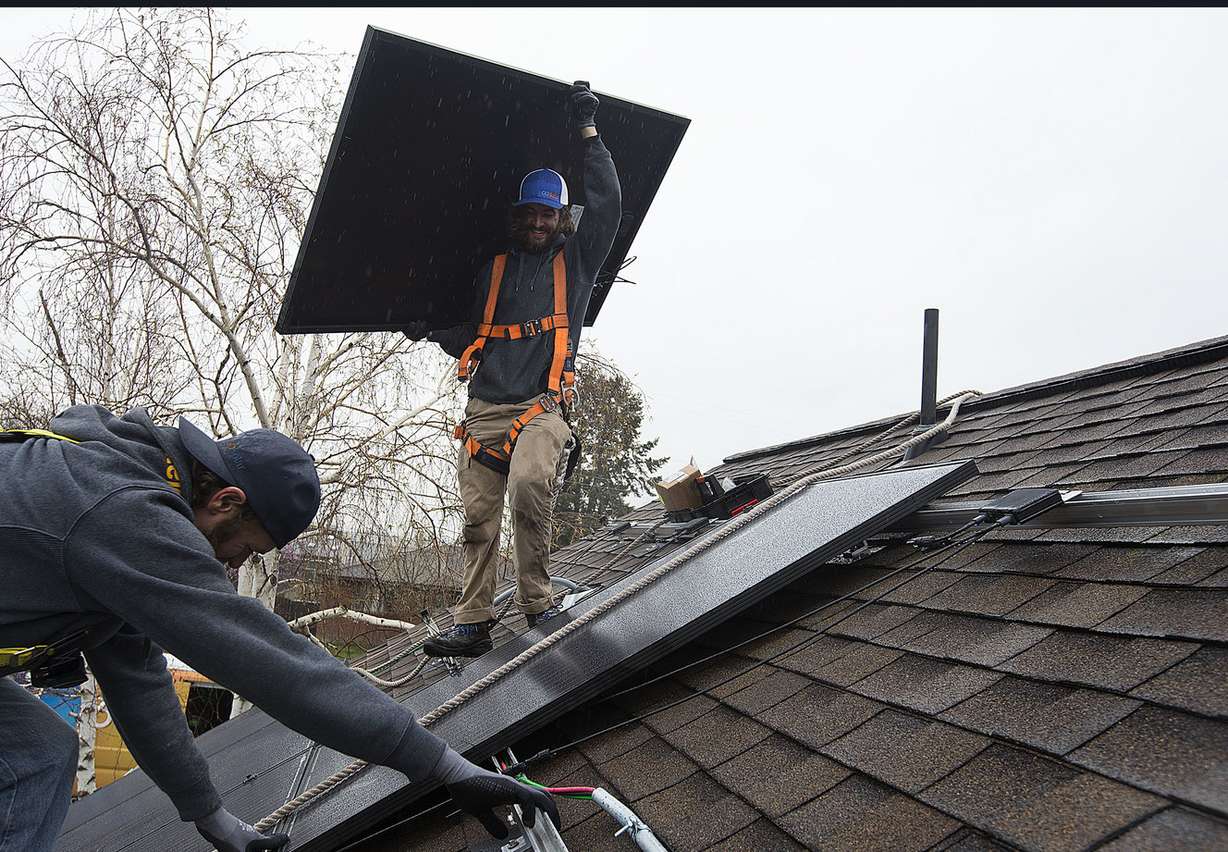 Davies said Utah's standard is "pretty close to voluntary" because it lets Rocky Mountain Power opt out of investments in renewable energy if they aren't cost-effective.
Spencer Hall, the utility's marketing and communications manager, said the company's billion dollar investment in Wyoming wind power just received a stamp of approval from Idaho and has been approved in five states overall.
Four solar power sites in Utah, he added, plus two in Oregon will power Facebook's data centers in Prineville, Oregon. By 2020, the units are expected to generate 437 megawatts of energy.
"We go where the resources are and follow what our customers want," Hall said. "Our customers are demanding more renewable energy."
The utility company is also working with individual communities like Park City and Moab to help them meet municipal goals of 100 percent renewable energy.
"We're diversifying our portfolio and we're able to do that because of the backbone of traditional generation that we have," he said. "Going forward, we are looking for ways to deliver the same reliability and affordability that we have now."
The company is also tapping into California's excess solar generation at peak times.
Related story:
"Utah is paid to take that power from California," he said. "On any given day we are running on more renewable energy than people may understand."
That drawdown of California sun power allows Utah's coal plants to operate at lower capacity, which means less carbon-fueled energy is getting to the grid, Hall said.
But Ashley Soltysiak, Utah's Sierra Club director, said Utah's lax standard needs vast improvement.
"The Legislature has looked at this in previous years, but they seem to think it is good enough, even though it is not terribly aggressive," she said.
"We have seen that the state of Utah does not have an appetite to have any changes to the current renewable portfolio standards. It has been a source of frustration."
The Sierra Club seeks an internal study done by PacifiCorp of its costs and the benefits of running each of its 24 coal units or retiring them in 2022.
An appeal is before the Public Utility Commission in Oregon to turn over the document.
The Sierra Club says its own analysis shows a switch to renewable energy over coal would save PacifiCorp customers $3 million.
×
Photos
Related stories
Most recent Utah stories