MILLCREEK — Two people remained hospitalized Saturday with injuries they suffered when a man drove a truck over a curb and hit patrons seated outside of a Starbucks coffee shop Friday.
Joslyn Nicole Spilsbury, 48, of Salt Lake City, died in the crash.
Police identified the driver Saturday as West Walker, 34, of Oakley, Summit County. He remained hospitalized Saturday as well as an unidentified adult man who was seated with Spilsbury at the time of the crash. That man remained in critical condition, said Unified Police Sgt. Melody Gray.
Three others were injured in the collision.
Gray said the investigation into what caused Walker to drive his truck off the road remains under investigation and she expects it will be "for at least a couple more days." She said Friday that a medical condition may have contributed to the crash, but has declined to elaborate.
Demian Spilsbury, a cousin of the deceased, told the Deseret News that Joslyn was a licensed clinical social worker who was working to rebuild her life after a divorce, had recently opened her own private practice and was focused on raising her 3-year-old daughter, Lily.
He said he'd only met his cousin a couple of years ago but they had grown close over that time. Spilsbury said the last time he spoke with Joslyn, earlier this spring, she had just returned from a long-planned trip to Europe and was "really happy".
"She was really an angel in my life and I just really feel for her daughter that she left behind," Demian Spilsbury said. "I'm so grateful she was able to make the trip. … It was a big deal for her."
Through police, Joslyn Spilsbury's family said Friday they were devastated "at the loss of this kind, loving woman."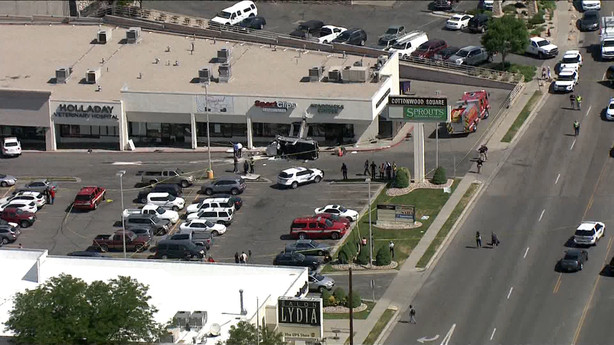 Two children riding in Walker's truck, his 6-year-old son and a 7-year-old daughter, suffered only minor injuries in the accident, Gray said.
Police said Walker was traveling west from an alley near a Subway sandwich shop across the street, before his vehicle jumped a curb and plowed into the tables in front of the Starbucks, 4744 S. Highland Drive, around 9:15 a.m. Friday. The truck rolled on its side as a result of the accident, but police were not sure if that occurred before or after the patrons were struck.
The coffee shop is located inside the Cottonwood Square strip mall near the Millcreek-Holladay boundary.
The Starbucks and a Sports Clips next door were closed because the building was determined to be structurally unsafe, Rivera said. Sports Clips officials said late Friday that the business will be closed until Monday.
---
×
Photos
Related Stories