This archived news story is available only for your personal, non-commercial use. Information in the story may be outdated or superseded by additional information. Reading or replaying the story in its archived form does not constitute a republication of the story.
MILLCREEK — Four months ago, Millcreek city officials set up their new City Hall in what was once a thrift store, sandwiched between a Dollar Tree and a La Frontera.
Now, there to stay, the new city's leaders are envisioning much more for the area — near the shopping center on the corner of 3300 South and 1300 East — and they want to hear from residents for guidance.
"If this area's going to change, then we want it to change in a way that makes our city better," Mayor Jeff Silvestrini said, walking down 3300 South on Thursday. "This is an opportunity the city gets to kind of reinvent itself."
Think a master-planned "city center," Silvestrini said. A community gathering place in the heart of Millcreek with a plaza — maybe a splash pad — surrounded by dining, shopping, access to transit (perhaps something like Salt Lake City's S-Line), and mixed-use housing developments, all walkable and bikeable.
"That's my vision. But my vision is just my vision," Silvestrini said. "I really am interested in finding out what people want. Sometimes, to get a conversation going, you've got to throw out some ideas."
Millcreek city planners are eyeing a roughly five-block area for redevelopment, bounded by Highland Drive, 3300 South and 1300 East, which they've casually coined "The Wedge." Though Silvestrini, laughing, said it needs a better name, perhaps something like "The Brickyard" or the "Brickyard Shopping Center" because of its proximity to the old brickyard Salt Lake City annexed years ago.
City planners have begun working city code changes to encourage a city center development, possibly by creating a Community Reinvestment Area to potentially use future tax increment to attract businesses, Silvestrini said.
But for now, the project isn't costing Millcreek taxpayers, the mayor noted. The city received a $75,000 grant from the Wasatch Front Regional Council to help with master planning.
But first, city leaders want to hear from residents and are hosting a meeting on Monday from 5:30 p.m. to 7 p.m. at City Hall to take public input on what they would want to see in a new city center.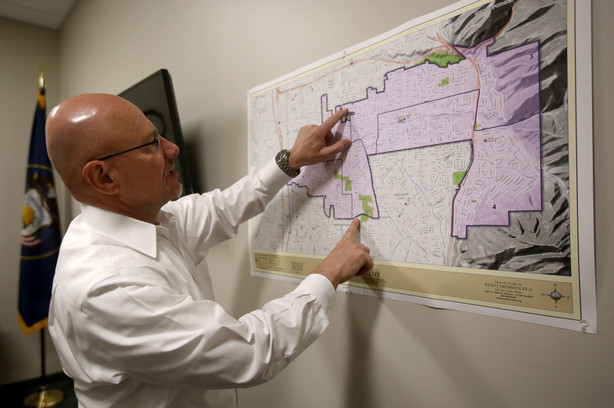 So far, Silvestrini said, Millcreek residents "overwhelmingly" want to see a community gathering place, like in Holladay, with unique access to shopping and local restaurants.
At the same time, Millcreek has already received applications for several large, multifamily apartment projects containing hundreds of units for the area, said Francis Lilly, Millcreek's planning director.
"So unless the city steps in and creates a vision, you'll get kind of a hodgepodge of developments that may not serve the city well in the long term," Lilly said.
The last thing Silvestrini said he wants to see is a "haphazard" development of big apartments, so "we thought we'd better get out in front of this and plan something."
"We're just concerned things are happening so fast and Utah is growing so fast, the market forces may deprive us of the opportunity to plan and have something really cool here," the mayor said.
Ultimately, Francis said, city leaders want to create a space for Millcreek residents to "live, work, play, shop and eat, but also maintain the integrity and character of the surrounding neighborhoods."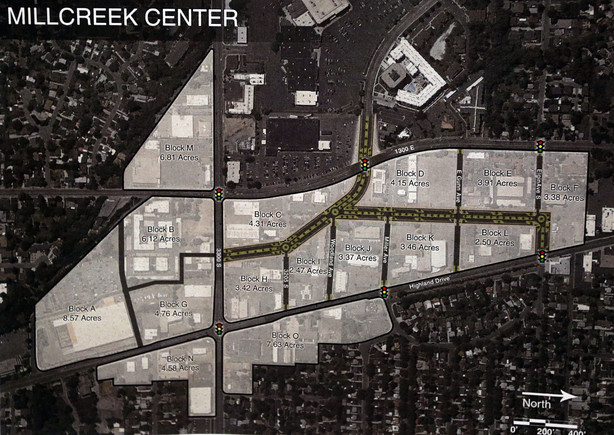 Silvestrini said most residents have been positive, thanking city leaders for thinking ahead. But there has also been some concern from residents near the area.
"I hear all the time, 'Don't make this like Sugar House,'" Silvestrini said. "But I always have to ask — what is it that you don't like about Sugar House?"
The mayor said cities can help stave off traffic problems and other issues that come with population growth by planning ahead — which is exactly what he and other city leaders hope to do.
That's why the mayor said he hopes residents will attend Monday's hearing to help shape the area's future. He said the city has sent out more than 350 mailers to residents in surrounding neighborhoods to get the word out.
The aim is to write an ordinance by the end of the summer. But from then, the redevelopment will take years, the mayor said.
"We want to make sure we're not out of step with what our residents want," he said.
×
Photos
Related Stories