Estimated read time: 5-6 minutes
This archived news story is available only for your personal, non-commercial use. Information in the story may be outdated or superseded by additional information. Reading or replaying the story in its archived form does not constitute a republication of the story.
ROZEL POINT, Box Elder County — If you ever take the long journey to visit what is arguably Utah's most famous artwork, there are a few things it might be useful to take along for the ride:
An art historian to explain it.
A couple of city dwellers who have never seen it before.
A college student who heard about it in his humanities class.
And a camera-equipped drone to fly overhead.
Each will give the visitor a different perspective on the mammoth land sculpture called the Spiral Jetty.
"This earthwork that looks like it's literally growing up out of the Earth," is how art historian Hikmet Sidney Loe describes it.
She has a lot more to say. On a recent winter morning, she brought along her newly published opus, a very large book called "The Spiral Jetty Encyclopedia." It attempts to give the enormous swirl of rock its proper place in art history and in the eerie landscape where sculptor Robert Smithson created it nearly a half-century ago.
"Literally this is a drawing in the landscape," Loe said as she hiked along a 1,500-foot spiral of pepper-black boulders on a white bed of dried-up salt. "It's as if the land itself is the big, huge canvas, the big huge piece of paper," she said, "and this shape has been created on that."
Located in an exceptionally remote and spookily uninhabited area at the north end of the Great Salt Lake, the Spiral Jetty is one of Utah's most striking and unusual sights. It's getting renewed attention thanks to Loe's new encyclopedia, which explores the world-famous sculpture primarily through the writings of Smithson himself. The sculptor created the jetty in 1970; he died in a plane crash in 1973 while surveying a site for another earthwork he was planning in Texas.
"It was a radically new way of thinking about art," Loe said of Smithson's artistic vision. "Smithson is one of these artists who has us now thinking differently about what it means to be an artist and what are the materials that we use."
His creations — massive sculptures integrated with their outdoor environment and typically using natural materials in the landscape — proved to be enormously influential in the art world. The Spiral Jetty is considered Smithson's masterwork, the crown jewel of environmental art. Loe said a survey of recently published books on modern art found more pictures of the Spiral Jetty than almost any other painting or sculpture.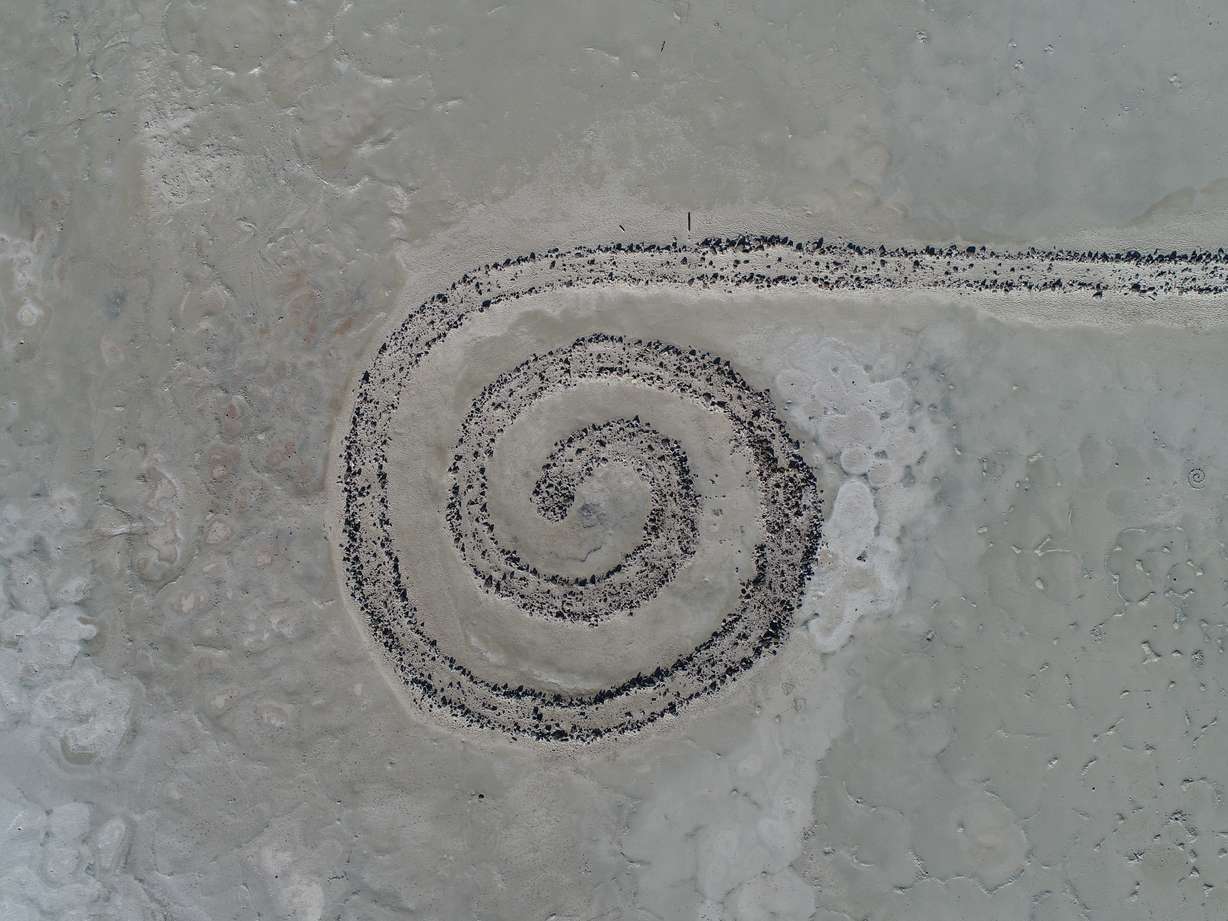 "It is the second- or third-most illustrated work of art ever on the planet, in art books," she said.
"It's a lot bigger than I was expecting," said BYU student Kyle Adams. After hearing about it in a campus humanities class, he decided to drive the six-hour round-trip from Provo just to see the unusual outdoor art for himself.
"I feel like this is still art, for sure," Adams said. "It's just a different medium, a different, has a different feel to it. I think it's really cool to see it integrated with its surroundings instead of just being put on a wall. So I think it's really cool. I'm kind of awestruck that someone was able to do this, and someone thought of doing this, and that they carried it out. It seems like a big undertaking."
The giant spiral draws art lovers deep into its center; thousands from all over the world have taken the unique stroll across an artwork. As Loe hiked around, and into, the sculpture's heart, a married couple sat on rocks at the center, contemplating their unusual encounter with art.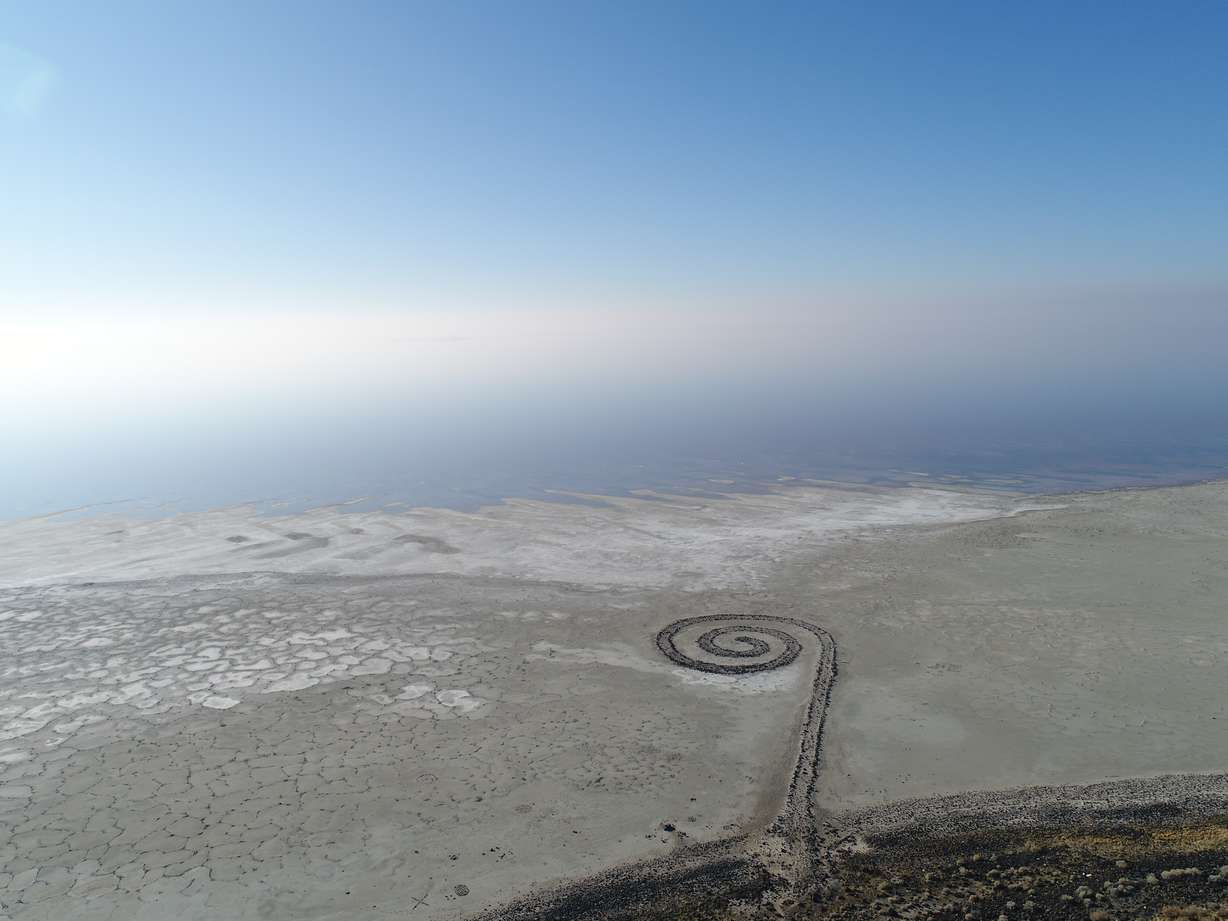 "I've never been here before and it's an amazing experience," said John Robandt, of Salt Lake City. "It really is a very beautiful and interesting place."
"It's like a contemplative experience to walk it with care and attention," said Robandt's wife, Jo Hinsdale. "And I like the stillness."
That stillness is occasionally broken by the loud buzz of a drone, a favorite way for many visitors to get a birds-eye perspective of what Smithson first saw in his mind's eye five decades ago.
Smithson chose a location that was remote, mysterious and already somewhat strange and hired a crew to begin dumping boulders into the Great Salt Lake. Not long after the sculpture was created, the Great Salt Lake rose up and swallowed it, keeping it out of sight for the better part of two decades. As the lake went down in the 1990s, the Spiral Jetty emerged, heavily encrusted with salt.
#DDE_drone_vid
Now the sculpture is dry and the shrunken lake is several hundred feet away. According to Loe, that was all part of Smithson's vision; art that would capture time itself.
"He was looking for a very dynamic environment, a dynamic body of water that was going to change, raise, lower," Loe said. "Each time I'm here it's different. The landscape literally looks different because it's so dynamic out here. And so time ends up being this element that is embedded within this earthwork."
In the fullness of time, perhaps, the Great Salt Lake will return to Smithson's canvas.
"I would love to see it with the water winding through it," Adams said. "I think that would be really cool and would make it a different feeling. But I'm not disappointed."
When asked if that means he will have to come back for another visit, Adams said, "I guess I will."
---
Each time I'm here it's different. The landscape literally looks different because it's so dynamic out here.
–Hikmet Sidney Loe, art historian
---
"I love the shape of it. I love the way that it fits into the landscape," Loe said. "It's always beautiful, no matter when. People will ask me when is a good time to go see Spiral Jetty and I say, 'Uh, today? Why wouldn't it be today? Or tomorrow?' It doesn't really matter."
The Spiral Jetty is located in northwestern Utah on a generally well-maintained unpaved road about a dozen miles southwest of the Golden Spike National Historic Site.
Hiking shoes are recommended; drones are optional.
×
Photos
Related stories
Most recent Utah stories