Estimated read time: 4-5 minutes
This archived news story is available only for your personal, non-commercial use. Information in the story may be outdated or superseded by additional information. Reading or replaying the story in its archived form does not constitute a republication of the story.
SALT LAKE CITY — Two of Utah's largest cities have been pegged among the top-rated metro areas in the nation, a new report stated. According to the Milken Institute index of best-performing cities, Provo-Orem was ranked No. 1 in 2017, with Salt Lake City at No. 10.
The report stated that Provo-Orem has become "a technology hotbed," over the five-year period from 2011 to 2016 when the area added 5,500 new jobs. The burgeoning tech hub, which last ranked No. 1 in 2008, is anchored by Adobe's 1,200-person digital marketing unit and will soon include a new $90 million facility and add almost 1,300 employees to the company's existing campus.
"Adobe has had a presence in Utah since 2009," said Jonathan Francom, vice president of employee and workspace solutions. "We've enjoyed being part of the vibrant community and growth of the region and are excited to see the growth and success continue, including our own expansion."
The report noted that Brigham Young University provides a major pipeline of workers and startups in the region. The school has produced numerous tech enterprises, including software firm Qualtrics, currently valued at approximately $2.5 billion.
"Provo-Orem … outperformed all other metros by a wide margin," said Minoli Ratnatunga, Milken Institute director of regional economic research. "Home to Brigham Young University and a growing technology and entrepreneurial community, the region is adding to its workforce and reaping the rewards of a vibrant industry on the broader economy."
She said the state's competitive business climate was also a factor in the area's strong ranking.
Tech industry in Provo:
"The investment in innovation that's happening at the university," she added. "(Provo-Orem) ranks (highly) for job growth, and wage growth was similarly very strong. It's got a diverse tech economy and it's continuing to grow."
She said the area has become a "key location" for many businesses. Because the area is considered a smaller-populated large metro, the city has an easier time than some counterparts maintaining its robust economy, she added.
Provo's growth has taken place over the past several years, much of it under the stewardship of former Mayor John Curtis, who recently won a special election to replace Jason Chaffetz in the 3rd Congressional District. Curtis' replacement, Michelle Kaufusi, said she is anxious to continue the positive momentum created in recent years.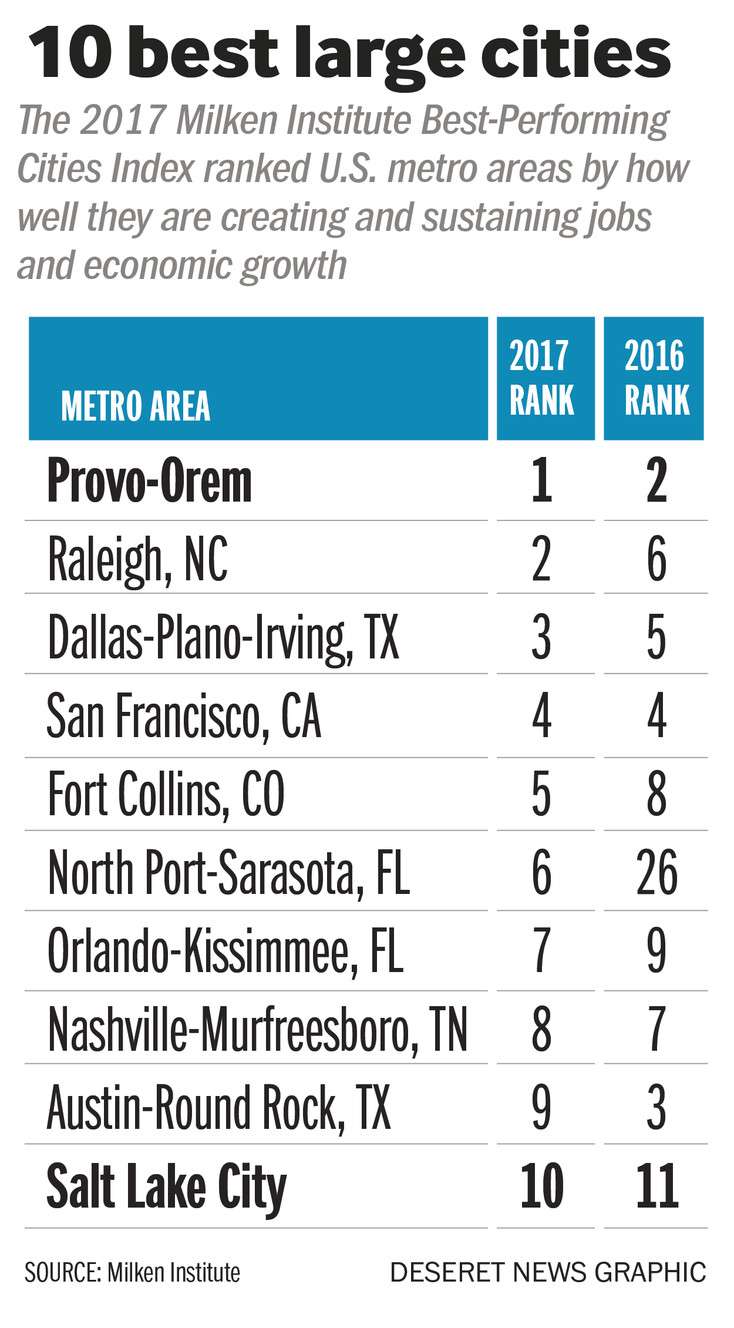 #Cities_chart
"I was thrilled to learn that Provo has been ranked No. 1 for job growth in America, among large cities. This is just one more way Provo has gotten things right," she said. "Credit goes to the citizens of Provo, particularly our entrepreneurs and business leaders, and also to our educational institutions that provide support."
"Provo has long been known for its quality of life," Kaufusi added. "When you factor in that we also lead the nation in job growth, it's no wonder businesses, families and individuals want to locate here."
The report indicated Salt Lake City also ranked among the top large cities at No. 10, while St. George ranked No. 2 among the small cities, putting three Utah communities in the top tier of more than 400 regions evaluated.
---
This is just one more way Provo has gotten things right.
–Michelle Kaufusi, Provo Mayor
---
"Salt Lake has been able to attract financial firms in particular, as they look for low-cost locations to grow and have the workforce to support that kind of economic activity," Ratnatunga said.
This year's rankings were a slight improvement over 2017 as Provo-Orem and Salt Lake City moved up one position from last year's ranking, the report showed. While some areas saw precipitous drops or sharp increases in their rankings, Utah metros remained mostly flat, which she attributed to local economic stability.
"(The rankings) have been consistently strong over the past decade," she said. "Consistent performance throughout the business cycle is something that we see as an indicator of a robust economy and an attractive business climate."
Also out of Provo:
Published annually since 1999, the Milken Institute Best-Performing Cities Index uses fact-based metrics in nine categories to evaluate the relative growth of metropolitan areas, including job growth, wages and technology output over time. The index also measures high-tech fields whose concentrations in a metropolitan area are higher than the national average, a news release stated.
"Utah's strong entrepreneurial spirit and business-friendly environment allow companies to grow in communities big and small," said Gov. Gary Herbert. "As we invest in our skilled workforce and diverse economy, we continue to improve job opportunities and quality of life for residents statewide."
×
Photos
Related Stories