Estimated read time: 3-4 minutes
This archived news story is available only for your personal, non-commercial use. Information in the story may be outdated or superseded by additional information. Reading or replaying the story in its archived form does not constitute a republication of the story.
SPRINGVILLE — A community is rallying around a young girl in need of a life-saving surgery by doing what they do best: crafting.
It took a year for doctors to diagnose Mihkenna Merrill with dual conditions that cause severe abdominal pain and an obstruction in her small intestine. The solution for the 15-year-old Springville resident is a complicated surgery that can only be performed in Los Angeles — an out-of-state expense her family said their insurance won't cover.
"That's one of the big reasons why we came together and said we've got to do something," Kiley Chamberlain said.
Chamberlain, a family friend, teamed up with The Giving Tree Foundation to decorate 2,000 wooden Christmas tree ornaments. Their goal is to sell all of them, at prices ranging between $1 and $5 apiece, to raise money to cover the family's medical bills.
Molly Hunter, another family friend, spent Monday afternoon threading stars on ornament after ornament. "Hopefully, people will like them since they are all handcrafted and we've spent a lot of time on them," she said.
Hunter said she didn't mind giving up time to work on the project since Mihkenna has been through so much in the last year. "She had gotten tubes in her body, and she has been to so many doctors," Hunter said. "It's been so hard for her."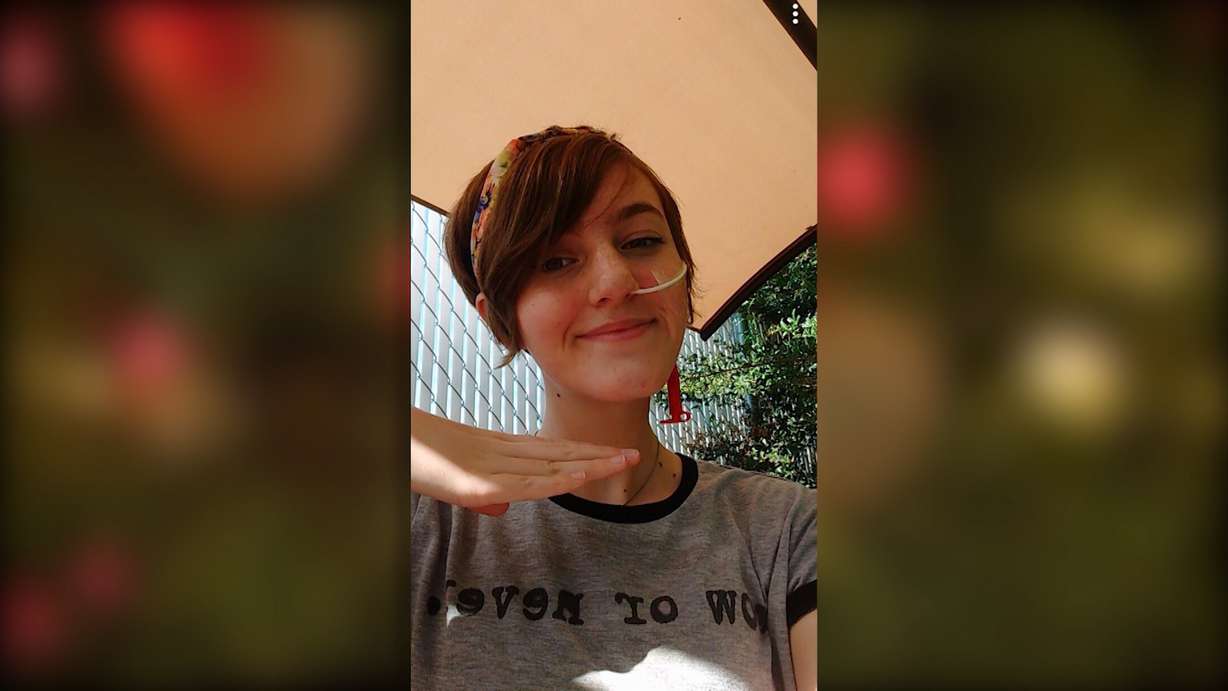 Mihkenna was diagnosed with median arcuate ligament syndrome (MALS), a condition where the celiac artery is compressed causing severe abdominal pain. She also has superior mesenteric artery syndrome (SMAS), which means arteries have compressed and obstructed her small intestine.
With no energy and no way to retain food or fluid orally, Mihkenna has been surviving on intravenous nutrition through a PICC line in her chest. But her symptoms of fatigue, dizziness, nausea, vomiting, bloating and constant abdominal pain were not resolved.
Because doctors feared Mihkenna's liver could not tolerate the intravenous nutrition much longer, friends of the Merrill family said an anonymous donor stepped up to cover the initial expenses for Mihkenna to fly to Los Angeles last week and have the surgery. But as the bills continue to come in, they said the Merrill family will need help to cover the entire cost.
So far, the group has sold $300 worth of ornaments and have 1,500 more to sell. "We know that it's really only going to make a dent, but we're hoping that this will reach the community so that more people can help her," Chamberlain said. "That's what Christmas is about; it's about faith and hope and miracles."
For those interested in purchasing an ornament, visit the group's website: www.givingtreefoundation.blogspot.com. There is also a GoFundMe account* set up to help the Merrill family with their medical expenses.
On Saturday, Springville's Funfinity shop, 164 S. Main St., will donate all profits to the family and will also be selling the ornaments.
Contributing: Jordan Ormond
---
*KSL.com does not assure that the monies deposited to the account will be applied for the benefit of the persons named as beneficiaries. If you are considering a deposit to the account, you should consult your own advisers and otherwise proceed at your own risk.
×
Photos
Most recent Utah stories