Estimated read time: 6-7 minutes
This archived news story is available only for your personal, non-commercial use. Information in the story may be outdated or superseded by additional information. Reading or replaying the story in its archived form does not constitute a republication of the story.
THE GREAT OUTDOORS — This Thanksgiving holiday brought surprisingly mellow weather. Several cities in Utah set records for daily high temperatures. According to Weather.com, this was due to strong upper-level high pressure (essentially a bulge of the jet stream) that was positioned over the Western U.S. for weeks.
It's yet to be seen what winter really has in store for us in Utah, but this recent warm weather has certainly made it easier to go on outdoor adventures. Here's a look at some products that might be a good fit for your next outing.
Camp Chef Stryker Multi-Fuel Stove ==================================
PRICE: $99
GRADE: A
Based out of Cache Valley, Camp Chef produces stoves and other cooking items that are staples in many a campsite. And the Stryker Multi-Fuel backpacking stove is one of its most versatile products.
As the name suggests, the Stryker is compatible with both propane and butane. It's super lightweight and fuel-efficient, making it a good choice for a wide range of trips. All the components fit into one mesh bag, so it's ideal for backpacking.
This handy stove has matchless ignition, boils half a liter of water in two minutes, and comes with a 1.3-liter insulated pot that has convenient measurement markings.
Muck Arctic Ice Mid Boots =========================
PRICE: $180
GRADE: A
For the Arctic Ice boots, Muck has upgraded the standard Vibram outsole. What that means is you get a durable, multi-directional lug design that really claws the ground and gives you traction. Sure, you might still slip on the slickest of ice, but these boots definitely give you a feeling of near-indestructibility.
Traction is great, but it wouldn't mean nearly as much if the rest of the boot weren't comfortable. Luckily, Muck's Arctic Ice boots are 100 percent waterproof, with excellent heat-retention properties. The fleece lining helps deliver warmth with a comfort rating of -40 degrees F to 40 degrees F.
If you spend much time outdoors dealing with the winter elements, you'll probably want to check out Muck's lineup of boots to see if the Arctic Ice is for you.
Tenkara Mini Teton Rod Package ==============================
PRICE: $199
GRADE: A
What if your fly rod could fit in your glovebox? Or your purse? Or your fanny pack? With a Tenkara rod, it's possible, thanks to its telescoping carbon fiber design. Simply pull the tip to extend it full size. And when you're done, it collapses back into itself for storage.
The Mini Teton is an excellent package because it offers many of the best things about Tenkara rods. First, it comes with line, flies, line clips, tippet, a rod sock and rod tube. And the rod length (11 feet, 2 inches) is perfect for accessing those hard-to-reach nooks on your favorite streams. Plus, the weight (1.9 ounces) makes it great for backpacking trips.
While it's built to be lightweight, the Mini Teton can handle fish up to 2 pounds. And it comes with a lifetime warranty, so you can fish with confidence.
Black Diamond First Light Hybrid Hoody ======================================
PRICE: $229
GRADE: A
Black Diamond has been making technical gear for 60 years now. While its products are focused on skiing and climbing, they're also versatile enough to comfortably outfit any outdoor enthusiast.
The First Light Hybrid Hoody is a prime example, as its ski-friendly features are just as helpful if you're snowshoeing or out for an early morning jog. As a mid-layer, this hoody has Black Diamond's First Light insulation, plus blended merino wool to increase the warmth in key areas.
Crucially, the hoody delivers an excellent range of motion. And there are zippered chest pockets to securely stow personal items. Other features include a low-profile hood, stretch cuffs, underarm gussets and NanoSphere Technology that repels water, oil and dirt.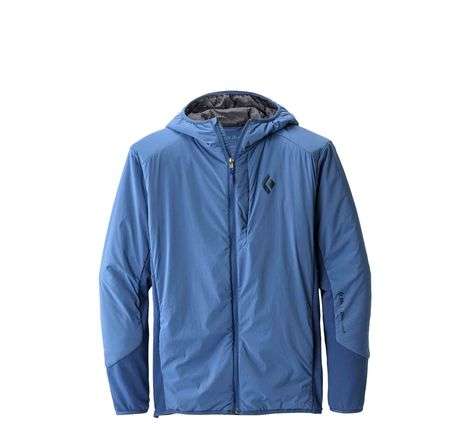 PRICE: $349
GRADE: A
Packed with 800-fill duck down (Cotopaxi says it's responsibly sourced), the Sueño is a toasty mummy bag that's ideal for a wide range of outings. It's got a 15- degree F rating and tips the scales at 2 pounds 13 ounces.
In addition to its warmth, the Sueño is really comfy. There's an extra-roomy foot box, so your feet have space to breathe and won't get twisted in the bag if you roll over in your sleep. Plus, the two-way full zipper on the right side and half-length zipper on the left give you tons of options. For example, you can fold down the top half of the bag on a warm night or open it completely so it's more of a blanket.
The 20D nylon outer has a DWR finish to repel water, which you'll be thankful for as soon as you hear the thunder rolling. Additional features include an insulated media pocket, integrated stuff sack, adjustable hood and pillow pocket.
T3 Hans Backpack ================
PRICE: $281
GRADE: A
T3 (Trident Tactical/Technical) is owned and operated by a former Navy SEAL and produces tactical and technical equipment that's inspired by the SEAL standard of quality. In fact, the company's headquarters are located on Trident Way on the Naval Amphibious Base (NAB) in Coronado, California, where the SEALS train.
The Hans Backpack is a typically rugged product from T3. It has a large compartment that can accommodate a hefty load, in addition to a 100-ounce H20 bladder.
This pack, while boxy, is designed to comfortably distribute load weight for a better experience. There are side pouches that can hold water bottles or a standard C4 charge. And the external compartment can fit anything the size of a helmet.
---
×
Photos
Most recent Utah stories