SANDY — Six children with rare diseases and disabilities gained international attention when a Utah photographer turned them into superheroes for a special photoshoot.
On Monday night, Zack Snyder, the director of the movie "Justice League," awarded the six pint-size heroes their very own special screening of the movie.
"It's so awesome. These kids deserve it," said Andrew Loftus, whose 4-year-old daughter, Sophie, played the part of Wonder Woman in the photo shoot.
Monday night, Sophie sported her Wonder Woman costume for the event at Megaplex Theaters in Sandy. More than 100 people came to cheer on the group as the strolled down the red carpet into the theater.
"It is just amazing to see all these people supporting Sophie and all the other children who have gone through so much," Andrew Loftus said.
Sophie was diagnosed with rhabdomyosarcoma, cancer of the soft tissue, earlier this year. Her family members said they were glad they caught the symptoms early.
"What started looking like an eye infection, or some kind of cyst, turned into a tumor," said Sophie's mother, Chelsey Loftus.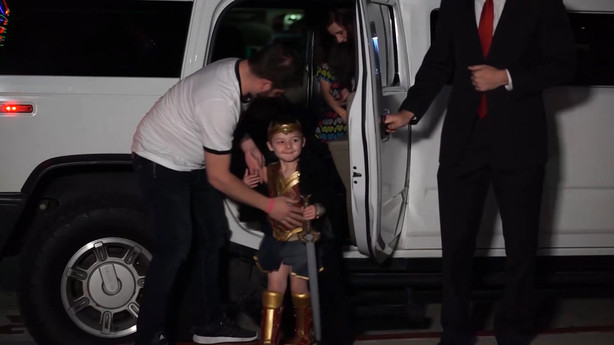 The family traveled to Seattle for their daughter's 24-week treatment, and while there got a call from Utah photographer Josh Rossi.
"At first we were skeptical, but then heard that they wanted to show her strengths through this photoshoot," Chelsey Loftus said. "They wanted Sophie to be Wonder Woman and we were on board."
The resulting video "REAL Justice League" project gained made news across the entertainment world.
Chelsey Loftus said the photoshoot and red carpet event helps strengthen and support these real-life heroes who have gone through so much.
"It was cool to see her get to do something that was just for her, and own it," she said.
Family and friends got to watch the movie right after the red carpet welcome. The kids were also hooked up with some D.C. Comics merchandise.
Sophie's family she is now healthy and in remission.


×
Photos
Related Stories