This archived news story is available only for your personal, non-commercial use. Information in the story may be outdated or superseded by additional information. Reading or replaying the story in its archived form does not constitute a republication of the story.
AMERICAN FORK CANYON — No one really knows who owns what in American Fork Canyon.
Some areas are private property, others are federal lands, and everything else belongs to either Snowbird or the rest of us.
Thousands travel to Mineral Basin, Mary Ellen Gulch and Miller Hill every year for recreation activities like hiking, camping, hunting and skiing.
And visitors use countless maps to navigate the 1,500-acre terrain.
Finding out where private and public property lines are drawn all depends on who drew the map.
Mark Allen, founder of the American Fork Canyon Alliance, is working to update survey maps and property lines for all stakeholders in American Fork Canyon.
"When we first started this project, the question I asked was: 'Who's in charge?' There's a lot of jurisdictions up here," Allen said. "They all play a role in creating accurate maps."
Several stakeholders — including private property owners, Utah County commissioners and representatives from the Uinta-Wasatch-Cache National Forest, Bureau of Land Management and U.S. Forest Service — hiked to Miller Hill on Monday to discuss the best way to update survey maps of the area.
An example of the problem is the road leading to Miller Hill. Although the road is open to the public, there are Snowbird signs welcoming visitors but prohibiting hunting and warning about video surveillance.
"There's no signage that says you're on a county road," Allen said. "It felt like we were on a private road and trespassing."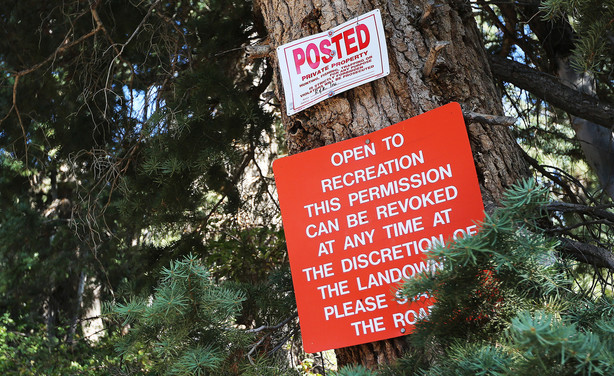 #sign_pic
The lack of signs and confusing property lines make the area confusing for visitors.
"When they put the map down, I looked at it and I couldn't tell (who owned what). There's no way I could tell with the different lines," said Utah County Commissioner Bill Lee. "It's an issue we need to go forward with and see if we can solve."
The overlapping property lines also frustrate private property owners.
Ted Kimball owns 144 acres near Miller Hill, land claimed by his great-great-grandfather. But the boundaries look more like "pick-up sticks" than "nice, rectangular blocks of property," he said.
"Here, where you've got this giant population that's coming up here to recreate, they want to know where the public land starts and ends," Kimball said.
"If we can get these groups to come together and start talking about planning and what we could do up here, all of a sudden we're planning the future of this canyon with give-and-take rather than individual agendas," he said.
The problem isn't new.
Francis Eickbush, a retired U.S. surveyor general, works as a property boundary specialist for a private consulting firm in Lindon.
"They don't have one map that everybody has agreed to," Eickbush said. "We've got access into the area from county roads on roads that have been used for decades."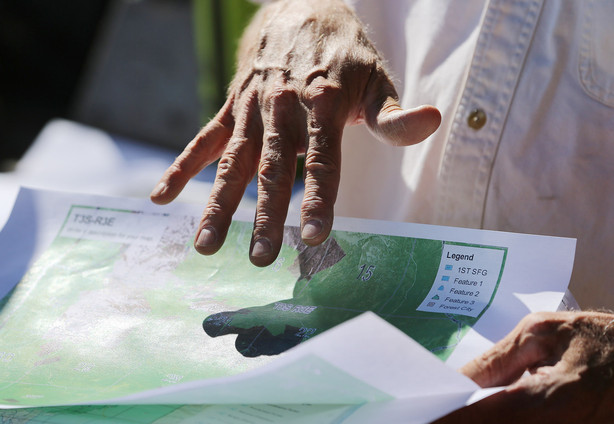 #map_pic
Utahns started claiming parts of American Fork Canyon back in the late 1800s, he said, when whole communities of miners lived in the canyon year-round.
They built the roads and claimed the mines, but sometimes the patented mine claims were registered in the wrong county, even up to the late 1900s, officials said. Or the BLM would survey the land, but the information didn't get passed to the county — and vice versa.
Even though the survey lines are accurate within a few feet, Allen said, the lack of communication meant property claims piled on top of each other over the years.
"There's a wealth of information that can be used, but it's a matter of making people aware of it and sharing it," said Daniel Webb, a BLM chief cadastral surveyor.
When Snowbird wanted to expand the ski resort into the canyon, one of the main issues was keeping access open to public roads and private property.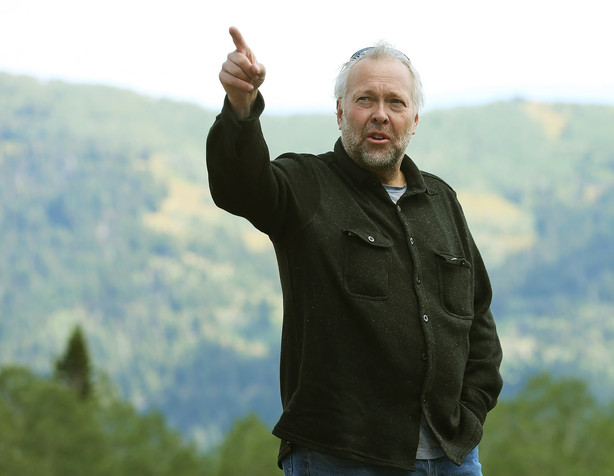 #allen_pic
In 2015, Allen turned a parcel of land in the canyon into public property, helping halt the Mountain Accord land swap — a proposed trade of National Forest Service land in American Fork Canyon for private land in Little Cottonwood Canyon.
If the swap had been, Snowbird planned to develop American Fork Canyon and put in ski lifts and condominiums near Miller Hill.
"We're trying to protect access, so we hope that Snowbird will be a good partner in this," Allen said. "We've got some good read that they will be, and we can do some things together to create a win-win."
Charles Hansen, of West Valley City, and Kevin Westernskow, of Murray, also traveled to Miller Hill on Monday. Hansen said he visits the canyon often, but the city officials were still nervous about driving along the county road with the private property warning signs.
"We saw these signs Snowbird posted," Westernskow said. "I questioned (Hansen) all the way up here, 'Are we supposed to be out here?'"
Another issue is protecting the canyon's water quality. The abandoned mines leave mineral residues that slowly erode into the water systems, Eickbush explained. But no one takes responsibility for the water quality if the property boundaries aren't clear, he said.
The responsibility to collaborate data and create a complete map of the canyon's property lines boils down to money, time and expertise, Allen said, and working toward "healthy outcomes" instead of adversarial conflicts.
"That's the goal, at the end of the day," he said, "that (stakeholders) will understand the role that they play and they'll rise up to it."
×
Photos
Related Stories