Estimated read time: 8-9 minutes
This archived news story is available only for your personal, non-commercial use. Information in the story may be outdated or superseded by additional information. Reading or replaying the story in its archived form does not constitute a republication of the story.

Editor's note: This is the third in a three-part series addressing suicide prevention, crisis and recovery. The first part can be found here, and the second part can be found here. This is also part of weeklong coverage addressing the issues surrounding suicide on KSL.com, KSL Newsradio and KSL TV.
SALT LAKE CITY — It wasn't easy for 17-year-old Elijah Dean to talk about the decision he had almost made to end his life.
After an abrupt and inexplicable change of mind, he had driven home, frustrated that he hadn't gone through with his plan. Yet he felt, for the first time in a long time, an ounce of self-worth.
Perhaps he was here for a reason. Perhaps he mattered. And perhaps it was his turn now to help others.
There were many factors that helped Elijah recover from persistent suicidal thoughts, he said. But a key moment came when a struggling friend confided in him.
"It wasn't suicidal, but it was kind of, 'This is hard. This is a hard life. Some days I'm depressed, some days I'm not.' That's when I was able to share my experience," Elijah, now 18, said. "And that's really when I opened up, and I realized the effect you can have when you open up."
Elijah practiced telling his story, sometimes in a whisper under his breath or in an empty room. The more he talked about it, even to himself, the easier it became to share his struggles. Through his experience, he became witness to the scope and expanse of the challenges faced by those who have suicidal thoughts. Sharing that experience let him see how far his words could ripple.
As he told his story, he realized others saw he understood them and were willing to open up.
"You really can come out on top, and people need to know that and recognize that," he said. "Because that's how people trust you. If you can relate, you build that trust."
Elijah Dean [ tells KSL](https://www.youtube.com/watch?v=lyW5wdaTF2g&feature=youtu.be) how he practiced telling his story.
Jade Dansie, 19, attempted suicide twice before the aspiring singer found her voice. After experiencing abuse as a child, she grew up confused and often lost in her own head. She wasn't close to her family and soon isolated herself from the rest of the world as well. It wasn't long before isolation led to depression.
"I didn't know how to cope," Jade said. "I was just drowning."
After her second attempt, she stayed at a treatment center that she said, "completely changed my life." She learned tools to help her cope and discovered "a reason to want to stay and hope, and a reason to live, honestly."
Treatment helped Jade set goals and accomplish them. She recently created a nonprofit organization called The Alive Movement, as well as a song and music video, which she hopes to share with others to encourage them to make the choice to keep living.
Reasons behind the reality
Though there are theories, it still remains unclear why Utah is so affected by suicide.
The Intermountain West has seven out of 10 of the highest rates of suicide in the nation, according to the Centers for Disease Control and Prevention, and the region's altitude and culture of rugged individualism could both be factors.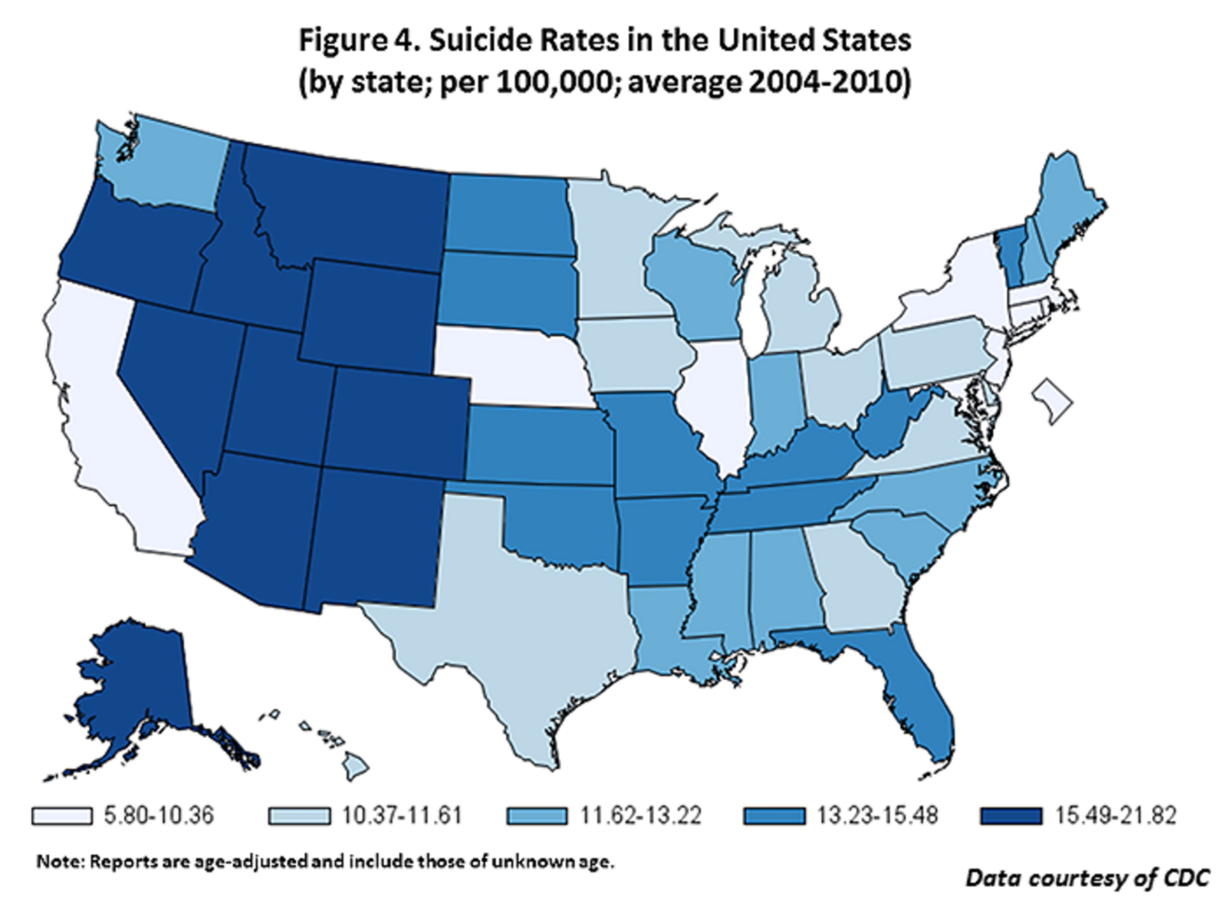 "You see some of the sort of theories come up around elevation, around the nature of being very rural and how that plays into suicide risks, both from access to care and maybe some cultural factors around solving your own problems," said Kim Meyers, suicide prevention coordinator for the Department of Human Resources. "We (also) have high rates of gun ownership, and we know that correlates with higher rates of suicide."
Yet, Meyers said, those factors don't help explain the increase in suicide Utah has seen over the past several years. Most experts believe social media plays a factor in the increase as studies find that social media often causes feelings of isolation and inadequacy, which are key factors that lead to depression.
Teen suicide is on the rise and parents often struggle to know how to broach the subject at home. KSL NewsRadio's​ Jay Mac interviews Dr. Todd Thatcher, Chief Medical Officer at Valley Behavioral Health, about the best way to talk to your teen about suicide.Elijah and Jade, however, now join their voices with many who have struggled with thoughts of suicide and "come out on top."
Nine out of 10 people who attempt suicide and survive will not go on to die by suicide, according to a study by the British Journal of Psychiatry. Seventy percent won't even attempt again.
And yet, while those are hopeful numbers, experts are also quick to note that a history of suicide attempts is one of the strongest risk factors for suicide, so caution and treatment are always advised. Those with family members who have attempted or completed suicide are also at a greater risk for suicide.
Help for those left behind
Emily Hoerner, board chairman and co-founder of the Utah chapter of the American Foundation for Suicide Prevention, lost her brother, Jed, to suicide in 2009. When she didn't find the support for her and her family that she was looking for, she decided to create it by founding the Utah chapter of the American Foundation.
"We do a lot of support for those who are left behind because, once you've had an immediate family member die by suicide, you're more susceptible to suicide yourself, and that is a really hard reality," Hoerner said. "We want to be able to offer that help and that hope for those who are left behind, who are struggling and to let them know they're not alone. There are so many of us out there who understand, and … (let) them know that what they're feeling is normal."
To waylay the contagion that often follows suicide, experts and trained medical professionals practice postvention, according to the Suicide Prevention Resource Center. During a postvention, communities and families can take certain measures to mitigate the negative effects a suicide may have on those left behind. Debriefing with those experiencing a loss and seeking out counseling may help prevent copycat behaviors.
8 ways to help your child cope with suicidal thoughts
Show love: Make sure your children hear frequently that you love them. Convey it in small and big ways and make sure your kids know how important they are to you by making them a priority during the day.


Express empathy: It's important to validate a child's feelings by saying things like, "It sounds like that was really difficult," or "I know how painful that can be." Telling them to "pull it together" is not as helpful as saying, "What is it that you're concerned about, and how can I help you?"


Prioritize the positive: A way to prevent suicidal behavior is to interact with your child in positive ways. If a child does something concerning, instead of becoming more and more critical, discuss the issue with your child in a positive and calm manner. Interact with them by doing fun things together that won't bring up controversial topics.


Minimize conflict: Choose your battles wisely with your child. Adolescents will rebel and it's ok to set limits, but focus on the positive connections as well. Try to increase your child's involvement in positive experiences that will engage them with others.


Stay in touch: Your kids are going to tweet, text and be on Facebook, so learn to use it as well. Stay on top of what your kids are doing on social media.


Know your child's friends: The people your children surround themselves with will have an enormous impact on who they're becoming. Get to know their friends and who they're spending their time with. Get to know the parents too and communicate regularly with the school to ensure safety and care in a school setting.


Talk openly: If you think your child might be suicidal, the most crucial step is to talk openly with them about it. Do not use euphemisms or confusing questions that don't get at the heart of the matter. Ask them directly, "Are you thinking of killing yourself?" Be non-judgmental. Sometimes people are afraid these will make suicidal thoughts more real, but if a child feels they can talk to someone safely about suicidal thoughts, they will be more likely to tell someone if they are in immediate distress.


Get professional help: A licensed and trained child psychiatrist or psychologist will allow your child to receive the professional care they will need and develop healthy ways of thinking and coping with suicidal thoughts.

According to Nadine Kaslow PhD, a professor in the Department of Psychiatry and Behavioral Sciences at Emory School of Medicine
In the wake of a tragedy, there are certain responses that are more helpful than others for those, especially children, who have lost a loved one to suicide, said Suzanne Bennett, a graduate student conducting research at BYU with Melissa Heath, a professor who specializes in suicide prevention.
Unsupportive reactions — half-truths, silence, judgment, self-blame and extreme emotions — can start a negative ripple effect that can hinder those left behind from processing the tragedy in a healthy way. This is especially evident with children.
Winnie, who appears in Bennett's research, was 10 when her mother took her own life, and she still remembers the weeks and months following.
"Other than with my (church youth group) leader, there was not an adult who talked with me heart-to-heart about my mom's death," she told Bennett. "Nobody said anything."
A caring adult who can help an impressionable child or teen process the tragedy in a healthy way can be a game-changer, Bennett said. Counseling and age-appropriate support can help, and speaking kindly of their family member instead of attaching stigma will forever shape the child's memory of, not only their loved one, but mental health issues and suicide in general.
Giving hope after recovery
Elijah Dean [tells KSL](https://www.youtube.com/watch?v=lyW5wdaTF2g&feature=youtu.be) how to help people see their self worth.
It was Elijah's desire to help others that ultimately led the former Provo High student to join the Hope Squad during his senior year. Under the Hope Squad program, students list three names of people to whom they would go to in a crisis, then the top 40 names at each school are chosen. The Hope Squad nominees are then trained on how to talk to peers who are struggling and how to know when to go to an adult.
When Elijah was nominated to be on the Hope Squad, he jumped at the opportunity and spent the rest of the year sharing his struggles with others while, in turn, listening to theirs. He is now a missionary for The Church of Jesus Christ of Latter-day Saints in Brazil.
To those still struggling with suicidal thoughts, Elijah recommends taking it one step at a time and noticing the small things.
"Look around you today and (find) what you are grateful for, and you might be surprised what things come to your mind," he said.
"It was hard, it was rough, and I know other people have gone through it. But it's not the end, there's more to it. There's so much more to do and help others, and sometimes it's hard to recognize how much support and help we can be to other people."
Contributing: Mary Richards
---
Coming Up:
*- Thursday, KSL-TV will talk about the problems some run into when looking for resources, and how they navigated a sometimes tricky system.
Saturday, join supporters at the Out of Darkness suicide prevention walk at Liberty Park from 11:30 to 1. Registration begins at 9 a.m.*
×
Related stories
Most recent Utah stories