Estimated read time: 8-9 minutes
This archived news story is available only for your personal, non-commercial use. Information in the story may be outdated or superseded by additional information. Reading or replaying the story in its archived form does not constitute a republication of the story.

Editor's note: This is the first in a three-part series addressing suicide prevention, crisis and recovery. The second part will run Monday, Sept. 11. This is also part of weeklong coverageaddressing the issues surrounding suicide on KSL.com, KSL Newsradio and KSL TV.
SALT LAKE CITY — Elijah Dean sat in his car thinking about the plan to end his life.
It had been two years since his mother fell ill, and the 17-year-old was helping care for her. The doctors weren't sure what was wrong, but she wasn't getting better.
The last of 13 kids, Elijah had been an outgoing and friendly Provo High student, the kind of person you could count on for a smile. But things had changed.
"It got to the point where you're doing so much for her that it's hard to focus on your other activities, your social life, your school, and that's OK because we love our mom," Elijah said.
Yet, he soon realized he was depressed.
"It was very gradual. I almost didn't notice until I looked back to see how far I had gone."
It wasn't long before depression led to thoughts of suicide.
"Finally, it became so hard to keep up in school or so hard to put that fake smile on that it just didn't seem worth it almost. It was so exhausting and tiresome until you're like, 'I'm done. I don't want to do this,'" Elijah, now 18, said. "When you say, 'I don't want to do this,' you look for other options."
Elijah Dean tells KSL about his own, personal struggles with suicidal ideation.If you ask Elijah now if taking his life is still an option, he answers with a resounding, "No!" But it wasn't too long ago that suicide was a reality for him. Now, he has joined his voice with experts who say there are measures family, loved ones and even strangers can take to help those struggling with thoughts of suicide.
On average, two Utahns die by suicide every day, and 12 more are treated for attempts, according to data from the Utah Department of Health. Suicide was the leading cause of death for youth in the state ages 10 to 17 in 2013, and more adults have thought about or attempted suicide in Utah than anywhere else in the country.
And the numbers keep rising, although there is no clear reason why.
Ten years ago, there were 17.4 deaths by suicide in Utah per 100,000 people, according to the Utah Department of Health. In 2015, there were 24 deaths by suicide per 100,000 people, and preliminary data shows approximately 25 deaths per 100,000 people in 2016. Utah is consistently ranked in the top 10 states with the most suicides, according to the Department of Health.
Yet, while the numbers may tell a bleak story, many believe there are reasons to hope.
"Hope is absolutely the key. Hope saves lives," said Emily Hoerner, board chairman and co-founder of the Utah chapter of the American Foundation for Suicide Prevention.
In 2009, Hoerner lost her brother, Jed, to suicide. The family struggled through their grief, she said, not knowing where to turn for help. Eventually, through their involvement with a suicide prevention walk, they found hope and support from others like them.
Hoerner and her mother went on to form the Utah chapter of the suicide prevention foundation. Through this foundation, they connect others with the training, resources and support that were initially difficult for their family to come by.
"Education is key," Hoerner said. "Letting people know that there is help, and there is hope, and that it absolutely can be fought, and you can recover from it."
Talk therapy and medication are two common means of prevention she mentions, but ultimately it comes down to what works for each individual.
"Everyone is a little bit different," she said. "Your life can be amazing."
Prevention, in its many forms, is the first line of defense, according to Dr. Doug Gray, a Utah pioneer in suicide prevention. Gray is a child psychiatrist at the University of Utah Neuropsychiatric Institute, and first began championing suicide prevention decades ago.
About three or four years ago, Gray suggested the state appoint a coordinator to create a cohesive effort around suicide prevention, rather than the hodge podge of various entities that existed at the time. Gray hoped for one coordinator; the state appointed three.
"I am very hopeful. I've been at this over 20 years and things have come along, sort of slogging through the mud … and then the last three or four years, the suicide prevention effort in Utah has gone up exponentially. It's terrific," Gray said.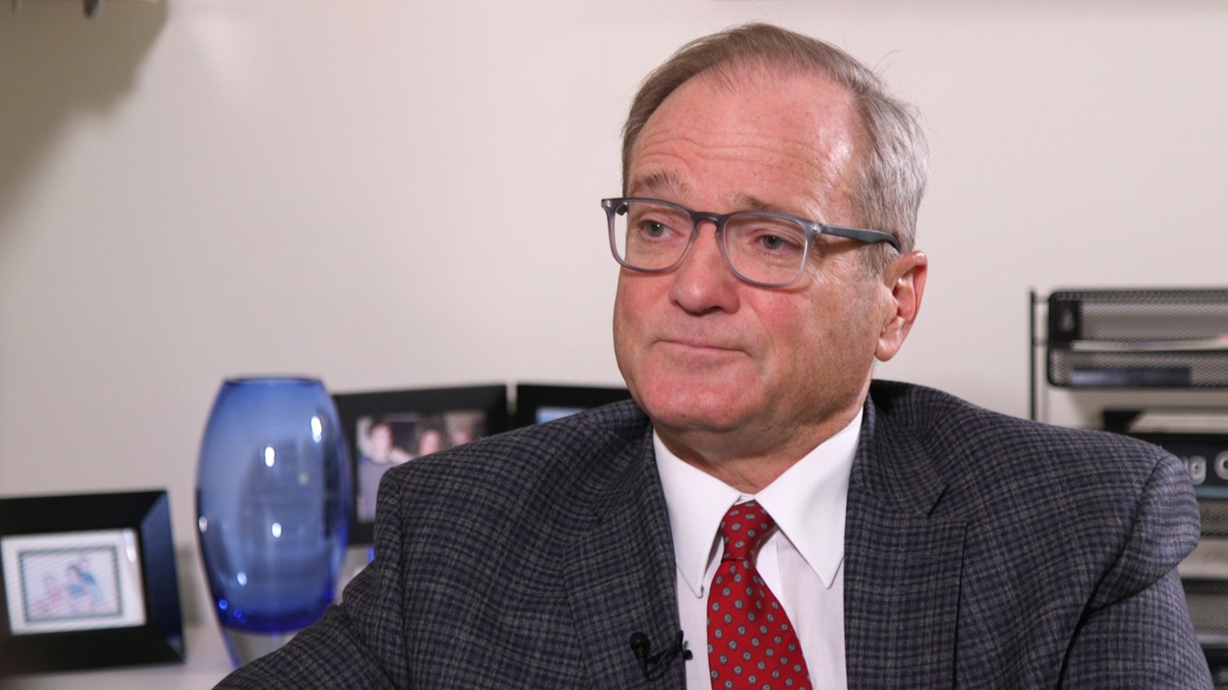 Since the three suicide coordinators were appointed to the Department of Health, the Department of Education and the Division of Substance Abuse and Mental Health, Gray said he has seen an unprecedented amount of organization and cooperation. And even a fundamental shift in attitude.
While Gray knows mental health and suicide still carry stigmas, 20 years in the business has given him the opportunity to witness a trend towards openness as many shed the shame with which mental health issues have been erroneously shackled.
"When I was a young psychiatrist, if I'd see a patient of mine in a restaurant, I'd not look at them, and they'd not look at me, and that was fine. It's their privacy. But now, more often than not, they'll come across and say 'hi' to my family and have me go meet their grandparents," he said.
Like any other ailment, the best way to treat mental health crises like suicide ideation is to prevent them before they happen, Gray said. Depression and other mental health issues may be the result of a patient's heredity, their psychology, the way they think or major changes in their life, like a divorce or loss of a loved one.
​
Substance abuse and a family history of suicide or trauma also often contribute to suicide ideation. When these factors are present, doctors, psychiatrists and psychologists often know to look for certain signs to help their patients head off suicidal thoughts before they materialize.
Yet prevention isn't only for the trained professionals.
"I say all the time, we need to put down our cell phones and pay attention to the people around us," Hoerner said. "It used to be that ... you knew what was happening in your neighborhood, you knew what was happening with your coworkers … but we don't know anymore."
In trainings, she encourages people to be what she calls "helpfully nosy."
"Put down your cell phone and pay attention to the people around you," she said.
Hoerner encourages others to ask the hard questions and not accept surface-level answers that may hide real emotion. It's also important for parents to teach their children coping methods when they're young, she said.
Know the warning signs

If you or someone you know is experiencing suicidal thoughts or exhibiting warning signs, call 1-800-273-TALK (8255).
The following are warning signs of immediate risk. Call 911 if you or someone you know is experiencing the following:
Threatening to hurt or kill themself or talking of wanting to hurt or kill themself

Looking for ways to kill themself by seeking access to firearms, available pills or other means

Talking or writing about death, dying or suicide when these actions are out of the ordinary


Additional Warning Signs:

Increased substance use

No reason for living, no sense of purpose in life

Anxiety, agitation, unable to sleep or sleeping all the time

Feeling trapped — like there's no way out

Hopelessness

Withdrawal from friends, family and society

Rage, uncontrolled anger, seeking revenge

Acting reckless or engaging in risky activities, seemingly without thinking

Dramatic mood changes

Courtesy of the Utah Suicide Prevention Coalition
The Utah Suicide Prevention Coalition suggests those who show signs of depression seek help from a mental health professional and explore other resources specific to their situation.
If someone exhibits warning signs and may be at risk for suicide, ask them specifically if they are thinking of killing themselves, the prevention coalition suggests. Be direct but non-judgemental. Stay with them, especially if they appear to be at immediate risk, then call 911 and ask for a Crisis Intervention Trained officer or call a local crisis line.
There are also other crisis services available, including mobile apps.
For Elijah's friends, it wasn't hard to notice something was different with the normally energetic and outgoing teen. Depression had made getting out of bed an arduous chore for Elijah, and the thought of being confronted by his friends about it all was terrifying. But being alone was unbearable.
Elijah Dean tells KSL what advice he would give others experiencing depression and those whose loved ones struggle with suicidal ideation. "(My friends) did it in probably one of the better ways," Elijah said. "Definitely not to call you out on (your depression) but to give you an opportunity to talk about it yourself."
He would often go driving to relax, so his friends called him to go on drives with them.
"So I'm like, 'Alright, I can do that,'" he said. "I just kind of talked about it, and instead of them talking about me suffering depression, they talked about an experience of someone they knew, and that helped me to open up."
Yet only when Elijah began contemplating suicidal thoughts, did he stop opening up.
"I actually never confided in any of them as much when I had suicidal thoughts. That's when I didn't want to. … It was scary for me, and I didn't want to scare other people," he said.
It wasn't long before everything came to a breaking point.
---
Coming Up:
- Monday, our KSL.com series continues with Elijah's story and talks about those who are in crisis and the resources available. - Tonight at 10, KSL TV's Ashley Kewish talks about one big thing parents can do to prevent youth suicides. - Tune in to KSL Newsradio Monday for accounts from those who have struggled with and overcome suicidal thoughts. - Saturday, join supporters at the Out of Darkness suicide prevention walk at Liberty Park from 11:30 to 1. Registration begins at 9 a.m.
×
Most recent Utah stories