Estimated read time: 1-2 minutes
This archived news story is available only for your personal, non-commercial use. Information in the story may be outdated or superseded by additional information. Reading or replaying the story in its archived form does not constitute a republication of the story.
Investigators believe it was a flash fire in a gas station bathroom that landed a woman in a Salt Lake hospital with second- and third-degree burns over almost half of her body.
Firefighters say this is very rare. In fact, the state fire marshal says he can't remember the last time someone was injured by a flash fire at a gas station here in Utah.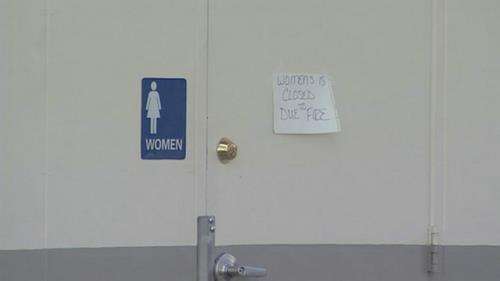 The incident happened in the women's bathroom at the Chevron on the corner of 500 South and West Temple.
Firefighters say the fire started just after 1:00 Saturday morning. A woman went inside the bathroom and was overwhelmed by fast-moving flames.
The cause is still under investigation, but investigators believe gasoline fumes in the bathroom were ignited somehow. They say it could have been anything from a static spark to a light switch.
"The frequency of this is very low. I don't think you need to have any concerns going to a gas station. We are continuing to follow up to see if there were any code violations and procedural violations," said Devin Villa, Deputy Fire Chief for the Salt Lake City Fire Department.
Firefighters say the damage to the bathroom is only a few hundred dollars. They say the fumes may have come from the gasoline storage tanks, which were filled not long before the fire happened.
The victim, a 25-year-old woman, is being treated in the burn unit at University Hospital.
The manager of the Chevron declined to make any statement other than to say that she has never seen anything like this before.
E-mail: wjohnson@ksl.com
×
Most recent Utah stories