This archived news story is available only for your personal, non-commercial use. Information in the story may be outdated or superseded by additional information. Reading or replaying the story in its archived form does not constitute a republication of the story.
MURRAY — A new thrift store opened its doors in Murray this August. Inside, some ex-convicts are rebuilding their lives after finding a place at The Other Side Academy.
The Other Side Thrift Boutique, located at 4290 S. State, isn't your typical thrift store. In fact, it is a boutique where customers can save money while helping save lives.
A shirt, necklace, jeans and sandals can be purchased for less than $30, said Mo Egan, co-manager of The Other Side Thrift Boutique.
But purchases at this shop are also helping to save the lives of ex-convicts.
"They (ex-cons) need something different. And the model that we employ is one of a 'work by doing' educational model," said Tim Stay, CEO of The Other Side Academy.
Dave Durocher, managing director of The Other Side Academy, describes the program this way: "Get up every day, go to work, have a good attitude and go to bed."
It sounds simple enough, but for the ex-cons who work there, it's a rigorous vocational education. They are relearning how to stay sober, out of trouble and employed outside prison walls.
"A lot of those things we were taught when we were younger but at some point along the line, we just forgot about it, and we just went a different way," Egan said.
Steve Strong, another co-manager of the thrift boutique, said the program helps the participants show people who they are today and who they strive to be in the future.
Strong, Egan and Durocher all hit rock bottom in their 20s and 30s. That is when they turned to a therapeutic community in California called Delancey Street.
"For 25 years I was a drug addict, and I wasn't just your weekend drug addict, I was a very hardcore drug user," Durocher told KSL in 2016.
Related:
Now, these former addicts and ex-cons have helped create a similar program to Delancey Street with The Other Side Academy in Utah.
"At The Other Side Academy, when you make mistakes, you are going to have the opportunity to fix them and then learn from those mistakes," Durocher said.
The Other Side Academy requires a two-year commitment from ex-cons. All 68 students in the program live in a house in downtown Salt Lake City. They manage the residence — cleaning and cooking and then working together 24/7. But after 24 months, it's up to the individual to decide their future.
"We can say, if you need more time, you can stay with us longer and make sure you are ready to re-enter society," Stay said.
The Other Side's businesses include a moving company that's rated No. 1 in the Salt Lake Valley, a lawn-care service and now the thrift boutique. The ventures all make money, and that is how the program gets by without any government funding.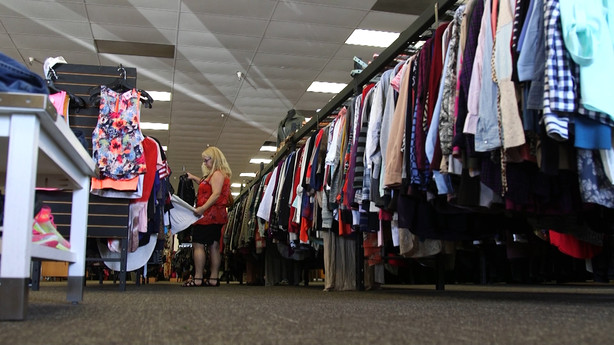 It turns out these former lawbreakers know the rules of good customer service.
"Come to find out, we can be really good at it. We can put a smile on people's faces," Strong said.
It is a welcome sight for the boutique's next-door neighbors who watched the abandoned water bed store come back to life. Just like the people working at the shop, their lives formerly were in shambles, but now they are ready for a second chance.
"Ultimately, we are good people who just haven't brought that back out yet," Strong said.
Stay said business at the thrift store has been strong since it opened. On Thursday, Aug. 24, another co-founder of The Other Side Academy, Joseph Grenney, will address the Utah Solutions Summit. He will share some of the program's successes and discuss plans to replicate this model in other states.
×
Photos
Related Stories