Estimated read time: 4-5 minutes
This archived news story is available only for your personal, non-commercial use. Information in the story may be outdated or superseded by additional information. Reading or replaying the story in its archived form does not constitute a republication of the story.
SALT LAKE CITY — Western Neurological Associates, 3900 S 1151 East, is locked, the phones are disconnected, the power is off and there's a sign on the door that reads the business closed due to "unfortunate circumstances."
Hundreds of patients with neurological conditions like seizures, migraines and dementia found out this week that their neurological clinic suddenly shut its doors after more than 40 years in business.
"I feel like the patients are left to fend for themselves," said Tara Jorgensen, a seizure patient who had been going to the clinic across from St. Mark's Hospital for a decade.
She discovered the clinic was closed when she tried to transfer her records to the University of Utah, where she works as a nurse.
"I need my records just to establish with a neurologist there," Jorgensen said. "That's when I had trouble getting my records."
She left messages. But nobody returned her calls.
"I stopped over there one time, and there was a sign on the door that said they were closed," she said.
Jorgensen does not live far from the clinic, so she decided to go back again, as she needed them quickly. "They said, 'Oh, the phones are down. There is no power. It's going to be two or three months before you get your records.' And I needed them," she said. "Anyone should have access to their records."
Monday, when she went back to Western Neurological Associates, Jorgensen said she ran into a doctor and an office worker who helped her out and gave her the records.
"They said they're just there for the patients, trying to help them get their records," Jorgensen said.
She felt lucky to get them after trying for a month. "I was super upset," Jorgensen said, sitting with her husband. "I was telling him, I don't know what's going on with this place."
As a nurse, Jorgensen is more concerned about other patients. She thinks all patients deserve better care.
"There are a lot more patients that need much more help than me," Jorgensen said.
Her husband, a physician's assistant, is also worried about the continuity of patient care.
"They still have those conditions," said Jesse Jorgensen. "They still need those medications. They still need to be closely monitored."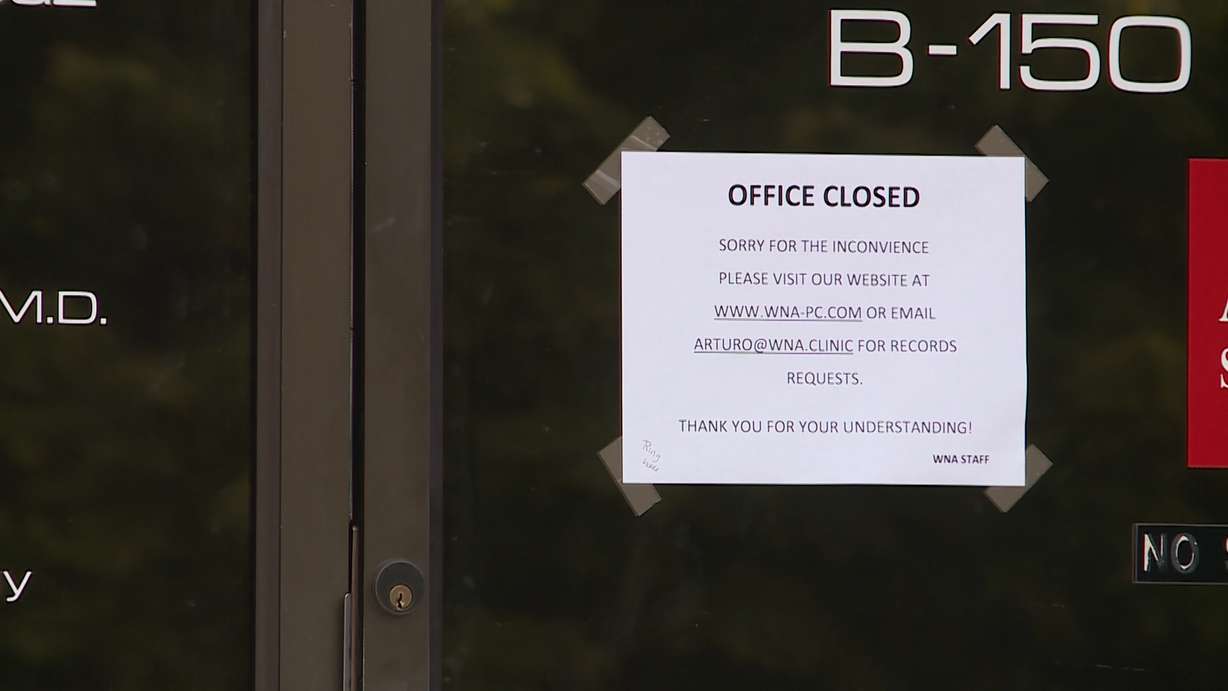 He was stunned that the business would close its doors and not contact patients in advance to help them transfer their care and records to a new facility.
"If they're left untreated, with seizure disorders, they may end up out of medications, having severe seizures," Jesse Jorgensen said.
On the locked office door, a note reads: "Due to unfortunate circumstances, WNA clinic is closed. We know how disruptive this is and how fast it has occurred. This has been very difficult for us as well."
The note cites two doctors who will relocate to Salt Lake Regional Hospital and lists a number to make new appointments. The notice includes an email address for medical records requests.
A former employee, speaking on the condition of anonymity, said workers and bills were left unpaid as the business unraveled during the last few months. The former worker is considering a lawsuit to recoup wages he said he was not paid.
The owner of the business, who is not a doctor, did not return KSL's phone calls or text messages. All of the doctors who recently worked at the clinic are still licensed, and patients did not complain about their care. On the contrary, they liked their doctors and the care they received.
Nichole Nielson showed up at the clinic Tuesday to get her records. She was stunned by the abrupt closure. She never saw any signs of trouble with the business and liked her doctor.
"No stress at all that I noticed from anybody," she said. "No longer wait times."
A worker opened the door for her and she filled out an application for her medical records. She had been coming to Western Neurological Associates nearly 30 years to get treated for migraine headaches. The company website states the business was established in 1971.
"It's very important that you have a doctor that you can go to," she said. "In order for me to do that, I've got to get my records."
She needs her medical records for her doctor, who left the clinic, along with the other doctors. Nielson fears she will not have insurance authorization for a new prescription when she needs her next Botox shots for her migraine treatment in a couple of weeks.
"If you don't get your Botox right on regimen," she said, "then you could get a series of migraines that can be really extremely painful." She said she understands that businesses fail and patients need to move on, but was hoping for an easier transition and hopes she can retrieve her records soon.
"I'll keep coming back in person if I need to," Nielson said, "keep knocking on the door."
×
Photos
Most recent Utah stories