Estimated read time: 4-5 minutes
This archived news story is available only for your personal, non-commercial use. Information in the story may be outdated or superseded by additional information. Reading or replaying the story in its archived form does not constitute a republication of the story.
SALT LAKE CITY — About 3,000 outdoor enthusiasts marched in a show of solidarity from the Salt Palace Convention Center to the state Capitol on Thursday afternoon, lauding Utah's landscapes but decrying its policies toward public lands.
"You only get one Earth, unless you have a spaceship and can go somewhere else," said Shaun Chapoose, a founding member of the Bears Ears Inter-Tribal Coalition. "You better take care of what you got."
The march and rally capped the second day of the Outdoor Retailer Summer Market in Salt Lake City, with most participants freshly arrived from vendor exhibits and presentations at the downtown convention center.
Poppy Gall and Nancy Andrews were in town from Vermont, having participated in the summer show for its 22-year run in Salt Lake City.
"It's very bittersweet," Gall said, noting the show's final exhibition in Salt Lake City before it moves to its new home in Denver.
Andrews said they both love the state's wide-open spaces, and while Vermont and the New England area have state-managed forests, much of the landscapes are highly developed and cramped with people.
"Open space is so important," Andrews said.
The Outdoor Retailer shows are moving to Denver after a feud over Utah elected leaders' opposition to the monument designations of Bears Ears and Grand Staircase-Escalante.
Outdoor Industry Association Executive Director Amy Roberts urged the crowd to continue to visit Utah and enjoy its public lands, but noted the philosophical split on monuments was too great for the show to continue in Utah.
Salt Lake City Mayor Jackie Biskupski assured the crowd that Salt Lake City leaders don't share the state's anti-monument positions.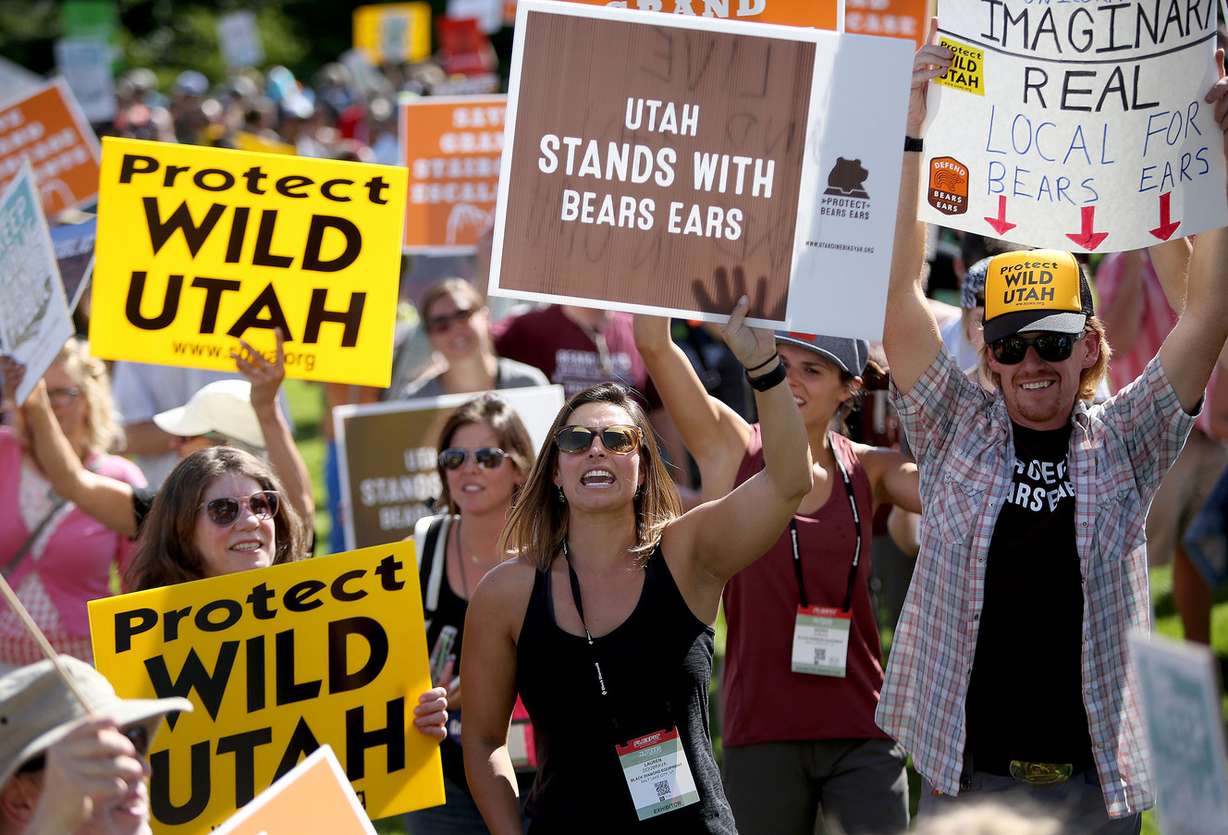 "Salt Lake City will always be the capital city of the Outdoor Retailer," she said. "Let me be clear: Salt Lake City will always be your ally in the fight to protect and preserve these public lands."
Earlier in the day, Utah Gov. Gary Herbert defended the state's position on monuments and rebuked the assertion that Utah is an anti-public lands state.
Speaking at his monthly KUED press conference, Herbert noted Utah's 43 state parks, its work with the Western Watershed Initiative and management of wildlife and Blue Ribbon fisheries.
---
"I believe that making noise is easy, but making a difference is hard. Making a difference takes sweat. It takes doing the work to bring people together. If we don't, who will?"
---
He said what could have continued to be a "win-win" for the state turned into a "lose-lose" with the show's departure, adding the controversy was more about politics and rhetoric and "less about substance."
But speakers at the rally insisted the move to dismantle or downsize Utah's two controversial monument designations — with Herbert's support — is a dangerous and unacceptable threat to public lands.
"These places embody who we are as Americans," said Adam Cramer, Outdoor Alliance's executive director.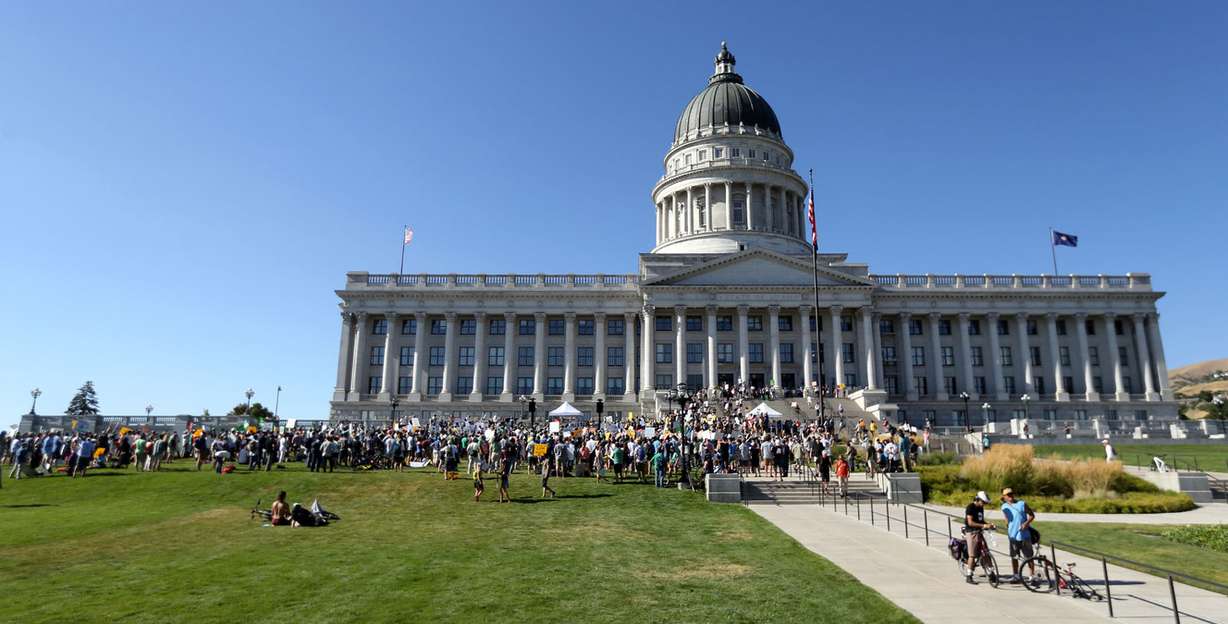 Cramer and Jerry Stritzke, chief executive officer of REI, urged public land enthusiasts to stay involved and continue to rally support across the country.
"I believe that making noise is easy, but making a difference is hard. Making a difference takes sweat. It takes doing the work to bring people together. If we don't, who will? Our charge – to help millions of people enjoy this country's natural gifts – is a huge privilege and responsibility," Stritzke said.
Simultaneous marches were held in several other states, including Minnesota, Oregon and California.
The public lands campaign, especially highlighting risks to monuments, is being carried out in tandem with Interior Secretary Ryan Zinke's review of 24 national monument designations that have occurred since 1996.
Related:
Zinke is conducting the review because of an executive order issued by President Donald Trump in late March that asked him to look at the designations to determine if they fit within the parameters of the 1906 Antiquities Act.
Zinke, who visited Bears Ears in May, has already said the 1.35-million-acre monument in San Juan County should be downsized, but he has not indicated by how much.
Despite the crowds Thursday, not every Outdoor Retailer Summer Market participant is completely sold on the idea of a new national monument in Utah.
Christopher Hagedorn, owner, lead guide and instructor of Get in the Wild Adventures, said the Bears Ears designation — in some instances — may do more harm than good.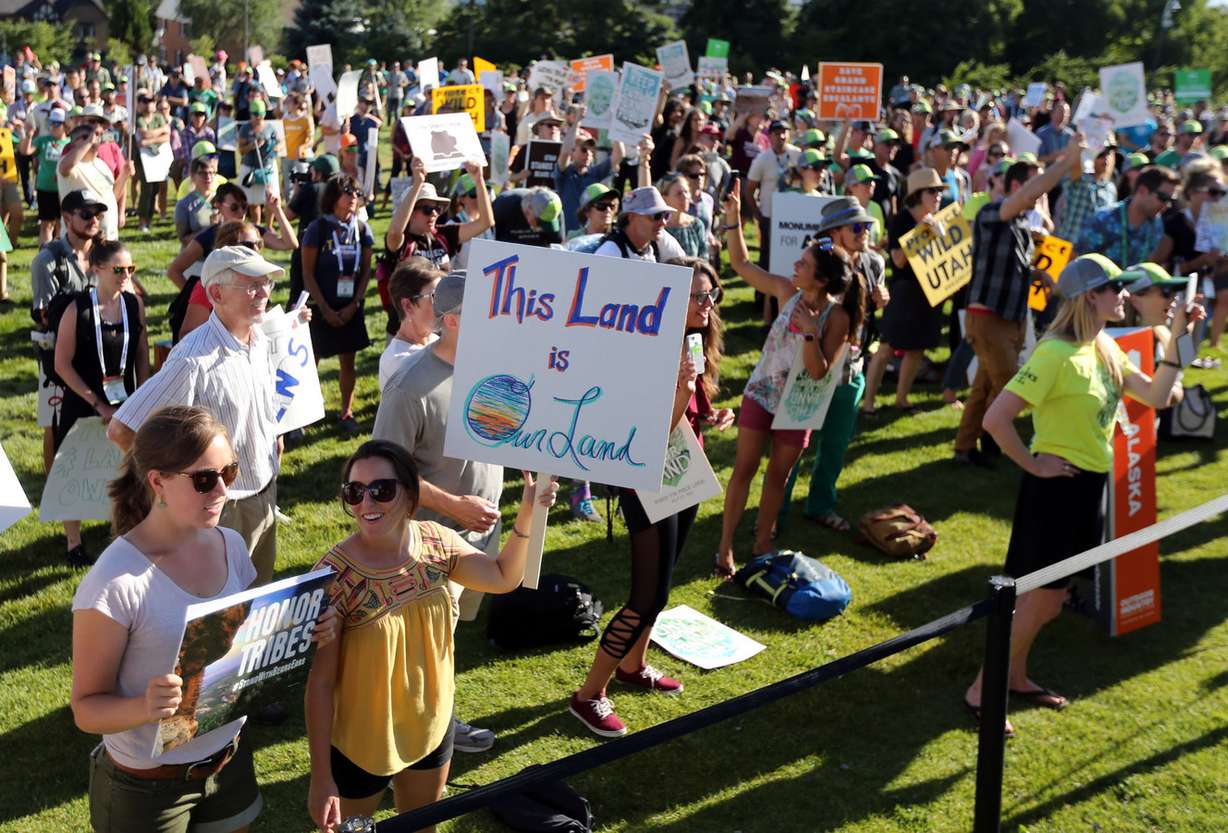 "I encourage everyone to examine all sides of the issue very carefully. Reach out to both opponents and proponents to better understand the myriad of complex issues that make this story so fascinating and important," he said.
Hagedorn said national monuments are integral components of "our landscape and heritage that serve as a common element to connect who we are as a people."
Nevertheless, he said a monument designation is not always the best way to preserve and protect the land.
×
Photos
Related stories
Most recent Utah stories