This archived news story is available only for your personal, non-commercial use. Information in the story may be outdated or superseded by additional information. Reading or replaying the story in its archived form does not constitute a republication of the story.
KANAB — The Grand Staircase-Escalante National Monument is a tutor for Emily Schrepf's two children, a silent teacher that schools them in lessons she says she could never hope to teach.
"It's an outdoor classroom. It is a way for us to show them the past, the present and hopefully, the future. We tell them other kids don't grow up like this and they are so lucky to live around these lands."
The Kanab resident hopes Interior Secretary Ryan Zinke got the same lesson Wednesday when he visited the monument on the final leg of his four-day listening tour in southern Utah.
Soft-spoken but passionate, Schrepf was among monument supporters who waited for more than an hour at the Kanab Airport to see Zinke's departure and demonstrate to him their love for the sprawling landscape.
Zinke toured the Bears Ears National Monument Monday and Tuesday by vehicle, foot, helicopter and horseback before turning his attention to the Grand Staircase-Escalante National Monument on his final day in Utah.
He took an aerial tour of the Grand Staircase, drove it and hiked some of it.
His visit is part of a review directed by an executive order issued by President Donald Trump to probe monument designations of more than 100,000 acres and determine if they meet with the intent of the 1906 Antiquities Act.
Critics of both monuments in Utah say the designations overstepped the bounds of that act, done with a unilateral stroke of a pen that ignored local concerns. For Bears Ears, Zinke is to give his recommendations to Trump by early June.
Grand Staircase-Escalante, which is the oldest monument under review, was the focus of Zinke's attention Wednesday.
He acknowledged the political donnybrook over the surprise designation made by President Bill Clinton in 1996 — from Arizona — and the rabid opposition from political leaders that has followed since.
"You remember when this monument was formed, the governor of Utah read it in the paper. Remember that," he said, speaking to reporters before his departure.
"The governor of Utah read this in the paper. So now it is time to go back and say, 'Hello, I the Department of Interior, the secretary and you know what, your voice matters to me."
He did not discount the beauty of the landscape or paleontological value of the monument, however.
"I saw some gorgeous country," he said, but noted he also saw a proliferation of invasive species that gave him cause for concern.
"The management plan looking at it years in, is a little concerning to me... We have to make sure the land is managed well."
Monument supporters such as the Grand Staircase-Escalante Partners, which led a rally in Kanab on Wednesday, are adamant that any management strategy going forward include preservation of the monument as it exists.
"The creation of these monuments was an act of hope," said Christa Sadler. "It needs to be preserved in its entirety."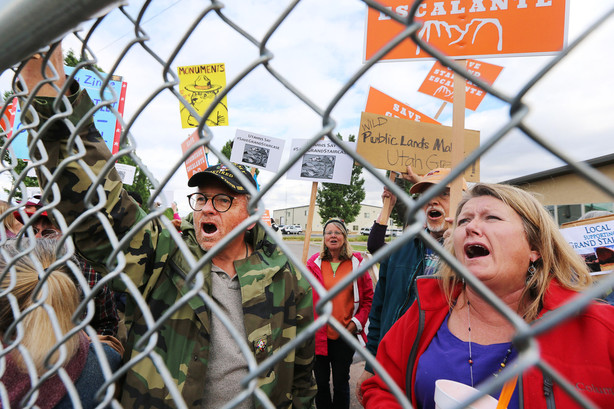 Sadler, a paleontologist and author of "Where Dinosaurs Roamed: Lost Worlds of Utah's Grand Staircase," read from one of the many letters she penned to Zinke, imploring him to recognize the scientific significance of the area for its vast array of dinosaur discoveries.
She expressed regret and sadness that her letters have been met with silence, as did members of the business community who said they didn't get a face-to-face with the secretary.
Zinke said he'd met with hundreds of monument supporters, shook hands and listened to opposing viewpoints from people he praised for their passion. Looking at Wednesday's raucous crowd chanting in his direction, Zinke was nonplussed.
"I don't call them protesters, I call them advocates. They are advocating for the monuments. I have talked to multitudes of advocates and enthusiasts about it and I have I have to tell you, everyone has been friendly."
Zinke has taken criticism, however, for failing to meet with as many stakeholders as Interior Secretary Sally Jewell did during her visit to Utah last year to look at the Bears Ears question.
In contrast to that visit, environmental organizations, nonprofits and business leaders have felt cut off in the Zinke visit.
This time, however, county officials who felt they were given little audience for Jewell are now happy.
"We were told he was given the order from Trump to listen to the local elected officials. We are elected by the people, we are the voice of the people, that is the way our republic was set up. It was a good day," said Garfield County Commissioner Leland Pollock.
Pollock accompanied Zinke to the Smoky Hollow area on the Kaiparowits Plateau where a mine was planned to potentially recover 11 billion tons of coal before the monument designation changed that.
"It's not monument quality and he (Zinke) knows that. We were out there pretty much all day and we ran into two tourists."
Pollock said the area prized by tourists is the canyons of the Escalante, which is landscape worthy of protection.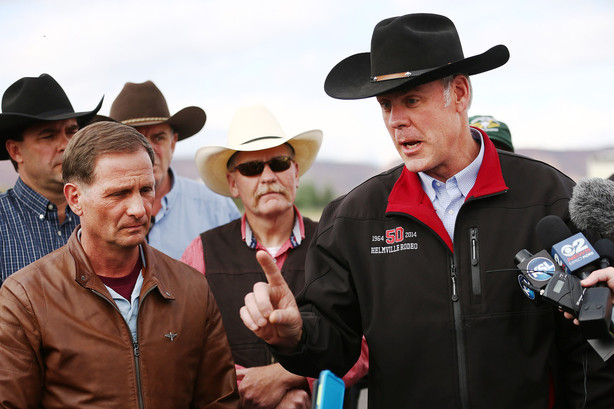 Garfield County's engineer, Brian Bremner, said he believes monuments were initially designed and protected from the inside out — starting at special places that needed monument status and working outward to build a buffer.
"Now they are from the outside in," he said, and the buffer has expanded and lost significance.
For a time, Zinke was the most powerful man in Utah and his presence on the ground caused a stir.
With a roaring sound of the governor's private plane, he slips back into life in Washington, D.C., away from the Utah controversy.
With his luggage go memories and impressions and his observation that the standard of debate civility in Utah is something to be envied.
"Everyone has been really, really friendly, so I don't see the anger," he said. "I think this is an example of something good... Obviously this is a big issue in Utah. I have to say, your voices have been heard."
×
Photos
Related Stories