Estimated read time: 5-6 minutes
This archived news story is available only for your personal, non-commercial use. Information in the story may be outdated or superseded by additional information. Reading or replaying the story in its archived form does not constitute a republication of the story.
MENAN, Idaho — Just before noon on Monday, Aug. 21, when tens of millions of Americans are expected to watch a total solar eclipse, a lucky few will watch it in a very unusual place: atop two old volcanic craters in eastern Idaho.
"I think it's going to be fun," Randy South said as he stood on the rim of one of the craters. "You're standing here, and all of a sudden it's going to be dark like midnight."
South actually owns one of the twin craters; the other is on federal land controlled by the U.S. Bureau of Land Management. He hopes to capitalize on what's expected to be a flood of visitors from neighboring states and even from around the world.
"This is called the South Menan Butte," he explained as he drove an all-terrain vehicle up a rough road rising several hundred feet above the Snake River Plain.
"We're probably half a mile from the rim to the rim," South explained, gazing across his circular crater. "Thousands of years ago there was a volcanic eruption, and that eruption came up through the Snake River."
South and his neighbor, Brent Gunderson, say South Menan Butte might be one of the best vantage points in the country to see the so-called "Great American Eclipse" in all its glory on Aug. 21. They're hoping to sell eclipse lovers on the idea of watching from a high-elevation perch — on the rim of the crater — as the shadow of the moon races right at them across the Snake River Plain.
"I think it would be real exciting to see that shadow moving over 2,000 miles an hour, coming across the valley floor," Gunderson said.
The total eclipse of the sun will be visible only in a 70-mile corridor that reaches across the country from the Oregon coast to Charleston, South Carolina. The twin volcanic craters — South Menan Butte and North Menan Butte — are very nearly on the centerline of the path of totality.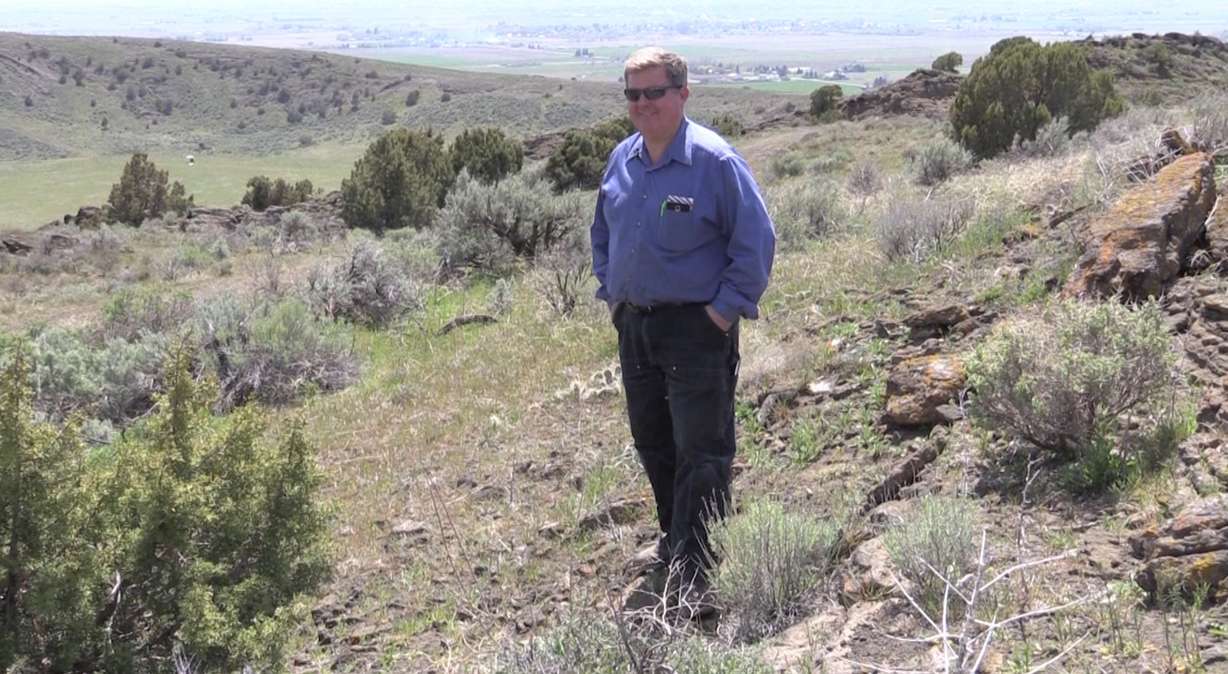 On the morning of Aug. 21, the moon will slowly pass in front of the sun. Viewers in the path of totality will see the moon completely cover the sun for two minutes or so, the timespan depending on their exact location. For that brief time, they will see day turn to night, and they'll get a rare opportunity to see stars and planets in the middle of the day.
Not many people can claim to have a volcanic crater of their own, especially one that's prime real estate for the best American eclipse in 99 years. South's family has owned the crater for about 40 years, ever since his mother — a Realtor — swapped a whole apartment building for South Menan Butte. The fact that it shares his last name is just a coincidence, South said.
"It was pure luck, I think. Pure luck," South said with a laugh. "Back then it was just a pile of rock that wasn't worth a lot. And it's still a pile of rock that's not worth a lot. But it's dear to our family."
A mile or so away, North Menan Butte is on public land. It's a national natural landmark that's popular with hikers — on an average day. On Aug. 21, it might just be swamped with visitors. European tour groups long ago secured permits to bring busloads of visitors to North Menan Butte.
Related:
"This place happens to be almost centerline on the path of totality," BLM spokeswoman Sarah Wheeler said.
Wheeler notes that visitors are allowed to camp almost anywhere on public land, but on Aug. 21, there might be crowded conditions in the small parking lot at North Menan Butte.
"I think it would be a cool place to watch the eclipse," she said, "unless you want solitary eclipse viewing. And then it's going to be a madhouse."
Like thousands of entrepreneurs in the path of totality coast to coast, South and Gunderson are hoping to cash in on what they have plenty of: space for lots of people.
"That green field with the dandelions is parking lot A," South said, pointing from the rim of his crater to a farm property far below.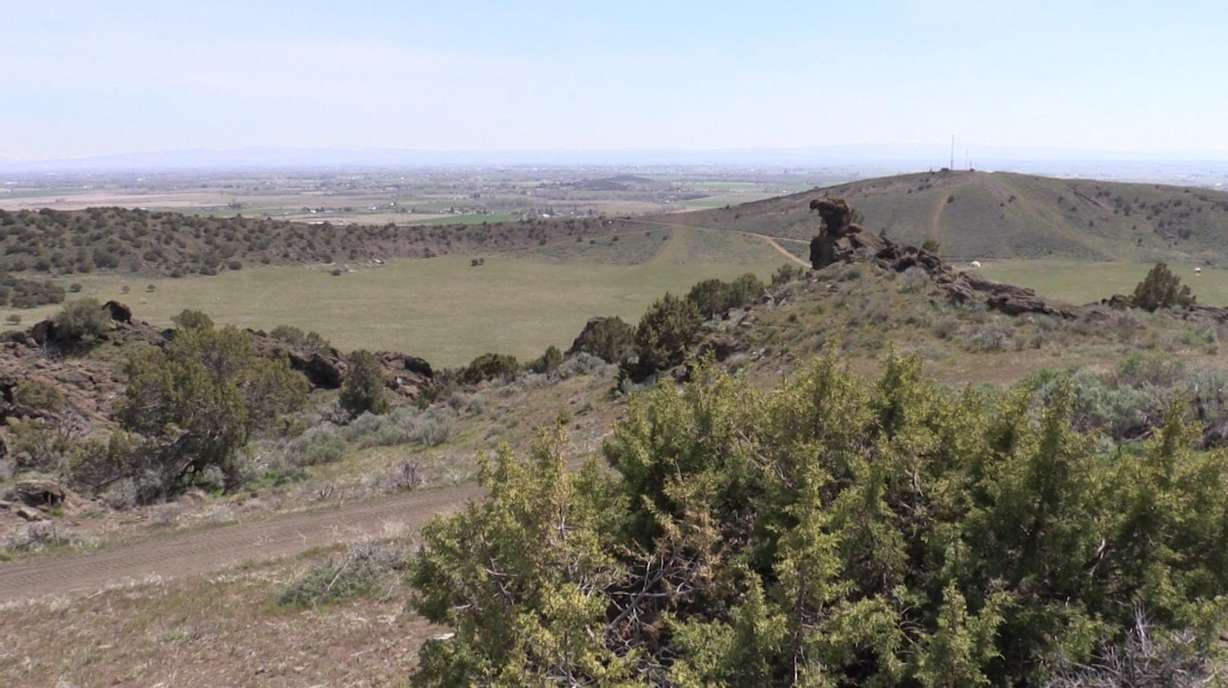 "When that fills up, then we're going to move over to this next one," he said, pointing to nearby acreage. "This little brown field. And then the walking path (to the rim of the crater) will be that little dirt road that comes up here."
Gunderson and South plan to charge $75 for four nights of camping at the time of the eclipse; four nights in a recreation vehicle will cost $150. Hikers who don't stay overnight would pay $5 for what could be the experience of a lifetime for many people.
"You'll be able to see the eclipse coming and going without any trouble," South said. "You'll see the stars in the sky just as if it was midnight. Really black. The birds stop singing and the animals think it's time to go to bed."
It's questionable whether the exact location will matter much, as long as it's within the zone of totality. Eclipse veterans say a total solar eclipse is an incomparable experience that most people will remember for a lifetime.
In the Salt Lake area, the eclipse on Aug. 21 will be far less dramatic. Utah is outside the path of totality, so along the Wasatch Front, only a partial eclipse will be visible. An observer in Salt Lake City will see the moon cover about 91 percent of the sun. To see the real thing — a dark-sky total eclipse — the closest place to Utah is on I-15 just south of Idaho Falls.
×
Photos
Related Links
Related Stories