Estimated read time: 8-9 minutes
This archived news story is available only for your personal, non-commercial use. Information in the story may be outdated or superseded by additional information. Reading or replaying the story in its archived form does not constitute a republication of the story.
JACKSON, Wyo. — On the weekend of Aug. 19-20, it's entirely possible that tens of millions of Americans will jump in their cars and drive to a neighboring state. But are two of the states involved — Wyoming and Idaho — ready for a possible invasion from Utah?
"We are very excited about this opportunity; we are very nervous about this opportunity," said Sarah Wheeler, Idaho-based public affairs specialist with the Bureau of Land Management.
The BLM is one of hundreds of government agencies wrestling with a big dilemma: How should they plan for hordes of visitors when no one can predict the scale of the invasion?
Another factor adding to the unpredictability: It could all fall through at the last minute, depending on the weather.
The enormous planning effort revolves around what will likely be the science story of the century so far, at least for nonscientists. On Aug. 21, the so-called "Great American Eclipse" will sweep across the country from the Oregon coast to Charleston, South Carolina.
In a 70-mile-wide zone of totality, America will have its best view of a solar eclipse in 99 years. It will likely be seen by more people than any eclipse in history.
"It just sounds goose-bumpy to me, so I'm excited to see it," said Kathryn Brackenridge, of Jackson, Wyoming, a tourist mecca on the direct path of the total eclipse.
Brackenridge has a job title previously unknown in Jackson: eclipse event coordinator. She was hired by the town of Jackson and Teton County to help plan and coordinate a huge number of entertainment and education events that are popping up on calendars for "eclipse weekend" in August.
She identified uncertainty as her biggest challenge.
"I think it's the unknowns," Brackenridge said, "the amount of people that could come here … or not."
What will happen?
One thing that is certain: The eclipse will definitely occur on Monday, Aug. 21. It's been predicted by scientists for hundreds of years.
That morning, as the moon passes in front of the sun, the shadow of the moon will race across Idaho and Wyoming at nearly 2,000 mph. It will pass over numerous cities and towns, as well as vast stretches of wide open spaces.
Inside the of totality, people will see the moon totally cover the sun. For two minutes or so — the time will depend on the viewer's exact location — day will turn to night, and the stars and planets will become visible in the hour just before noon.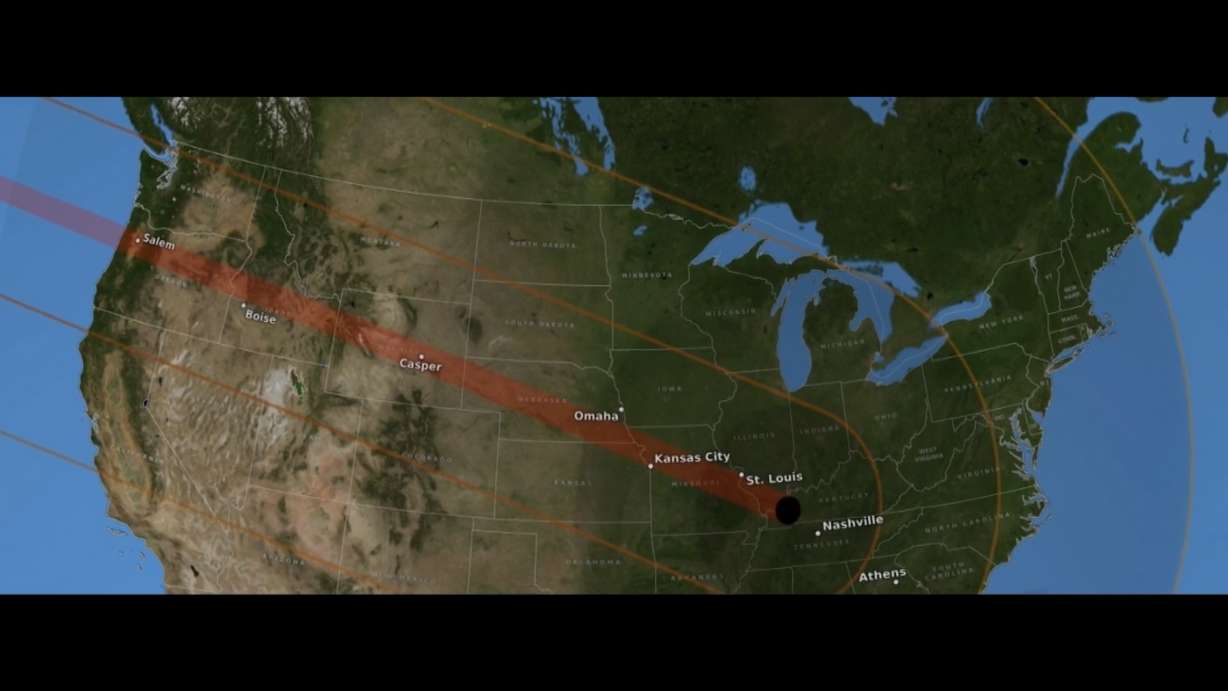 Utah is well outside the zone of totality. Viewers in Salt Lake City will see only a partial eclipse, with the moon covering about 91 percent of the sun. That's not enough to turn day into night. Utah residents likely won't even notice the eclipse unless they view it through safety glasses.
Eclipse enthusiasts say there is no comparison between the experience of a total eclipse versus a partial eclipse: It's literally the difference between night and day.
Most Americans will be able to drive to the zone of totality in just a few hours, so it's an enormous planning puzzle for government officials coast to coast.
How many will come?
There are wildly varying estimates for the number of visitors just to eastern Idaho.
"Anywhere from 50,000 to a million people for the eclipse," said Dan Harelson, engineering manager for the Idaho Transportation Department. "So the number we've kind of settled on is about 500,000 from out of the area."
Harelson said drivers from Utah will likely experience delays, partly because I-15 will be under heavy construction all summer long in the corridor from Pocatello to Idaho Falls.
The worries for public agencies cover a range of potential problems: enormous traffic jams; overloaded camping areas; shortages of food, water and gas; increased risk of wildfires from campers and idling vehicles; the availability of toilets; and even worries about inexperienced visitors who might have unwanted encounters with bears.
Public land agencies, such as the BLM, are trying to think ahead.
"In the state of Idaho, we have about 1.5 million people," Wheeler said. "So if you're talking about (an additional) 500,000 to a million people, you just (nearly) doubled the size of the state for a two-minute event."
Across the state line in Wyoming — in Grand Teton National Park — it's always busy in the summer. But on Aug. 21?
"We anticipate this to be one of the busiest, if not the busiest, day in the history of the park," said Denise Germann, of the National Park Service.
In a recent briefing for the Jackson Hole Chamber of Commerce, Emergency Management Coordinator Rich Ochs emphasized the uncertainty about the number of people who will actually visit Jackson.
"What are some numbers that people have heard in this room?" Ochs asked. When someone replied "100,000," Ochs said, "100,000? 20,000? 120,000? 150? Does anybody have a source? Throw out any number you want because no one's going to be able to prove you wrong."
Will there be enough food and gas?
In tourist towns like Dubois, Wyoming, restaurant owners are ordering more food. But will it be enough for everyone who flocks in?
"We are very worried in the sense that we want to be prepared," said Carol Murdoch, standing behind the counter at the Cowboy Cafe.
Visitors need to be ready, as well, according to Germann.
"One of our key messages to folks is to make sure that you're prepared," she said.
At the one and only store in tiny Crowheart, Wyoming, the risk is that they will order too much food and drink — or too little. Assistant manager Kathryn Urbigkit says experts have told her Crowheart may be the best place in America to view the eclipse because of the probability of clear skies and — normally — very few people.
"We were told we will probably sell out of all the food we have," she said, "and our gas."
Like many residents of Wyoming and Idaho, though, Urbigkit is eager to see the eclipse.
"We're going to close this place for a half-hour so we can go see it," she said. "Because it may be a once-in-a-lifetime thing for some of us."
Nearly every law enforcement agency along the eclipse track is planning to have extra officers on duty. At Grand Teton National Park, where the centerline of the eclipse runs across the runways at Jackson Hole Airport, the National Park Service plans to import extra park rangers.
"It will be an all-hands-on-deck day," Germann said.
Parking will be banned on the main highway through the park. The park service plans to route eclipse traffic off the main highway onto nearby roads. They will become reversible one-way roads on the day of the eclipse, facilitating people who arrive in the morning and leave in the afternoon.
Will there be huge traffic jams?
Traffic is one of the big unknowns. In both states, transportation officials have vowed to put highway projects on hold for eclipse weekend. But on I-15, where the zone of totality crosses the freeway in the Idaho Falls area, one-lane bottlenecks are still a possibility.
"We're going to try to minimize closures," Harelson said. "We expect congestion. We want people to plan extra time, pay attention and just be patient."
Jerry Merrill, mayor of Rexburg, Idaho, said local traffic issues might create complications on the morning of the eclipse.
"We're trying to figure out how to place our emergency people in the right locations so they can effectively get to people that might need help at that time," Merrill said.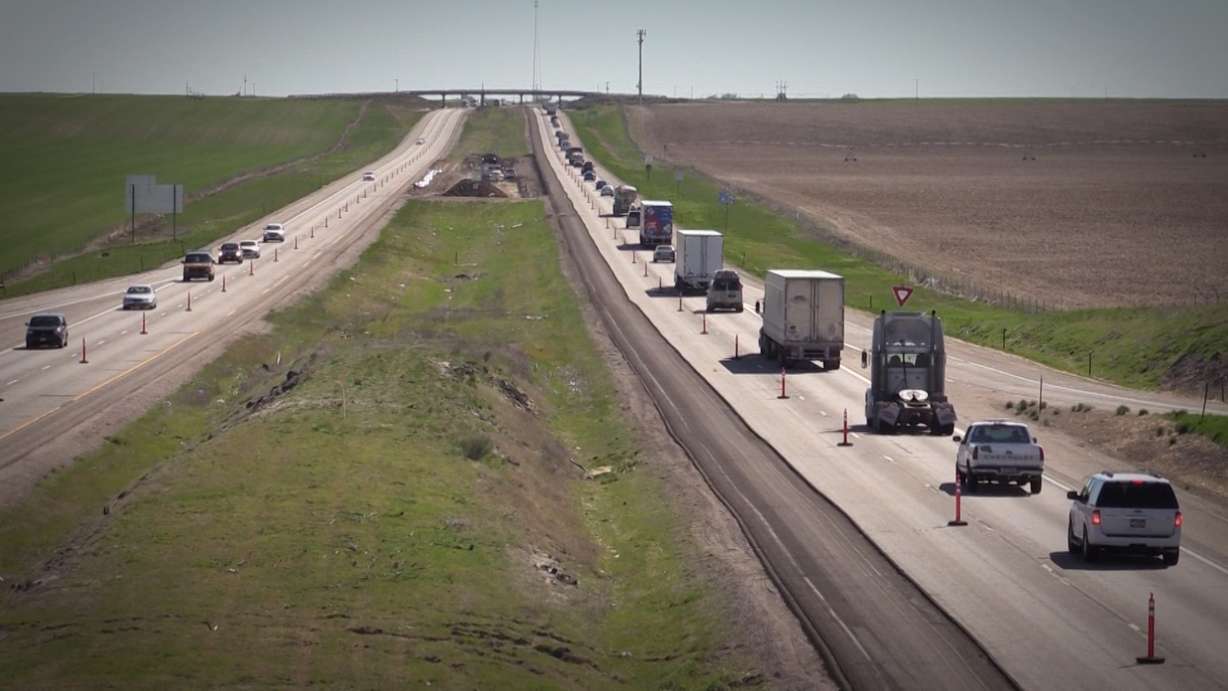 The weather in August is a crucial factor in what will ultimately happen. If forecasts in mid-August suggest cloudy skies on Aug. 21, many potential visitors will likely cancel their plans.
Planners also worry about variable weather conditions on the morning of the eclipse: If it's cloudy in one area but clear in another, thousands of people may hit the road all at once in search of clear skies.
"Large volumes of people on the move at one specific time, it could potentially create heavy traffic, a gridlock situation," Brackenridge said. "That would then be impactful to our emergency services function."
What about the call of nature?
One specific issue has definitely been on the minds of event planners:
"Port-a-potties," Brackenridge said. "It's the hot topic."
To be blunt, when nature lures millions to the zone of totality, how do planners prepare for the call of nature?
"We're hoping it's good for our business," said a chuckling Dwight Reppa, whose company, Macy's Services, is the only port-a-potty outfit in Jackson.
Reppa is planning to bring in reinforcements from Utah.
"We don't have enough toilets to supply what we need," he said. "So we're going to be bringing in an additional 200 toilets to the event."
It's also an issue on the Idaho side of the border.
"There's many events already planned," said Nathan Taylor, environmental health specialist for Eastern Idaho Public Health. "Every port-a-potty that's available in this area is already rented."
Where will people sleep?
And then there's the issue of lodging.
"The hotels and motels are all full, and have been for quite awhile," Mayor Merrill said.
Rexburg loosened its regulations to allow more residents to offer homes for short-term rentals. The mayor said he has no idea how many visitors Rexburg should expect.
"Around 50,000, 60,000?" Merrill said. "But it could be 80 or 100. We just don't know."
BYU-Idaho recently made an unprecedented decision to allow owners of student-approved housing to rent to outsiders the week of the eclipse. That could potentially free up hundreds or thousands of apartments for short-term rentals.
Where there's a need, the entrepreneurial spirit kicks in. McKenna Matuauto, of Rexburg, advertised her parents' lawn on the Airbnb lodging website.
"Two-hundred bucks a night for a tent or RV spot," Matuauto said. "We've rented out six tent spots for the night. We really just wanted to help people find a place to watch the eclipse."
×
Photos
Related Links