Estimated read time: 4-5 minutes
This archived news story is available only for your personal, non-commercial use. Information in the story may be outdated or superseded by additional information. Reading or replaying the story in its archived form does not constitute a republication of the story.
SALT LAKE CITY — A retired Salt Lake City schoolteacher has been planning a huge party for more than a quarter-century — and this year it's finally party time.
Bill Christiansen is trying to reconnect with thousands of former students so he can reinvite them to a rendezvous in Idaho for what's been dubbed "The Great American Eclipse."
"It's going to be terrific," Christiansen said, stabbing his finger at a recent visitor to his home office. "And you had better be there."
The upcoming event is actually a chance for tens of millions of Americans to witness one of nature's most dazzling spectacles. A total eclipse of the sun will cross the entire nation through Oregon, Idaho and Wyoming and a number of Eastern states.
Christiansen calls it "a once-in-a-lifetime opportunity" for those who are willing to drive north from Salt Lake City to see the eclipse in the "zone of totality."
"It's going to be so beautiful," he said. "You'll remember this your entire life."
On a recent return visit to East High School where he taught for 25 years, Christiansen picked up a favorite teaching tool: a model of Earth and its moon revolving around the sun.
"They've got to be in a straight line," he said, aligning the model's sun and Earth with the moon in between. "We've got a shadow (from the moon) here on the Earth, and there's our eclipse."
Every year on the last day of classes, Christiansen made it a practice to write a specific date on the blackboard: Aug. 21, 2017.
Now, after decades of teaching about it, that date is finally closing in.
On the morning of Aug. 21, the moon's shadow will begin its transit across America as it comes ashore just south of Portland, Oregon. It will be by far the best eclipse in the U.S. in 99 years.
It's been dubbed "The Great American Eclipse" because millions will see an incredible show just by stepping outside. The moon's shadow will travel all the way across the country from western Oregon to Charleston, South Carolina. Almost everyone in America will be less than a day's drive away from the zone of totality.
"There's going to be millions and millions of people seeing this," Christiansen said. "This is such a wonderful event."
Christiansen has set up a Facebook page, hoping to reconnect with former students to reinvite them to his Great American Eclipse Party.
"If we can get all of them there, we'll have 3,500," he said. "And if they don't come, I'm going to hunt them down."
As the moon's shadow travels eastward that morning, it will cross central Idaho and Wyoming. In the zone of totality, a corridor 60 to 70 miles wide, viewers will see the moon slide across and completely cover the sun.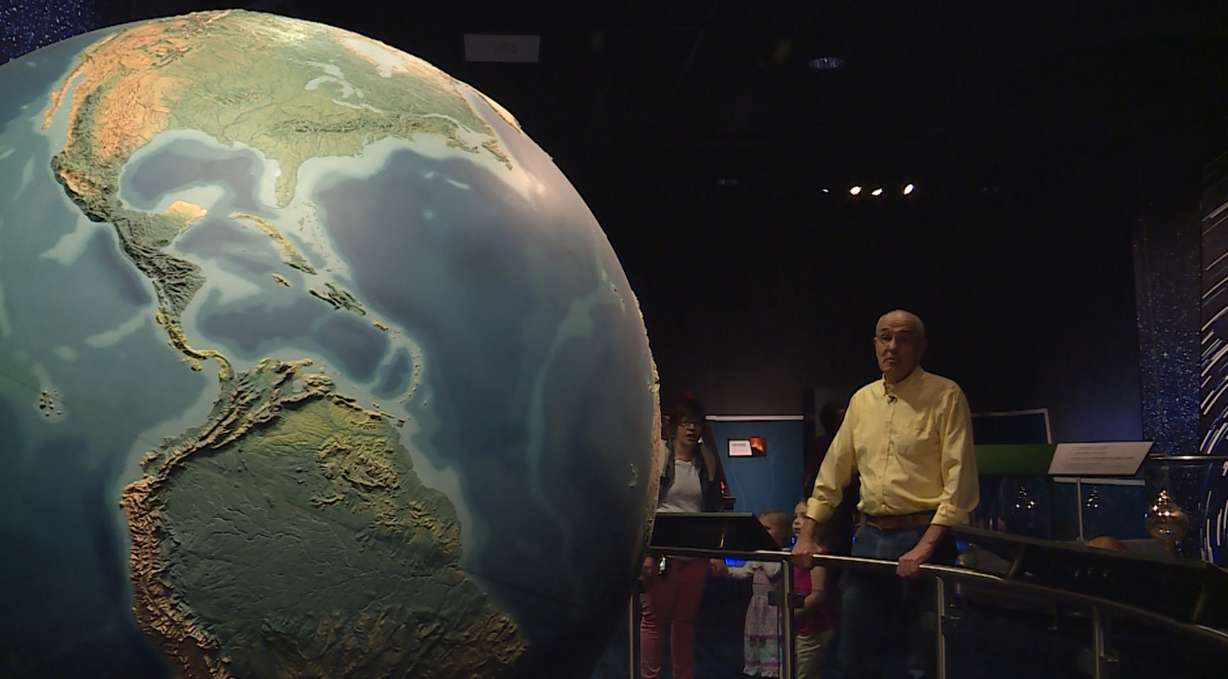 Christiansen hopes to rendezvous with his students near the centerline of the eclipse track in Sugar City, Idaho, "at the Sugar City-Salem High School football field," he said.
For lucky viewers who see a 100 percent total eclipse, day will turn to night. The stars and planets will come out just before noon. It's a phenomenon that throughout human history has caused unsuspecting people to cower in fear.
Christiansen hopes his eclipse party will remind his former students about that earlier stage of human understanding of the universe.
"As the sun starts to disappear, we're going to moan and groan and act like the Earth is going to end," he said. "We'll yell and scream and lament."
After two minutes of darkness in the zone of totality, the moon's shadow will pass by and night will turn back into day.
"When the sun peeps out again, we'll start cheering," Christiansen said. "Then we're going to go into the gymnasium. And in the gymnasium we're going to have the best party ever."
To a science teacher like Christiansen, a total solar eclipse itself is a great teaching tool. When it happens right on schedule — in what's been called the "Clockwork of the Heavens" — it validates the methods and the findings of science.
"This particular eclipse was predicted hundreds of years ago," he said.
Instead of cowering in fear, millions might just find themselves overcome with awe for the amazing solar system — and the universe — that is our home.
"Wonder and imagination (are) so important," Christiansen said. "Let's have that revitalized. Be there!"
Utah is outside the zone of totality so people in the Beehive State will only see a partial eclipse. Day will not turn to night.
For Salt Lake City residents, the closest spot to see the real thing — a total solar eclipse — is just south of Idaho Falls. Totality begins there at 11:33 a.m. on Aug. 21.
×
Photos
Related Links