Estimated read time: 3-4 minutes
This archived news story is available only for your personal, non-commercial use. Information in the story may be outdated or superseded by additional information. Reading or replaying the story in its archived form does not constitute a republication of the story.
SALT LAKE CITY — Alissa Parker lost her 6-year-old daughter, Emilie, in the Sandy Hook Elementary School shooting in Newtown, Connecticut in 2012.
The lives of 19 first-graders and six adults were also taken that day.
The shock and horror of that day left Parker and her husband, Robbie, with the need to search for increased faith and healing. Now, more than four years later, she's written about her journey in her book "An Unseen Angel."
Parker described Emilie as a unique child with an unforgettable sense of compassion and love for the people around her. She recalled how Emilie would express that love through her artwork.
"She would give them cards expressing whatever sentiment that she wanted them to feel from her," Parker said. "It was often that we would wake up in the morning with a card in front of our door, and not just our door, but her siblings' doors as well. Just telling them 'I love you' or 'I'm thinking of you' or 'I'm sorry.'"
But when Emilie died, Parker needed answers and her faith, she said, simply wasn't enough.
"I needed to know and I needed to know with a certainty where my daughter was, and that is what I went to God with."
In "An Unseen Angel," Parker wrote about feeling God's hand and the love of strangers, which was what inspired her to write the book.
"I felt their prayers, I felt the help, the actual help that was received and it had never been so physical, and that was amazing," she said. " And I felt like I was this witness to this miracle of the power of good."
Parker and her family, who are Latter-day Saints, heard not just from people of their own faith, but from people of all faiths who were willing to share their experiences with loss and grief.
Related:
"There's just this equalizer in going through something like this that walks across all faiths," she said.
While she grieved, Parker decided to reach out to Peter Lanza, the father of the Sandy Hook shooter, Adam Lanza. She was surprised and touched by what she learned when Lanza poured his heart out to her and her family and spoke of his son.
"All of a sudden, this person was no longer just the monster that he was in the moment he took my child's life," Parker said. "And it was a moment of many that led me ultimately to find that forgiveness in my heart."
And even though she didn't expect much from her encounter with Peter Lanza at first, it helped her in a way that would have been impossible otherwise, Parker said.
The Parkers, originally from Utah, decided to bury Emilie next to her grandfather in Ogden. But flying her body to Utah was particularly difficult for the family.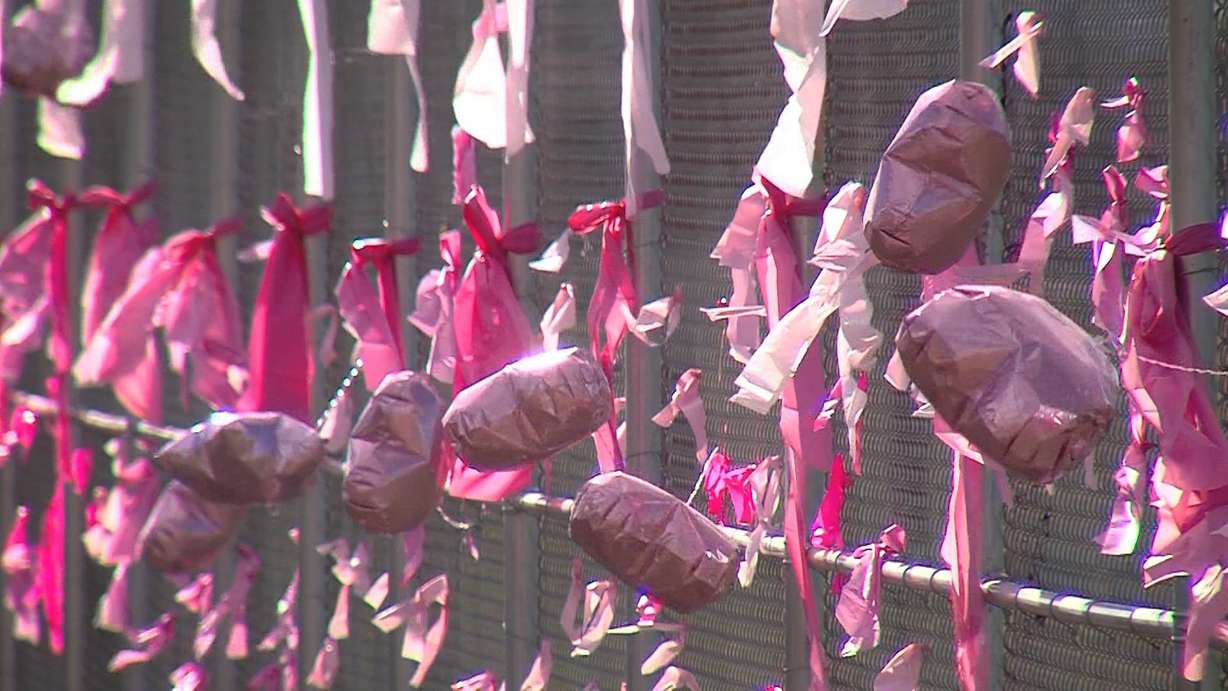 "That was very hard to think of my daughter being taken on an airplane with cargo in that way," Parker said.
But when the family arrived, Utahns embraced them. They were greeted by a neighborhood covered in ribbons in Emilie's favorite color, pink.
"That moment completely softened the darkness I was feeling," Parker said. "I felt such a love and comfort at such a difficult time from these sweet people. And I just remembered feeling at home."
The book is dedicated to Emilie because she is "an unseen angel." The dedication reads: "You helped me see the beautiful connections that bind us together forever."
×
Photos
Related stories
Most recent Utah stories