This archived news story is available only for your personal, non-commercial use. Information in the story may be outdated or superseded by additional information. Reading or replaying the story in its archived form does not constitute a republication of the story.
SPANISH FORK — When Dallin Pepper's parents first introduced him to CrossFit, a physical exercise regimen and a competitive fitness sport, he wasn't a fan.
"They tried to get me to do it for awhile — for like a year, and I was lazy and I thought it was dumb," 15-year-old Pepper said.
That was until he saw the tail end of the 2015 CrossFit Games on TV. What he saw there completely changed his mind, especially as he watched participants his age competing in the teen division.
"I saw some of those kids and I thought, 'That would be really cool,'" he said, recalling how his interest in the activity began. And since he's been participating, he's seen success.
Now the Spanish Fork Junior High student isn't just active in CrossFit, he's better at the activity than anyone his age in the Southwest Region, and Pepper will attend the CrossFit Games, which are being held in Madison, Wisconsin, in August.
In addition, he's fifth in the world in the current leaderboard for boys aged 14-15 and first in the world among those who have qualified online.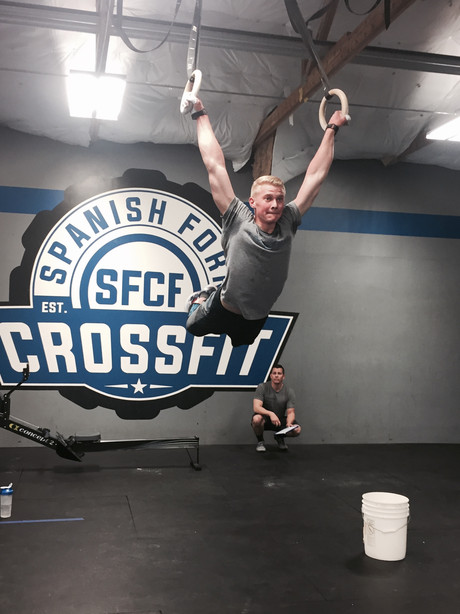 Reaching the CrossFit Games is a goal that Pepper began working on from the beginning. His mother, Jana Pepper, said she and her husband Joe decided to allow him to have a trainer after Dallin had been working on his own. She recalls Dallin telling the trainer at the Spanish Fork CrossFit that he wanted to someday reach the CrossFit Games. The trainer believed it was wishful thinking, just as any child spouting off a wild dream.
But Dallin put in the work and his coaches and parents were with him all the way, supporting him. He said he enjoyed pushing himself beyond limits.
"He has pushed himself and worked hard — (he's) a very, very driven kid and has worked his way to this point," Jana Pepper said, noting how proud she is of her son's accomplishments. "Coaches have helped a ton but he does most of his stuff all on his own."
If there was something holding him back, it was the reaction from his peers. Similar to how Dallin first viewed the activity, they thought it was weird. He was staying fit and eating healthy. Of course, as they've seen his successes, that has changed.
---
"He has pushed himself and worked hard — (he's) a very, very driven kid and has worked his way to this point." — Jana Pepper
---
He said that reaction is something that initially bothered him, but he also sees it another way.
"Hopefully, they'll show more interest in it and start," he said.
As for his original dream of reaching the CrossFit Games, Dallin said he realized he needed to make an adjustment. Rather than just participating, he said he knows if he continues to work hard, he might win — and that's the new goal.
The success he's had early on, Dallin said, is proof that hard work pays off.
"It's kind of crazy when I see my name up there, but it's really showed that you can do anything you set your mind to if you work hard," he said. "That's been a big lesson I've learned from all of this."
×
Photos