Estimated read time: 2-3 minutes
This archived news story is available only for your personal, non-commercial use. Information in the story may be outdated or superseded by additional information. Reading or replaying the story in its archived form does not constitute a republication of the story.
Rocky Mountain Power marked a milestone today, announcing that it has collected and recycled more than 100,000 old refrigerators and freezers. The recycling program was launched in 2003, and it's been much more popular than anyone originally thought.
The program is called "See Ya Later Refrigerator." When the program started five years ago, the goal was to encourage people to get rid of their older-model appliances, which waste a lot of energy.
You've probably seen the television commercials encouraging you to turn in your old fridge or freezer. Rocky Mountain Power will give you $30, and they'll even pick the appliances up.
The program has been a big success. Carol Hunter, vice president of Rocky Mountain Power, said, "We were thinking maybe three years, we'd run this program maybe three years. We had a fair sense of what we thought was out there, and boy were we underestimating the potential!"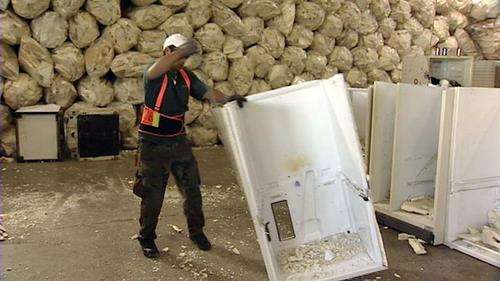 Now, five years later, more than 104,000 of those old appliances have been hauled out of people's garages and basements. The energy saved from this recycling program is significant because older refrigerators use roughly three times the amount of power as the newer models. "The energy saved from recycling those refrigerators is equivalent to the energy used by about 7,000 homes," Hunter said.
So what happens to the old units? JACO Environmental handles the recycling, separating all the various components that are inside -- plastic, foam, glass, metals and hazardous fluids-- within a matter of minutes. Michael Dunham, Director of Energy & Environmental Programs for JACO, said, "From the beginning of unloading it to separating all the materials and recycling, it's about 30 minutes per unit."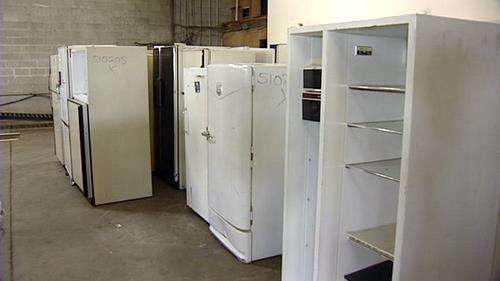 Ninety-five percent of the components from the old appliances get recycled. It's a win-win all around. You can get rid of an old appliance, save some energy and help protect the environment all at the same time.
"So this program, after doing 100,000 refrigerators, is like taking 200,000 cars off the road for a whole year. That's the environmental impact," Dunham said.
The oldest refrigerator that's been picked up in the last five years was made in 1949.
By the way, JACO Environmental partners with utility companies on programs like this in 12 states. That's a lot of old appliances that aren't being hauled to the landfills!
For more information on this recycling program, click on the related link to the right of the story.
E-mail: kmccord@ksl.com
×
Related links
Most recent Utah stories