This archived news story is available only for your personal, non-commercial use. Information in the story may be outdated or superseded by additional information. Reading or replaying the story in its archived form does not constitute a republication of the story.
SALT LAKE CITY — Most of Utah's reservoirs will fill this summer thanks to the hefty snowfall stored in the state's mountains. But that snowfall could cause flooding in northern Utah, as temperatures are expected to warm up this weekend.
The latest report issued by the U.S. Department of Agriculture's Natural Resources Conservation Service said precipitation for February was at 156 percent of average, helping levels at reservoirs increase by 6 percent in just a month's time.
Across the state, hydraulic basins are bursting with snow, with the Bear River region at 171 percent of average, Weber-Ogden at 162 percent, Provo-Jordan at 157, and Duchesne sitting at 188 percent of average.
Even southwest Utah, which has been extremely dry the past few years, sits at 158 percent of average.
Flood concerns
The wet month of February has already led to flooding throughout northern Utah, hitting Box Elder and Cache counties particularly hard.
With temperatures expected to hit 60 degrees on Saturday and hover near there into Sunday, the National Weather Service in Salt Lake City issued a flood warning for most of northern Utah that will remain in effect until 2:30 p.m. Monday.
Agricultural land is already saturated with standing water, so the weather service is warning that flooding is expected in fields and in basements.
Areas where flooding is expected to occur include Ogden, Logan, Brigham City, Tremonton, Randolph, Laketown, Cache, North Ogden, Smithfield, Hyrum, Perry, Wellsville, Willard, Lewiston, Marriott-Slaterville, Bear River, Mantua, Corinne, Clarkston and Garden City.
The water report notes there's already been an active snowmelt along low- and mid-elevation locations. A sequential snowmelt that plays out gradually will minimize flooding, rather than having it all come off at once.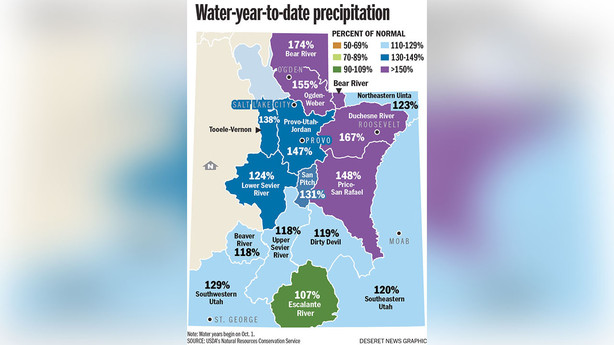 "Worst case scenario for flooding would be cold and increasing snowpacks through March and April resulting in concurrent snowmelt from low, mid and some high elevations at the same time," the report said.
Precautions urged
Water managers in the Bear River system are urging people to take precautions as the temperatures begin to climb.
"Based on runoff forecasts, we believe there will be localized flooding of the Bear River into its historic flood plain," said Connely Baldwin, Rocky Mountain Power hydrologist.
The Bear River hydroelectric projects have tested emergency operating plans that include provisions for contacting the National Weather Service and local public safety officials in the event of high runoff.
Rocky Mountain Power is urging residents in proximity to the Bear River to monitor those information sources until the threat of spring runoff subsides.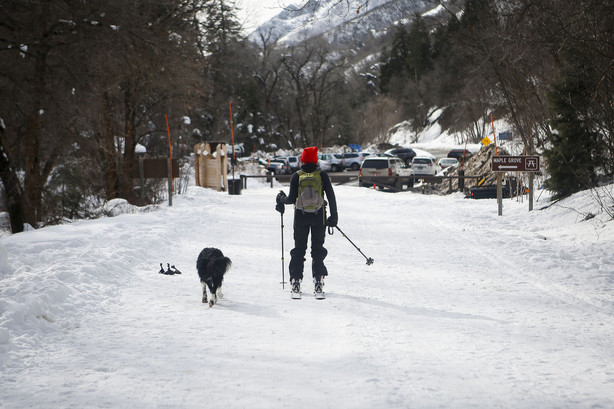 Flooding has already had a sweeping impact on Box Elder County, where officials there estimate 90 percent of communities are struggling with high water.
Residents and first responders endured four straight days of flooding in late February, prompting the governor to active the Utah National Guard to help with sandbagging efforts.
Lt. Gov. Spencer Cox toured the area Feb. 22 to survey the damage, which is estimated in the millions for both Cache and Box Elder counties.
×
Photos
Related Links
Related Stories