This archived news story is available only for your personal, non-commercial use. Information in the story may be outdated or superseded by additional information. Reading or replaying the story in its archived form does not constitute a republication of the story.
SALT LAKE CITY — After another winter storm dumped a few more feet of snow in Utah's mountains, snowpack across much of the state is near record-breaking territory. That means a lot of water for our reservoirs, but it also raises the possibility of flooding.
After four below-average water years, snow survey hydrologist Randy Julander said Tuesday this is exactly the kind of winter we need. If the snowfall keeps up, "we could be in record territory," he said.
But it all depends on the next two months.
"Most of the basins across the state have already (hit), or are very close to the normal April 1 values," said Julander, who works for the U.S. Natural Resources Conservation Service (NRCS).
For example, an NRCS graph of snowpack totals for the Duchesne River Basin shows the area is currently sitting at 210 percent of average snowpack.
"The green line is average — that is a normal condition," Julander said, pointing to the graph. "The blue line is the most snowpack that we've ever seen on this basin, and a black line is where we currently are. And you can see that the black line is already above that April 1 value and very, very close to the maximum of record."
Charts from across the state show the same trend, tracking near-record snowpack.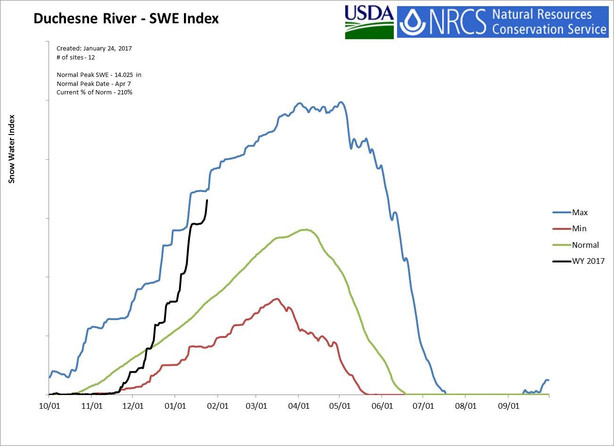 That's great news for our water storage statewide. The biggest bodies of water — like Lake Powell, Bear Lake and Utah Lake — should all rise, but Julander says it will take a few good years to fill them.
Little Dell Reservoir in Salt Lake County, which finished the year below 50 percent of average snowpack, should reach capacity this summer, Julander said.
"Almost all of the reservoirs, they will easily fill — not only fill but spill," Julander said.
That could potentially lead to flooding.
"That's cause for excitement and cause for concern," Julander said.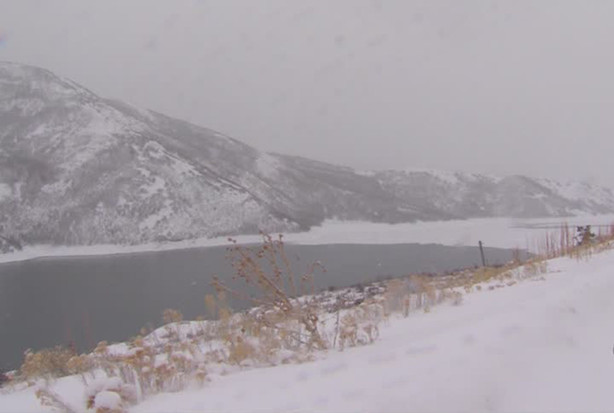 He said communities should be on alert. Disastrous flooding occurred three decades ago when snowpack was similarly high.
"Over the years, they've put a lot of money into infrastructure and flood mitigation. So preparation is always the key," Julander said.
Extensive flooding on the Wasatch Front did not materialize in 2011, the last year Utah snowpack was well above average. But this year is looking different.
"If (the snow) shut off and we went to the worst possible conditions, we would still be above average come April 1," Julander said.
×
Photos
Related Links
Related Stories