Estimated read time: 6-7 minutes
This archived news story is available only for your personal, non-commercial use. Information in the story may be outdated or superseded by additional information. Reading or replaying the story in its archived form does not constitute a republication of the story.
SALT LAKE CITY — Jake, a 13-year-old Labrador retriever, is supposed to be enjoying retirement. The Labrador had worked as an avalanche dog at the Alta Ski Area since he was a pup. But, the retired life hasn't been easy.
In March 2016, Jake's vet found several large cancerous tumors in his throat. If that wasn't bad enough, Jake is also hounded by many more medical problems.
"He has a paralyzed larynx and he has troubles with his legs and joints as well," said his owners, Sara Gibbs. "Some days are good, some days are bad."
Gibbs said that without treatment, a walk even to the neighbor's house can be a struggle.
"He breathes and sounds like he's Darth Vader," Gibbs said. "Just two houses away, he was breathing so loudly that the neighbor came outside and asked me if something was wrong."
Gibbs first treated Jake with a dose of dog pain killer, Rimadyl, every day.
"It's pretty hard on dog's stomachs," Gibbs said. "It's a necessity for many dogs. And, it can be pretty expensive."
When a friend told her about Healthy Hemp Pet products as an alternative for pain relief, Gibbs decided to give the hemp-based CannaBiscuits and CannaDrops a try. She said the change in Jake was gigantic.
"I had him on it for nearly a week and stopped giving him the dog pain pills."
To be clear, Jake's cancer and other ailments have not gone away. But, Gibbs said the hemp treats and oils have improved his quality of life.
"He's in less pain, he's happier, he goes on betters walks – he's eating better," she explained.
Dave Merrell loves his daily walks with his two Airedales. But when one of them, Mya, was diagnosed with hip dysplasia, Merrell fretted over the treatment.
"The thought of putting her on a pharmaceutical that had bad side effects for long term use — I didn't want to do that," Merrell said. "Then, I learned about CBDs."
CBD is short for cannabidiol, a compound found in cannabis — the root plant of both marijuana and hemp.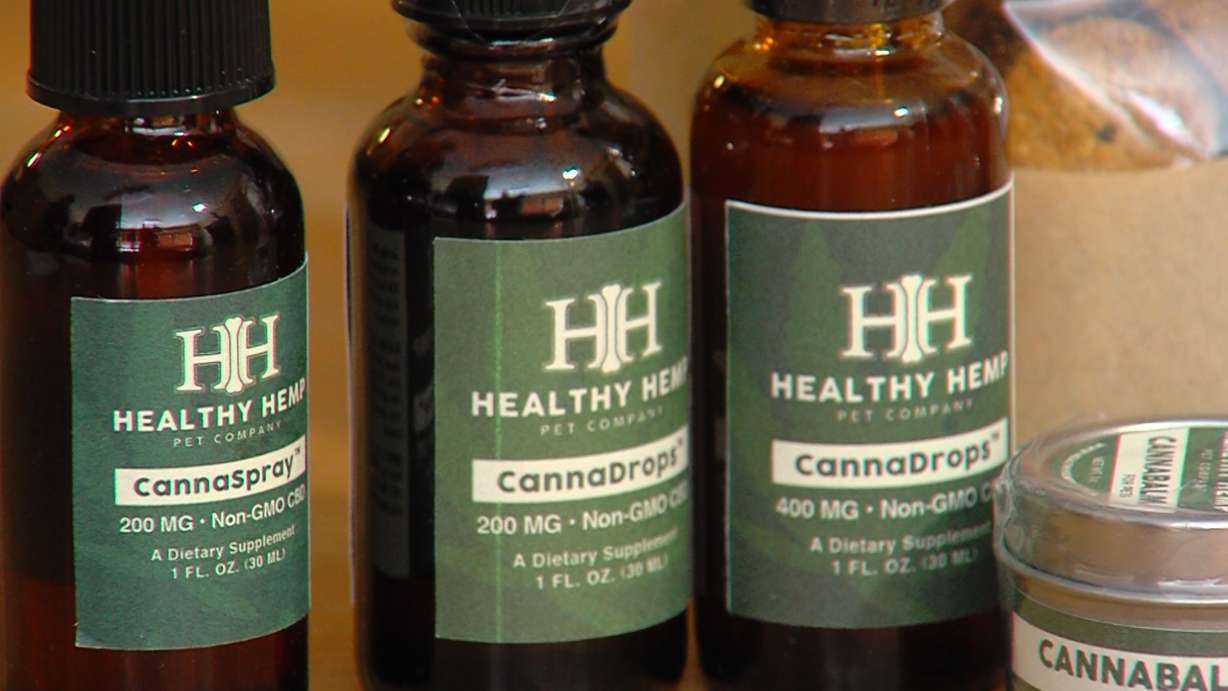 "The research I did was that it was good for movement, inflammation, pain — exactly what I needed," Merrell said.
He said he ordered a few cannabidiol-based pet products online, and some worked OK for Mya.
"She would run a lot more," Merrell said. "You could tell she was feeling a lot better."
But, the quality of product was lacking.
"One was broken-up biscuits in a Ziplock bag," Merrell said. "And, the other was just some capsules in a bag. No ingredients. No dosages."
So, Merrell launched the Healthy Hemp Pet Company. He teamed up with veterinarians in Colorado to formulate biscuits, balms and oils which are now sold in dozens of pet stores in Utah and across the country.
Merrill says what makes his products legal is that the cannabidiol used by Healthy Hemp Pet Co. are derived from industrial hemp, and not marijuana.
"There's no THC," said Merrell.
THC is the psychoactive chemical that causes the marijuana high.
"In order for our product to be legal, the industrial hemp it comes from has to test for no higher than 0.3 percent THC levels," Merrell said.
Still, the U.S. Food and Drug Administration has not approved CBDs for use in pets, which is one reason why veterinarians in Utah won't recommend any cannabis product for your dog or cat.
"We can discuss it," said Dr. Taylor Howard, veterinarian at the University Veterinary Hospital and Diagnostic Center in Salt Lake. "But, we can't legally prescribe it. It's not a prescription medicine, it's not FDA regulated or approved."
Dr. Howard said he hears anecdotes from pet owners who've used CBD-based products to take the edge off anxiety, nausea, joint pain — even cancer treatment for their animals. But, he warns the scientific studies and data is scant.
"There are various breeds and various sizes. We're not going to know necessarily how it (CBD) might affect each individual."
On top of that, each cannabis plant contains scores of different compounds.
"Maybe, there is more to it than we realize," Howard said. "Maybe, there are other things happening. Maybe, the effective part of the plant isn't being harvested correctly. Until we know which products are going to work the best, we won't really be endorsing (their use.) Safety and efficacy are still yet to be fully understood."
Dr. Howard said he's also concerned about the current lack of regulation in the pet cannabis industry. There's no guarantee in quality of ingredients.
"I'd say, right now, across the board, there's not a good way to ensure the product you've received is the product you've paid for," Dr. Howard explained. "Until there is some form of regulation, we're not going to have a consistent product that is going to produce more reliable results."
The veterinarian said he has not personally heard of any pet seriously harmed by an overdose on CBD or hemp-based products. The story is different for products derived from marijuana.
"I've seen instances where dogs have been given edible products that contain THC. The side effects can be dramatic, dysphoric — they don't do very well with that," explained Dr. Howard. "Overdose is not life threatening, but it does cause a lot of stress for them."
As for CBD-based products, Howard said research needs to go forward.
"If we don't push for more research and more studies overall on this particular topic, we're going to be left behind. We're not going to have as many options or alternative therapies for our pets."
When KSL-TV editor Jeff Beckstrom heard we were working on a story about cannabis for pets, he wondered if a biscuit or CBD oil would help keep a lid on his dog's frenetic energy. His pet, Bella, is his 5-month-old Maltese mix.
"She'll run around and the room and run around the room and then she wants to bite your fingers," Beckstrom said. "Yeah, so basically, her hyperactivity turns into super aggression."
Beckstrom talked to Dr. Howard about his situation. While he couldn't give a recommendation, Howard explained if you're going to use cannabis, consider saving it for an older dog.
"It's being used more for cancer patients, patients with gastrointestinal upset, and those with joint disease. Those are usually dogs somewhere above eight years of age. We have to give them a little time, a little elbow grease."
The one recommendation Dr. Howard can give? Be cautious.
×
Photos
Most recent Utah stories