This archived news story is available only for your personal, non-commercial use. Information in the story may be outdated or superseded by additional information. Reading or replaying the story in its archived form does not constitute a republication of the story.
SALT LAKE CITY — A total of 280 people were killed on Utah's roads during 2016, according to the Utah departments of transportation and public safety.
That's two more than the year before. But it's also the fourth consecutive year that fatalities have increased, and it's the highest annual number of traffic fatalities in Utah in a decade.
"I'm outraged. I'm outraged that we're losing that many lives on Utah's roadways when we don't have to. This increase we've seen over the last four years, I'm frustrated, quite frankly," said Carlos Braceras, the Utah Department of Transportation's executive director.
The top brass from the UDOT and the Department of Public Safety held a news conference in the state Capitol Wednesday to announce the annual numbers. Behind them on the stairway, 280 placards were placed to represent each of the state's victims from last year.
"Every one of those placards involves a family — a mother, a father, a brother, a sister, a child and an officer showing up at that door of that house usually to make (a death) notification," said Utah Commissioner of Public Safety Keith Squires.
Utah's roads have never been safer, Braceras said. The same can be said for the cars being built.
But the majority of fatal crashes are caused by human error — specifically, people not wearing seat belts, driving aggressively, driving impaired, driving drowsy and driving distracted, he said.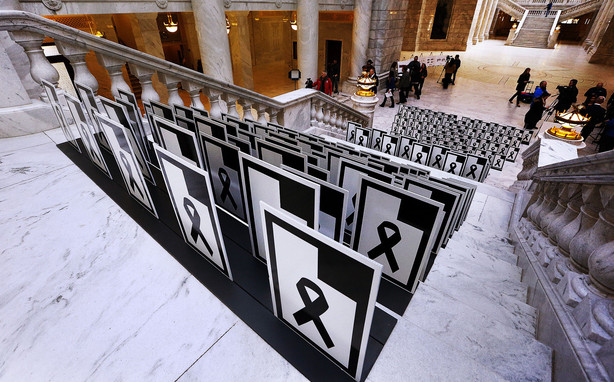 "If we could eliminate those five behaviors, we'd be talking about a much smaller number here today, and you would see much fewer deaths on Utah's roads," Braceras said.
According to statistics from the state:
In 86 of last year's 280 fatalities, victims were not properly restrained
Last year, 77 people were killed either while driving impaired or by a crash caused by an impaired driver
Twenty-two were killed by distracted drivers or while driving distracted
Drowsy driving caused the deaths of 21 drivers last year in Utah
What stood out to Squires in the annual report is the number of drivers and passengers who were not properly restrained in their vehicles.
According to the state's statistics, the majority of fatal crashes in 2016 occurred on dry roads during daylight hours. Squires says that means that even when driving conditions are perfect, it's the behavior of drivers that is causing the majority of fatalities.
"A lot of times it's good people that feel an anonymity when they're out on the highway, cutting in and out of traffic, going much faster than the traffic flow, abusing the HOV lane," he said. "Yet those same individuals would in no way go into a bank line or the supermarket and behave like that."
The report also found:
The majority of fatalities in 2016 occurred in Salt Lake County
The most deaths due to unrestrained victims occurred in Utah County
I-15 had the most fatalities, followed by U.S. 89 and I-80
Motorcycle fatalities were up from last year
Braceras noted that more people today are traveling longer distances in vehicles.
"At the end of the day, it really comes down to people making bad decisions," he said. "I need every single person who gets behind the wheel of a car to understand what they're doing is probably the most serious thing they're going to do all day long. Their lives depend on it. Their children's lives depend on it."
Squires said it's easy to look at statistics. But the public needs to remember that for every one of the placards on the state Capitol steps Wednesday, there was a family who got a knock at the door from a trooper.
"I can remember very clearly every time that I'm driving to make those notifications just that feeling you get and how are you going to deliver that message. Because it's something they're going to remember the rest of their lives."
×
Photos
Related Stories