Estimated read time: 4-5 minutes
This archived news story is available only for your personal, non-commercial use. Information in the story may be outdated or superseded by additional information. Reading or replaying the story in its archived form does not constitute a republication of the story.
ST. GEORGE — The attorney for a woman accused of locking her son in a bathroom as he wasted down to only 30 pounds says the mother's story is not what it appears, and he believes the boy's father was likely aware of what was happening.
Defense attorney Edward Flint said Tuesday he has watched in shock as headlines about his client, Brandy K. Jaynes, 36, have spread worldwide, detailing allegations that the woman had locked her 12-year-old son in a bathroom for at least a year and starved him until he was emaciated.
After speaking with Jaynes over the weekend, Flint said that rather than malicious abuse, he believes this is a case of a "family in crisis" that desperately needed help and never got it.
"There are a lot of questions we have as well, but I think it's safe to say that she wasn't trying to hurt this child out of any kind of malice or hatred, that she cares about all of her children, but she was really lost with a very difficult special needs child and didn't know what to do," Flint said.
Jaynes, of Toquerville, is charged in 5th District Court with child abuse causing serious injury, a second-degree felony.
Washington County Sheriff's Lt. David Crouse last week called the case the worst incident of child abuse he's ever seen, comparing the boy's experience as having been in a "prison" or "torture chamber."
According to police, the boy's father brought his malnourished son to Dixie Regional Medical Center on Jan. 8, prompting police to investigate the situation at the boy's home. There they found the bathroom where the boy had been kept, reporting in charging documents that the room was covered in feces and locks had been placed outside the door to keep the boy inside.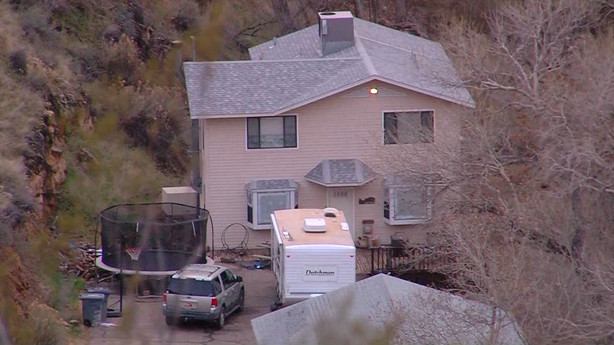 Jaynes had set up a video camera so she could monitor the boy on her cellphone, police said, and a baby monitor was placed so she could give the boy instructions but he could not reply.
Jaynes has two other children, including the 12-year-old boy's twin sister, both of whom are healthy, Flint said.
At the time of Jaynes' arrest, detectives were trying to determine the father's situation. Crouse said at the time that the father and Jaynes were married but separated, and he did not know whether the father lived in the house or the last time he saw his son prior to taking him to the hospital.
But Flint disputes the narrative that the boy's father "discovered" his son locked away in the bathroom and then rushed him off to receive help.
"My understanding is that the father … has lived there the entire time and was fully aware of what was going on and the child's situation of being housed in the bathroom," Flint said.
Washington County Attorney Brock Belnap said Tuesday that the investigation into the case is ongoing. He would not say whether any charges were being considered against the father.
---
There are a lot of questions we have as well, but I think it's safe to say that she wasn't trying to hurt this child out of any kind of malice or hatred ... but she was really lost with a very difficult special needs child and didn't know what to do.
–Edward Flint, defense attorney
---
After hearing Jaynes' description of the problems she claims to have had with her son since birth, Flint shared his opinion that the boy sounds much like his own now adult son, who has autism. He also noted that, where he and his wife were provided medical, psychological and educational support for their son from an early age, Jaynes received none.
"At some point in life he should have been examined for an autism spectrum disorder, but he hasn't been," Flint said.
Jaynes confirmed to Flint that the boy hasn't been to school since third grade; he is now old enough to be in the sixth grade. At one point Jaynes said she was approached by school representatives about additional testing for her son, but that never happened.
Flint did not know whether Jaynes and her son had lived in multiple school districts, or whether the Utah Division of Child and Family Services had ever been in contact with the family.
Additionally, Jaynes told Flint the boy has a medical condition he has experienced since infancy that causes frequent vomiting and diarrhea. The woman told her attorney she struggled to find things the boy would eat and that she had been giving him protein shakes to try to counteract his weight loss.
Flint described Jaynes as a mother who was confused and overwhelmed by what was happening with her sick child.
"She didn't set out to harm this child but things slipped out of control for her somewhere along the line in the last weeks or months. And when it slipped completely out of control, the child ended up living in the bathroom," Flint said.
Flint said Jaynes consulted a pediatrician at one point about her son's health issues and was told the boy would "grow out of this."
"She feels very badly, she feels horrible that she didn't follow through," Flint said.
The attorney emphasized that neither of the boy's parents have previously faced criminal charges in Utah. He was unaware of what the parents' financial situation has been through the years, but he noted that he had been appointed to represent Jaynes because she could not afford an attorney.
Jaynes, currently in custody in the Washington County Jail, appeared for a roll call hearing Tuesday. She returns to court Jan. 30.
×
Photos
Related Stories