Estimated read time: 2-3 minutes
This archived news story is available only for your personal, non-commercial use. Information in the story may be outdated or superseded by additional information. Reading or replaying the story in its archived form does not constitute a republication of the story.
SALT LAKE CITY — Toxic chemicals released from industrial facilities across the nation dropped by 56 percent over a 10-year-period, according to the Environmental Protection Agency, including an 8 percent decrease from 2014 to 2015.
The annual Toxic Release Inventory from the EPA shows that hydrochloric acid, sulfuric acid, toluene and mercury were among chemicals that experienced significantly lower releases from industrial facilities. The 56 percent decline is from 2005 to 2015.
EPA officials say the public should welcome news of the decline because those chemicals are associated with a wide range of health effects that include damage to nervous systems and respiratory irritation.
Jim Jones, EPA assistant administrator for the Office of Chemical Safety and Pollution Prevention, said the report shows that "action by EPA, state and tribal regulators and the regulated community has helped dramatically lower toxic air emissions over the past 10 years."
Industrial facilities are required under the Pollution Prevention Act to submit information on pollution prevention and other waste management activities of toxic release chemicals. Across the country, nearly 22,000 facilities submitted data for 2015.
"(The report) provides citizens access to information about what toxic chemicals are being released in their neighborhoods and what companies are doing to prevent pollution," Jones said.
In Utah, Kennecott's copper mine concentrators, power plant and smelter is the leading facility for toxic releases, followed by U.S. Magnesium, Bonanza Power Plant and EnergySolutions.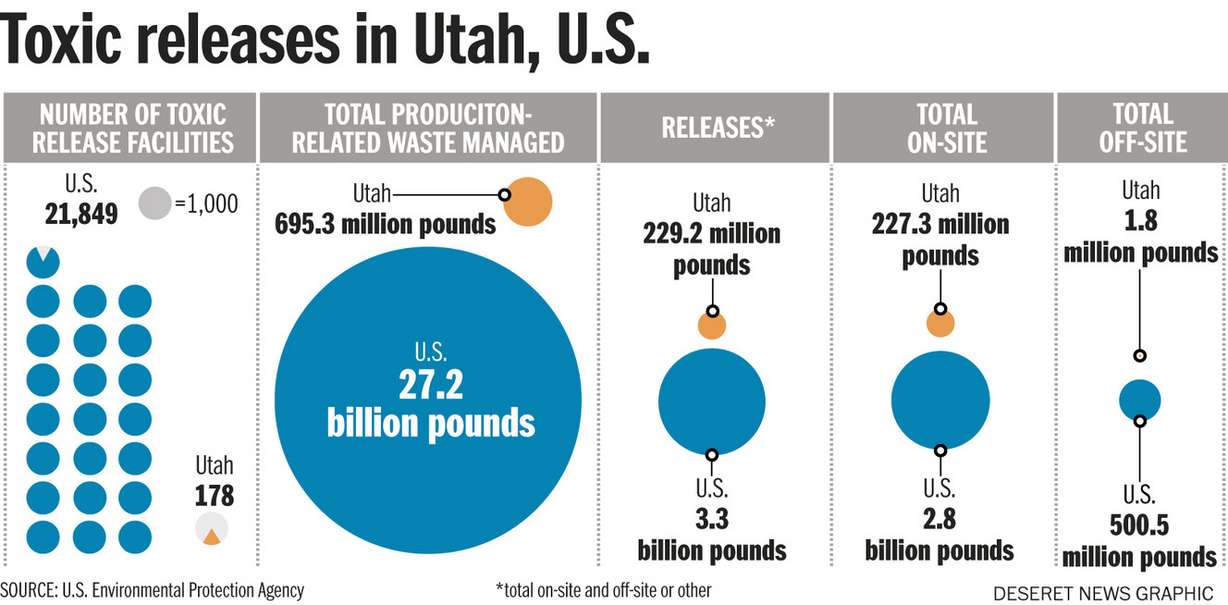 For 2015, Kennecott released or disposed of 206 million pounds of toxic chemicals, the majority of which was lead.
The releases stem primarily from the movement of waste rock or overburden.
"A difference in metals concentration of a few parts per million results in millions of pounds considering the large amounts of material moved each year," Kennecott spokesman Kyle Bennett said. "These small changes in concentration directly impact our toxic release inventory. For every ton of ore, we'll release less than an once of lead and 13 ounces of copper."
The EPA's Richard Mylott said Kennecott's smelter and refinery experienced one of the largest reductions in releases on a national scale, dropping 17 million pounds from 2014 to 2015.
Overall, Utah has 178 facilities that report toxic releases to the EPA and ranks No. 4 among 56 states and territories based on total releases per square mile.
The state had 229 million pounds of on-site and off-site disposals or releases, compared with the national average of 3.3 billion pounds.
×
Photos