Estimated read time: 4-5 minutes
This archived news story is available only for your personal, non-commercial use. Information in the story may be outdated or superseded by additional information. Reading or replaying the story in its archived form does not constitute a republication of the story.
SALT LAKE CITY — Both sides of the Bears Ears monument debate passionately aired their cause at the state Capitol on Monday, alternately imploring and pleading for President Barack Obama to take action, or do nothing.
In a show of unity, five members of Utah's congressional delegation, Gov. Gary Herbert, every other statewide elected official, the House speaker, Senate majority leader and all three San Juan County commissioners said a new national monument is vehemently opposed by the majority of Utah residents.
"If you care about trust between the American people and Washington, D.C., don't do this," said Rep. Chris Stewart, R-Utah.
Earlier in another area of the Capitol, Malcolm Lehi, former White Mesa representative of the Ute Mountain Ute Tribal Council, urged Obama to protect a place that is sacred to Native Americans.
"We ask the president of the United States to support us," he said.
The monument frenzy is being stoked by rumors that Obama will pick up a pen and make the designation this week. Obama and his family are in Hawaii vacationing for the holiday and aren't expected to return to the White House until early next year.
Opponents said the idea that Obama could make the designation thousands of miles away without consultation with Utah leaders smacks of the 1996 announcement by then-President Bill Clinton, who created the Grand Staircase-Escalante National Monument with a signing ceremony a state away — in Arizona.
Rep. Mia Love, R-Utah, said that is flat wrong.
"If you are going to do this, come here and do it to our face," she said. "That way we can repeal it later."
The fight is growing more tense as each day passes.
Monument proponents and opponents sported dueling signs Monday with conflicting messages and some had face-to-face confrontations.
Kim Henderson from Monticello said she drove to Salt Lake City to make clear that a majority of San Juan County residents fear a monument designation will result in greater incidences of vandalism in the Bears Ears region and careless visits by people simply wanting to put a "check mark" by monuments they've been to.
"We don't mind if people want to visit, but we don't want thousands of tourists," she said. "What happens to that land is very important to those of us who live in San Juan County."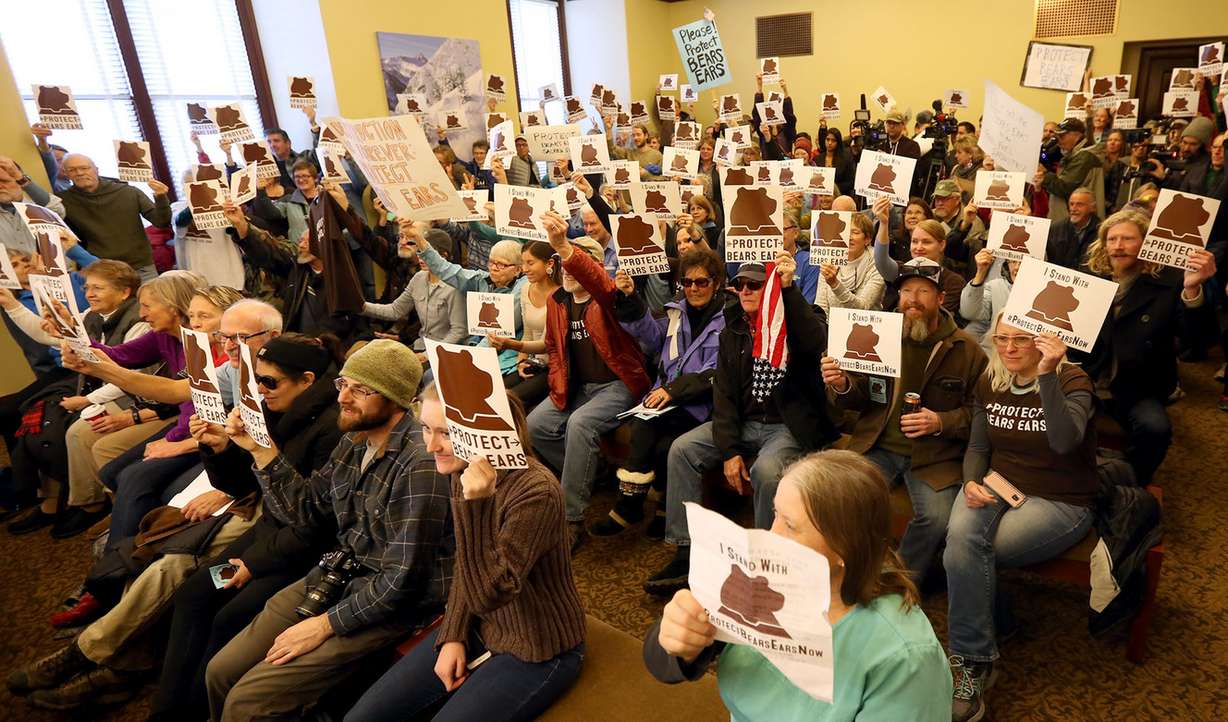 She and Jack Stearn, who was wearing a pro-monument T-shirt, engaged in a heated debate over the destiny of the region.
Afterward, Stearn said he remained passionate about the issue, but some of what Henderson told him resonated.
"I am going to have to do some more research," he said.
The Bears Ears Inter-Tribal Coalition behind the monument push wants to protect 1.9 million acres of rugged and remote land they say has already been victim to looting and grave robbing. The region is said to be one of the richest areas of the United States for ancient cultural resources.
But Stewart and others at the anti-monument press conference warned that a presidential use of the Antiquities Act to designate Bears Ears as a monument will backfire with a host of consequences — none which will do the region any good.
"You will be sowing the seeds of destruction of the thing that you seek to create now," said Sen. Mike Lee, R-Utah.
Lee and other members of the congressional delegation said the political fallout of a designation in Utah will result in the repeal of the Antiquities Act for use by future presidents, an overturning of the actual designation itself and no money for Bears Ears monument management.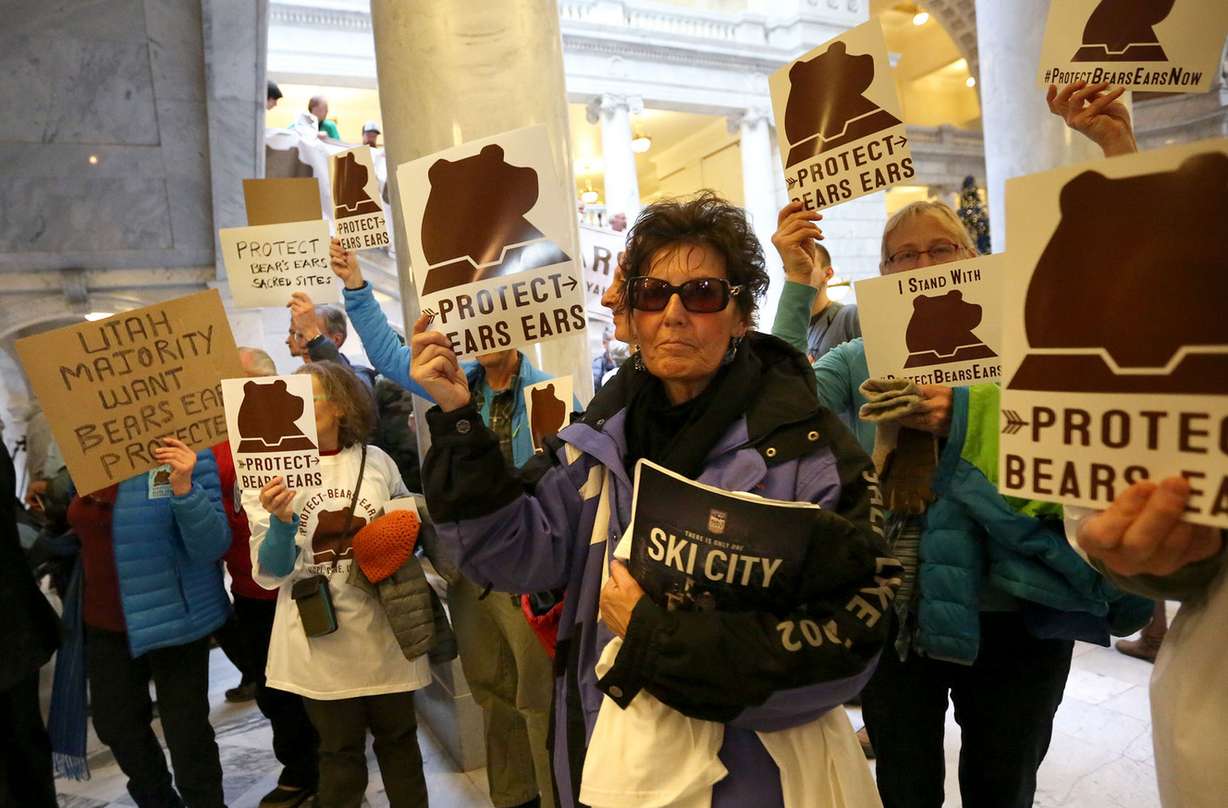 Utah Attorney General Sean Reyes said if a monument is designated for Bears Ears, Utah will immediately file a lawsuit.
Citing threats from potential oil and gas development, potash mining and off-road vehicles, monument supporters say the land needs to be protected for the generations to come.
"Let's not lose Bears Ears. President Obama, I am Rep. Joel Briscoe. Do the morally correct thing and protect Bears Ears now," Briscoe said.
But Suzette Morris, a member of the Ute Mountain Ute Tribe, showed up at the anti-monument event to voice her opposition.
The land is already pristine, she noted, and cared for by the locals who live in the region.
"I think it should be left the way it is," she said. "A monument won't be sacred."
×
Photos
Related stories
Most recent Utah stories