Estimated read time: 4-5 minutes
This archived news story is available only for your personal, non-commercial use. Information in the story may be outdated or superseded by additional information. Reading or replaying the story in its archived form does not constitute a republication of the story.
SALT LAKE CITY — Utah native Christy Spackman says she always thought of her home as the Jell-O state.
"It just seemed like a fact when I was a kid, and it seemed like a fact when I was in my teens, and it seemed like a fact when I was in my 20s," the fellow at Harvey Mudd College said. She holds a Ph.D. in food studies.
So when Slate magazine asked her to write an article about Utah's "favorite dessert" and she started doing research, Spackman was surprised to learn the association didn't go back quite as far as she'd thought.
Gelatin began as a preservative and a dish for the rich.
"The high-end cooking that comes out of Escofierre — Auguste Escoffier, who wrote ­the book on French cooking — is where you take a fish, you layer it with beautiful nicely sliced bits of vegetables and covered in aspic (gelatin)," Spackman said.
"So it's a preservative; it helps keep oxygen from coming and attacking this beautiful dish you just prepared. But it's also something that created a visual appeal."
Technological innovation — powdered gelatin, packaging and the refrigerator — helped bring it home.
"You can trace a … sort of trickle down from high-end French cuisine into an everyday consciousness," Spackman said.
"The rise of Jell-O follows the rise of processed foods," explained Eric Eliason, BYU folklorist and English professor. "It follows the rise of the American middle-class. It follows the rise of technological innovations in American society."
Then, Spackman said, Jell-O was associated more with Midwestern cities, like Des Moines, Iowa.
"I think you could just draw it back and say church," she said, "church written very widely across the United States — church dinners. Jell-O was a very integral part of that."
"Jell-O did used to be a salad. It was meant to be a side dish," said Angie Toone, a Jell-O fan who owns multiple copies of a 1963 edition of Kraft Foods' "Joys of Jello."
Toone delights in reading through vintage recipes, such as one for a tangy cabbage salad featuring a savory gelatin with vinegar, horse radish, shredded cabbage, pimentos and dill pickles.
"I don't think you can talk about Jell-O without talking about the weird Jell-O's they had in the '50s and '60s with all the odd things added into them: towers of gooeyness with meat and cheeses and vegetables and things floating in them."
From the 1960s to the 1980s, Jell-O sales faded. General Foods countered with a marketing campaign and a simple but effective Jell-O concoction: The Jiggler.
"I think it was a game changer, in a sense," Spackman said. "It divorced Jell-O from, for example, the idea of the Jell-O salad, which was part of a meal, and then moved Jell-O into a different part of the day.
"The Jell-O Jiggler becomes a snack, not part of the meal, just as you start seeing the rise of crackers becoming snacks."
Spackman said it was in the late '80s and early '90s that newspapers begin mentioning Jell-O and Utah together.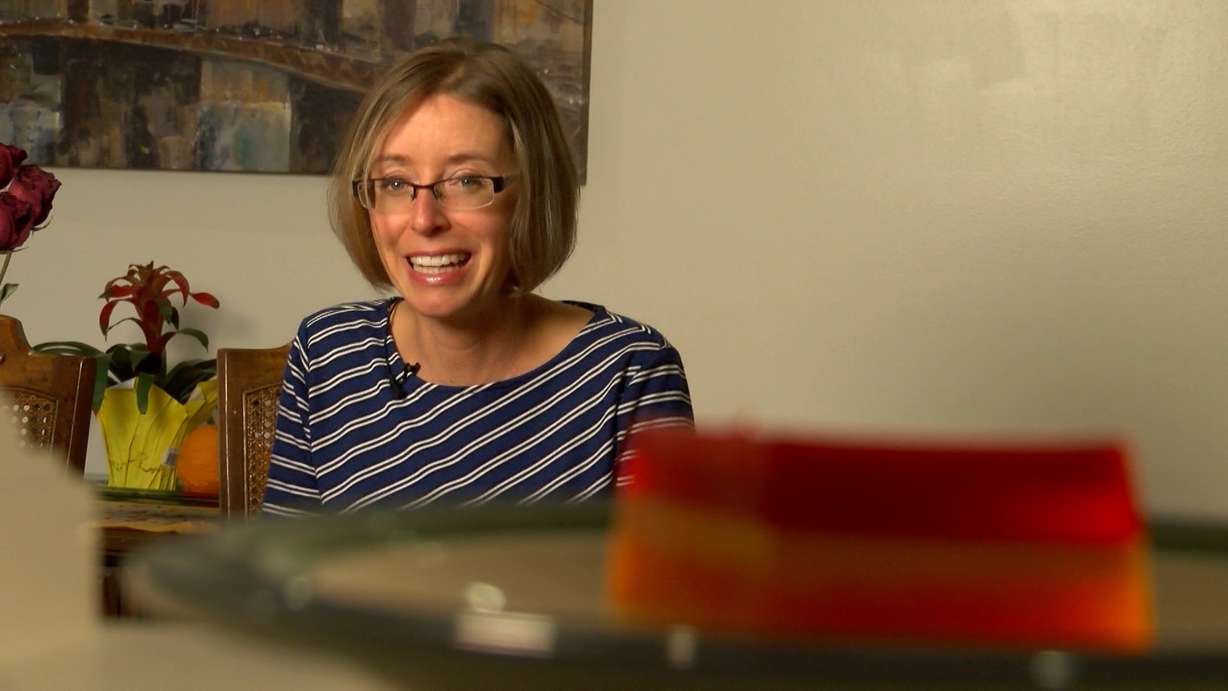 In 1997, on the 100th anniversary of Jell-O, Kraft Foods (which merged with General Foods) released per capita Jell-O sales figures, and Salt Lake City was No. 1.
After Salt Lake lost the "title" to Des Moines, BYU students campaigned for official recognition of Jell-O as a state snack and the Legislature passed a resolution to that effect in 2001. More media Jell-O mentions came the next year during the Winter Olympics.
Spackman writes that in adopting Jell-O as "their" food, Mormons embrace all the positive connotations — family friendliness, child centeredness — that accompany the snack, while outsiders see Jell-O-consuming Utahns as "different."
"There's an 'othering' that happens," she said. "There's a separation of an 'us' and 'them' that can be fun but can also be kind of dangerous, in a sense, of demeaning people."
"Oh look, isn't it so funny that Utahns like to eat Jell-O?" she said, as an example.
Toone, meanwhile, says Jell-O sends a much simpler message to the rest of the world: that Utahns like sugar.
×
Photos
Most recent Utah stories