Estimated read time: 3-4 minutes
This archived news story is available only for your personal, non-commercial use. Information in the story may be outdated or superseded by additional information. Reading or replaying the story in its archived form does not constitute a republication of the story.
The boy who survived an explosion from a homemade firework on Pioneer Day is talking publicly for the first time this afternoon.
He said, "I've been doing good. I've been getting up to go to the bathroom instead of my bed. So that's kind of weird to say to everybody... But (laugh)." Generating more than a few laughs, the 12-year-old shared his optimism, which his family believes has helped with his recovery. Bridger says he is doing great and is excited to be released from the hospital on Friday.
Bridger looks good considering what he has been through over the past seven weeks, and he is looking forward to going home from the hospital on Friday. "I'm feeling really good actually, I would sing karaoke for you, but I don't want you guys to laugh," he told a group of reporters.
Bridger, who turned 12 years old during his hospital stay, talked of how boring it is to be in his hospital and the pain he has to endure from his injuries. He talked of how he's managed to get through this ordeal, especially all of the pain. "Either squeeze my mom's or grandma's hand, or listen to my music, just something to get me off the pain," he said.
He was riding his bike near his grandparents' home in Lehi when a neighbor ignited a steel cylinder with black powder in the bottom as a makeshift firework, which actually exploded like a bomb.
"I didn't even think I got hurt. And it was just like a smoke blast kind of. And I just fell off my bike and thought it was the force of the smoke. And then I kind of looked down and my leg was like up here," he said.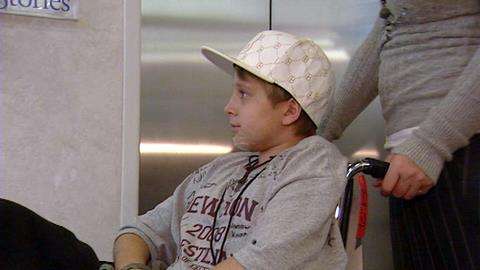 Bridger nearly died from blood loss that night but was stabilized, and doctors at Primary Children's Medical Center have been able to save his leg. Now he plans to share his story with other kids on fireworks safety.
"We want to go to help other kids and teach them not to play with fireworks, because we just want to go help other kids and go to school and tell them my story," he said.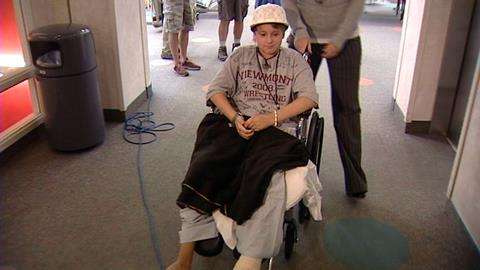 Bridger and his family have received an outpouring of support from friends and many strangers, and today he offered his thanks. "I'm really glad and happy. They've helped me and stuff with their prayers, and it makes me happy when I read their cards. Yeah, so, thank you guys."
Bridger will move to his grandmother's home to continue to recover because his skin grafts on his leg still have a long way to full recovery.
There are still questions about his recovery and whether or not he will be able to use his leg again, but just yesterday he was able to wiggle his foot.
He's undergoing intense physical therapy and is now able to get around on his own. How his injuries will impact the rest of his life is still unknown, but Bridger is optimistic. He said, "I don't really care if I have the leg or not. I'm just lucky to be alive."
Bridger has always dreamed of being a professional skateboarder. Those dreams are now on hold. The last couple of weeks, though, he has been trying very hard to get better so he could go home, but more importantly so he can be at the Dew Tour, featuring professional skateboarders in Salt Lake this weekend. And since he is well enough to go home on Friday, Bridger will be a special guest at the Dew Tour on Saturday, and arrangements are being made so he can meet the stars of the tour.
E-mail: spenrod@ksl.com
×
Related links
Most recent Utah stories