Estimated read time: 3-4 minutes
This archived news story is available only for your personal, non-commercial use. Information in the story may be outdated or superseded by additional information. Reading or replaying the story in its archived form does not constitute a republication of the story.
SALT LAKE CITY — Troy Williams has made quite the first impression on his new team.
Not only will the junior college transfer and former Washington quarterback start for Utah in Thursday's season opener against Southern Utah, but the Carson, California native was also voted an offensive team captain.
In less than a year on campus, Williams has cemented himself as a starter and a leader on a Utah team projected to be one of the best in the Pac 12 South.
"My dad was always hard on me when I was young. I didn't understand it," Williams said. "But once I started to get older, I started to see how hard work creates separation.
"My dad was always on me about it, and so I make sure that no matter what I do, I am working hard at all times."
Utah head coach Kyle Whittingham said Williams racked up plenty of votes from his teammates for his captaincy, a remarkable feat in such a short time.
But with Williams' work ethic, it shouldn't be surprising.
"It's been crazy. I've had a lot of good times, and I've had a lot of bad times," Williams told KSL Sports. "I don't regret any decision I made. I'm glad I went through all of it. It made me the person I am today."
Williams originally signed with Washington, and he started one game as a redshirt freshman, a 24-10 loss to Arizona State in which he completed 18 of 26 passes for 139 yards and two interceptions.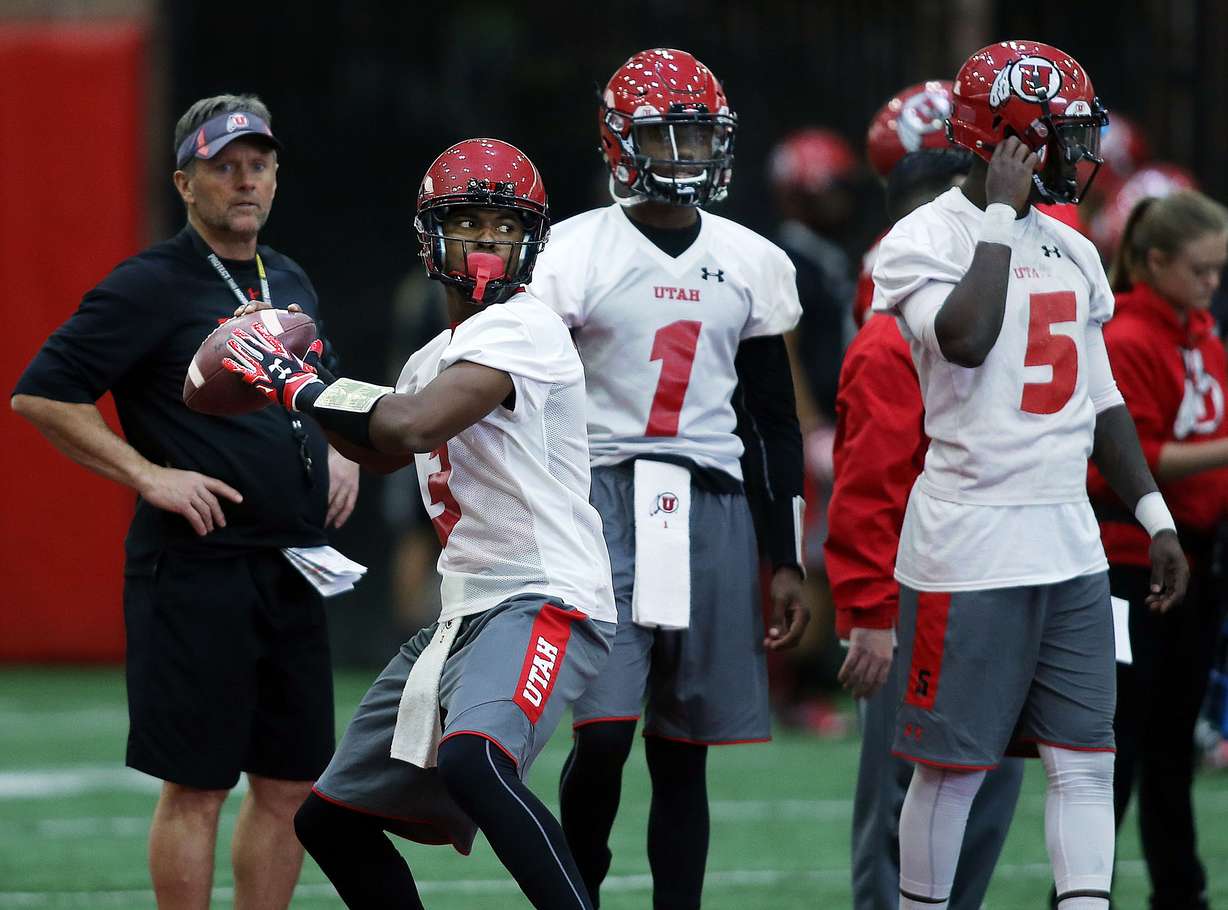 The next season, Williams transferred closer to home to Santa Monica (Calif.) College.
"I lost a lot of my confidence in Seattle when I wasn't getting the opportunities I wanted," Williams said. "Going back to the JC level got my confidence back. It created a whole new mindset, especially in California; there are no scholarships. It makes you want it even more. I'm thankful I went through that. It pushed me even harder."
Williams threw for 1,582 yards, 15 touchdowns and four interceptions for the Corsairs. He also ran for 133 yards and six touchdowns on 29 carries.
After that year, Williams committed to Utah and the 6-foot-2, 200-pound signal caller ingratiated himself with his new teammates.
"It was a great chance to get back into the Pac 12," Williams said of his new Ute teammates. "You don't ever want to turn anything down like that. It was a great opportunity, and I didn't want to pass it up."
The chance to play against his former team helps, too, Williams admitted with a toothy grin.
"Oct. 29. That's the date of the game," he said. "They'll be coming here, but I'm taking it one game at a time. Of course there will be some extra hype in that game. I'm definitely excited for that."
While he was at Santa Monica, Williams was also selected to appear in a commercial for adidas. In the video, Williams worked out alongside pros Jimmy Graham, DeMarco Murray and Sammy Watkins in the spot called "Create the New Speed."
"It was a regular day at Santa Monica," he said. "We just got done at practice, and a guy said he was looking for athletes to film a commercial. We decided 'why not?' and just tried out. Before we knew it, we were all in the commercial. We didn't think it would get as big as it did. But it was a great opportunity."
Opportunities come and go, and everything happens for a reason. Troy Williams is living proof of that.
"You can't just sit around and pout if something's not going your way," he said. "I went through that … Whenever something negative happens, I just put it in God's hands. Just keep working, no matter what. I believe God has a plan for me. I'm blessed to be here, and blessed to have this opportunity."
×
Related stories
Most recent Sports stories