Estimated read time: 4-5 minutes
This archived news story is available only for your personal, non-commercial use. Information in the story may be outdated or superseded by additional information. Reading or replaying the story in its archived form does not constitute a republication of the story.
SALT LAKE CITY — Observe Utah's practice for a moment and it's easy to see why junior college transfer Troy Williams has separated himself from the pack at the quarterback position.
"Troy is a very serious competitor," co-offensive coordinator Aaron Roderick said. "He doesn't even crack a smile out here at practice. He doesn't take his mouthguard out of his mouth. He is all business at practice. I've tried to kid with him a couple of times and he's a dead-serious competitor."
That's not to say Williams is incapable of having fun or joking around, it's just more of a situational occurrence. At the conclusion of practice, he's got a smile on his face as he jogs around the field, taunting the receivers about an assortment of techniques they're working on. But on the field, he's all business.
"Fun is always going to be there, but when it's time to work, it's time to work," Williams asserts.
As a bona fide competitor, he's the first one on the field and the last to leave, always putting in more work and more reps to get better. As teammates jog off the field at the end of practice each day, Williams can be seen running laps, doing push-ups or working on different techniques requisite as a quarterback. It's the same in the film room.
"I always see him working and it just makes me want to work harder, honestly," senior wide receiver Tim Patrick said. "We just had a scrimmage and he had a pretty good day to me, and he's still out here getting work. It just makes me excited for the year."
"I just want to be able to get in as much work as possible," Williams said. "You never know when it's going to be your last play and I want to give it my all at every point in the day. I'm just making sure that I'm prepared every time I step out here and so I can be that leader and help my team win games."
That workhorse mentality is one of the reasons why the Utah coaching staff was interested in the promising talent from Santa Monica College.
"He's just a workaholic," Utah head coach Kyle Whittingham. "His junior college coaches told me he's an absolute workhorse. He does everything; he goes the extra mile with essentially everything he does."
The road to Utah, however, has been an uphill climb for Williams, who is now at his third school since graduating from Narbonne High School in the Los Angeles area.
Williams committed to Washington out of high school, playing in five games as a redshirt freshman in 2014. He left the program shortly after Chris Petersen took over as head coach, saying that "it didn't work out."
The Los Angeles-area native transferred to Santa Monica College to be closer to home, all while looking ahead to a return to Division I football. Williams excelled in the junior college ranks, throwing for 2,750 yards and 31 touchdowns in his only year at Santa Monica College, attracting the likes of Utah as a worthy opportunity to be back in the Pac-12.
In spring, Williams appeared destined for a starting role, separating himself from the other quarterbacks on the roster in only a few days, but an injury to his throwing arm sidelined him for the remainder of camp and he was forced into rehab instead of working on his technique and timing with the receivers.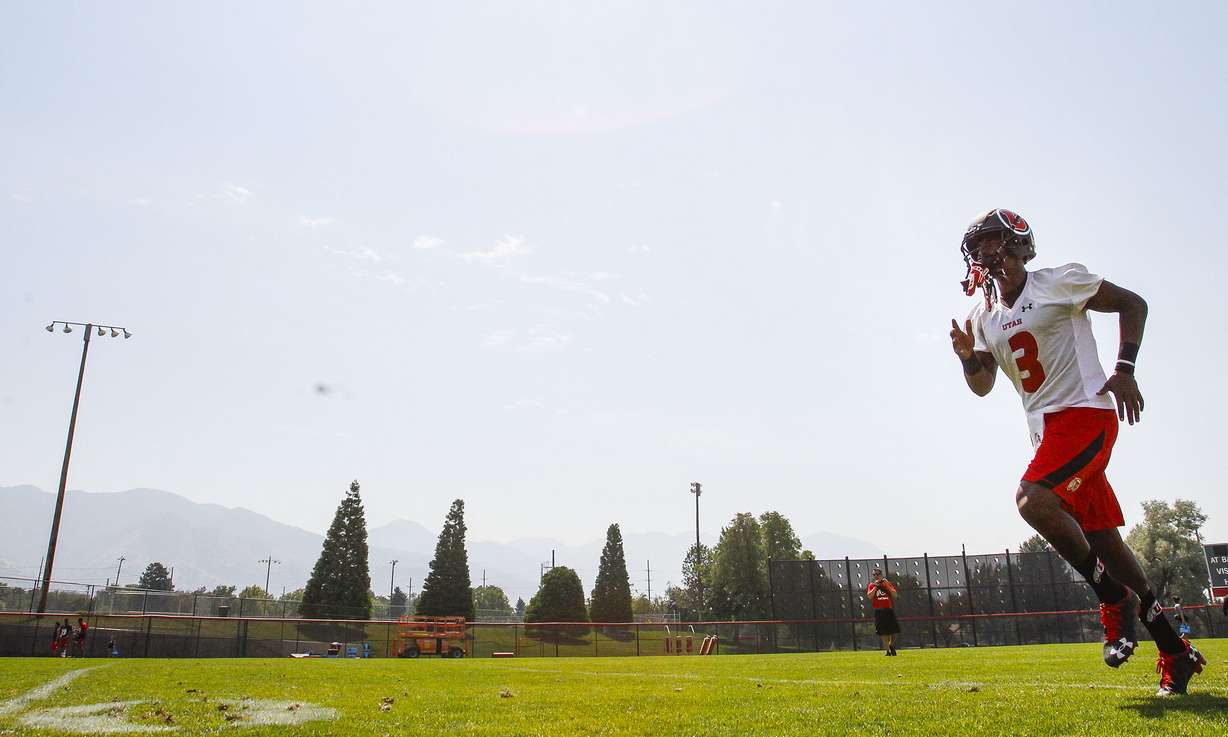 Williams called it a "rough couple of days" following the injury, but he has since come to recognize the injury as a "blessing in disguise." Since then, Williams has made a commitment to his mother that he was going to do everything he can to earn a starting role at Utah.
"I made a promise to my mom and that means a lot," he said. "I told her I was going to do it, whatever it takes. She told me just to stay focused and get back to where I need to be. I have a lot of motivation that's inside of me — support from my family. It's just a lot of motivation, make my city proud and my family proud."
That extra motivation has made all the difference in his limited experience with Utah, and it's been noticeable amongst his teammates and coaching staff that he is committed to the team and improving Utah's passing game.
"The one thing coach (Whittingham) strives for is consistency, and I think he's been the most consistent quarterback all camp," Patrick said. "That's what has separated him and just leading a team. He takes it one day at a time and not trying to do too much or too little. He's just doing what's right at the time for the team."
"Troy's mechanics are pretty much flawless. A lot of the things he did in junior college are very similar to what we're going to do here," Roderick added. "He's been well-coached up until this point. I wouldn't call him a typical JC transfer."
×
Most recent Sports stories